DeSclafani stepping up to be next Reds ace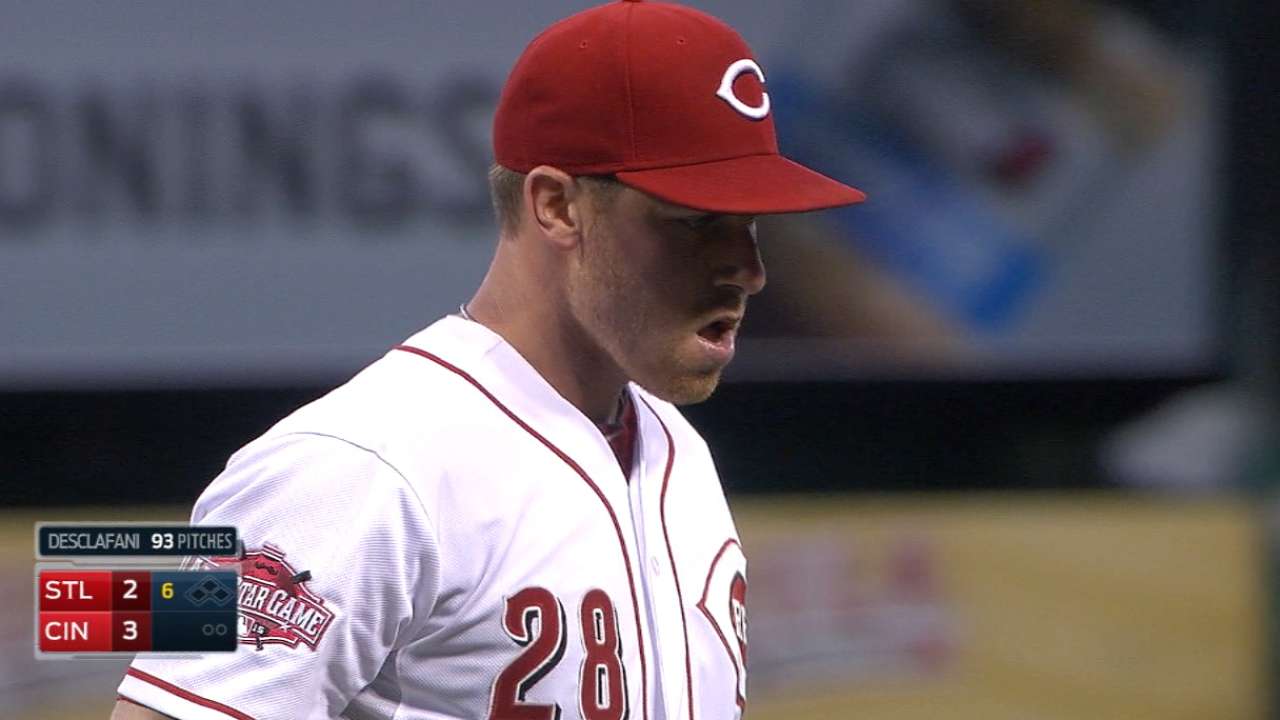 CINCINNATI -- In a rotation full of rookies, Anthony DeSclafani has become the new defacto ace for the Reds and he performed like it on Tuesday.
DeSclafani (7-7, 3.71 ERA) struck out a career-high nine batters across six innings to help lead the Reds to a 3-2 victory over the Cardinals. The 25-year-old rookie surrendered only two runs on seven hits to pick up his second straight victory over St. Louis in the last seven days.
"Didn't do anything different, same attack as always. Just attacking hitters and filling up the strike zone and stuff," DeSclafani said. "[Catcher Brayan] Pena called a great game and played great defense. Had a fastball, slider working for me mostly. Two-seams today, that helped me out a lot."
DeSclafani only ran into trouble in the third inning when he gave up a leadoff triple to Randal Grichuk and a two-run homer to Matt Carpenter. However, he was able to put together three scoreless innings afterward to help the Reds hold onto a one-run lead.
DeSclafani benefited from an early three-run cushion, and he said it helped settle him down right away.
"Anytime a pitcher can get a cushion that early you can be a little bit more relaxed and not have to nibble so much," DeSclafani said. "It was great having that lead early. Obviously I wish I could have one pitch back, but that's the way the game goes."
DeSclafani has now strung together three consecutive quality starts with a 2-0 record and 2.25 ERA during that stretch. As the veteran of a new five-rookie rotation with the most career starts, DeSclafani will be needed as a reliable option the rest of the way.
Reds manager Bryan Price said DeSclafani has been mentally strong all season and it played a role in another solid outing on Tuesday.
"Attacked the zone with good stuff and trusted it," Price said. "These guys pitch good games, when they pitch good games it's not because they execute every single pitch. It's because they have good intent in what they are throwing. They'll make some mistakes and they are fouled off or they are just off the plate for a ball.
"It's more attitude then anything else. I just don't think he has any fear in him and he just attacks every team as if they are the same. Goes about his game plan and he's been really terrific. I've loved watching him pitch this year."
Robert Bondy is an associate reporter for MLB.com. This story was not subject to the approval of Major League Baseball or its clubs.