Freese nears return; Cowgill also progressing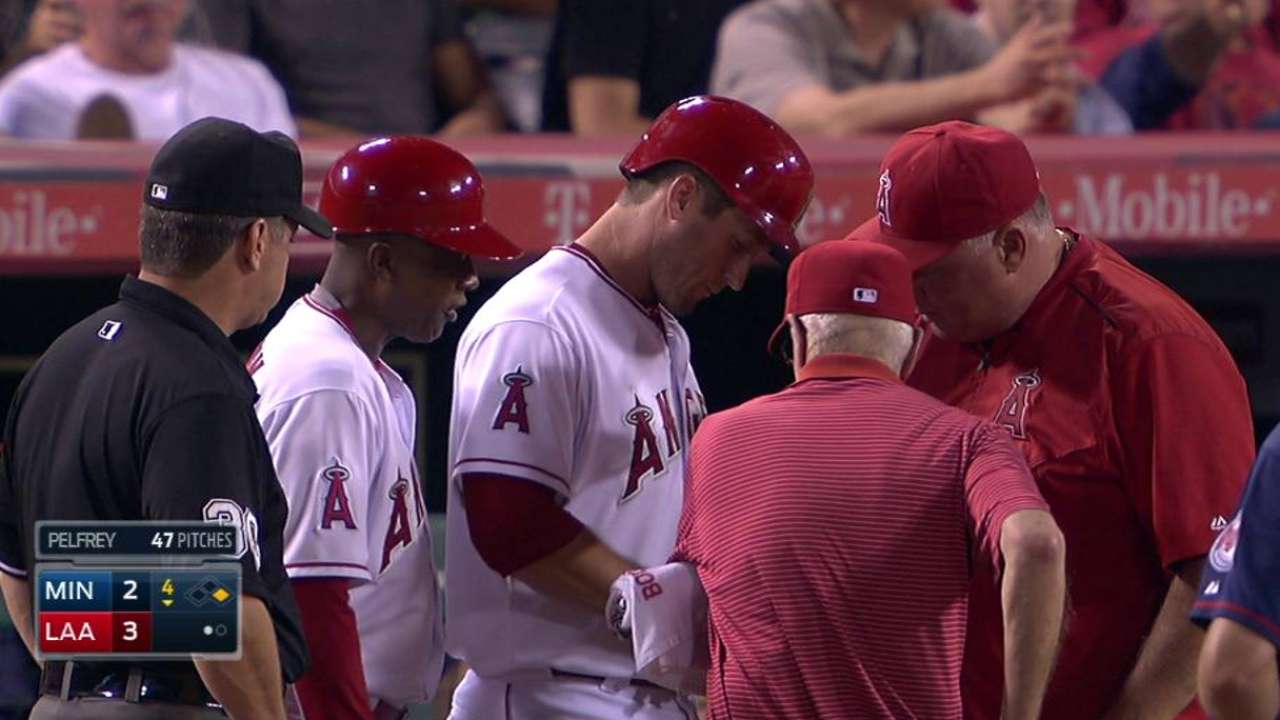 ANAHEIM -- The Angels' schedule is plastered along one of their clubhouse walls, with game-used baseballs bolted on top of every game they've won. David Freese glanced at it Tuesday afternoon, before the team's 2-0 loss to the Indians, and was asked about returning from the disabled list on Aug. 17, when the team begins a seven-game homestand against the White Sox and Blue Jays.
"Oh I think it can be sooner than that," Freese said.
The veteran third baseman doesn't want to set a firm return date, but he's nearly two weeks into rehabbing a fractured right index finger he hoped would keep him for about three weeks. Freese missed that much time with a broken right middle finger last year -- 17 days, to be exact -- and has progressed well since landing on the shelf July 23.
The 32-year-old has been doing some light defensive work the last few days, then took swings off a tee Tuesday and hopes to hit some soft toss Wednesday morning. Freese could be ready at some point during the Angels' seven-game road trip through Chicago and Kansas City next week.
"All good so far," Freese said.
Freese's return could spell the end of Conor Gillaspie's time with the Angels, unless the club options another player -- perhaps C.J. Cron -- to buy some time until rosters expand in September. Gillaspie, a left-handed hitter, who can complement Freese's right-handed bat, is out of options and has done well since joining the Angels, entering Tuesday with eight hits and six RBIs in 28 at-bats.
Outfielder Collin Cowgill, nursing a sprained right wrist since May 28, took batting practice on the field for the third straight day Tuesday and will take the next couple days off. Cowgill previously had a setback while taking BP in back-to-back days, but he's already done that twice.
"Today is by far the best it's felt," Cowgill said.
Angels manager Mike Scioscia said Cowgill is "probably a couple weeks away from playing." But it's tough to see how he'll fit in, now that Shane Victorino has taken on the role as a right-handed-hitting outfielder who starts against lefties.
"I'm not worried about that," Cowgill said. "I'm worried about my hand."
Worth noting
• Angels starter Jered Weaver served up a couple of home runs during a 5 2/3-inning rehab start at Class A Advanced Inland Empire on Tuesday, giving up one other hit, walking two and striking out five. Weaver threw 84 pitches (56 for strikes) and averaged 83.5 mph with his fastball, according to a scout in attendance. The scout said Weaver faded late and threw very few changeups.
• Matt Joyce (concussion) increased his physical activities and stretched with the team Tuesday, after meeting with a doctor before Monday's game, but he said he still hasn't been given a definite plan for returning. Joyce is progressing, but still has to clear the doctors' protocols and make sure he isn't adversely affected by any of the steps he takes.
• Cuban shortstop Roberto Baldoquin, given an $8 million signing bonus in the offseason, returned to the starting lineup for Class A Advanced Inland Empire on Tuesday, after missing the last seven days with a sore left hand from a hit by pitch. The 21-year-old Baldoquin, ranked sixth in the Angels' system by MLB.com, had only played in 48 games in his first professional season.
Alden Gonzalez is a reporter for MLB.com. Read his blog, Gonzo and "The Show", follow him on Twitter @Alden_Gonzalez and listen to his podcast. David Adler, an associate reporter for MLB.com, contributed to this report. This story was not subject to the approval of Major League Baseball or its clubs.