Chisenhall avoids DL after concussion scare
Indians outfielder hit head Monday attempting catch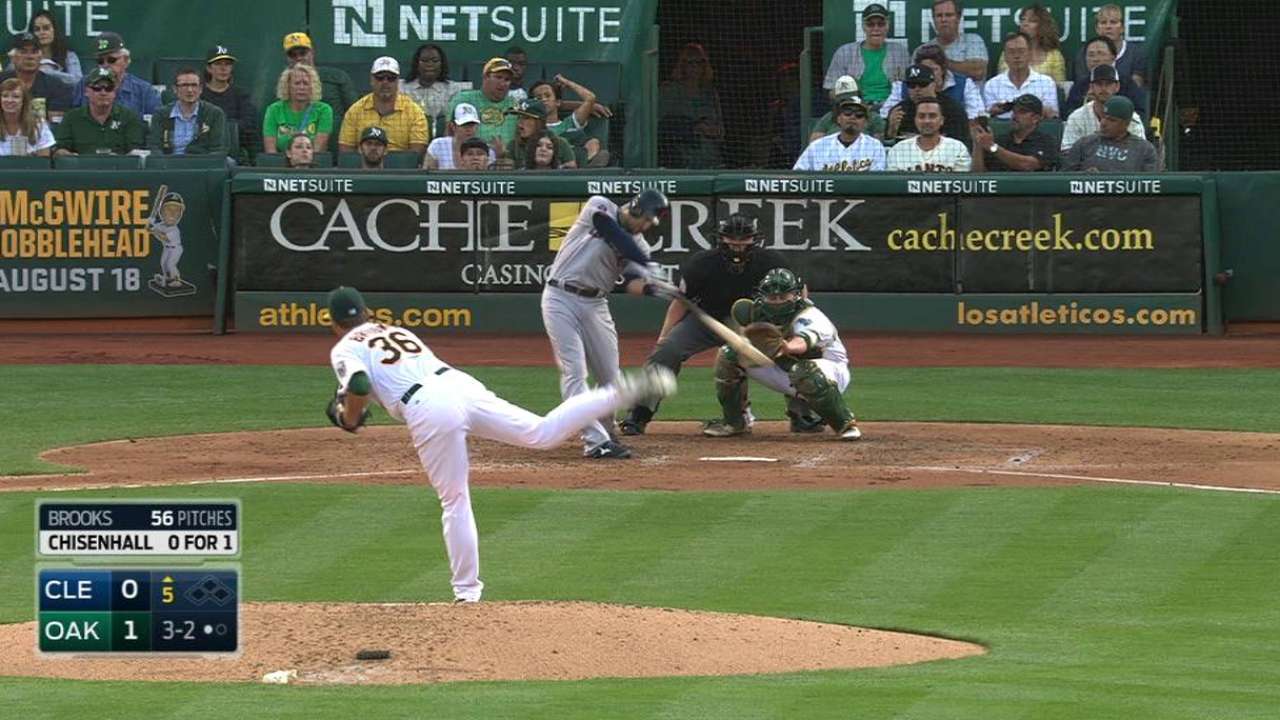 ANAHEIM -- Lonnie Chisenhall passed every test given to him on Tuesday afternoon, convincing the Indians that a trip to the disabled list was not necessary. One day after a hard fall in right field, Chisenhall returned to the lineup to continue his transition to the outfield.
During Monday's 5-4 loss to the Angels, Chisenhall sprinted in on an attempt to snare a sinking liner off the bat of Angels catcher Carlos Perez in the third inning. Chisenhall dove for the ball, but came up short and hit his head on the ground. After staying in the game to hit in the top of the fourth, Chisenhall was replaced in the outfield in the bottom of the inning.
The Indians initially described Chisenhall's injury as a cervical (neck) strain and whiplash.
"We took him out last night just for very precautionary reasons," Indians manager Terry Francona said before Tuesday's game. "Any time somebody says something about potentially having a concussion, you have to err on the side of caution. He woke up today and felt good. He came ot the ballpark early and started doing some agility work and hitting, and nothing [came up].
"Every time he did something, he said, 'I feel normal.' We spoke to the doctors and he's good to go. We'll certainly watch him during BP, if there's ever a point where something seems to surface, but he looks pretty clear."
The Indians had Triple-A outfielder Abraham Almonte -- acquired from the Padres on Friday in exchange for lefty Marc Rzepczynski -- fly to Anaheim on Tuesday as insurance, in case Chisenhall required a trip to the DL. Almonte never made it to the ballpark, and Chisenhall was back in the lineup as the right fielder and No. 6 hitter for Cleveland.
The Indians recalled Chisenhall from Triple-A on Saturday after trading outfielder Brandon Moss to the Cardinals. Displaced at the Major League level by third baseman Giovanny Urshela, Chisenhall tried his hand as an outfielder during his recent stay in the Minors and the Indians had been giving him a look as a right fielder since calling him back to the big leagues.
"We're just going to try to work through and discuss different things as we go," said Indians bench coach Brad Mills, who works with the outfielders. "It's been a good first look, but there's improvement to go just from an experience standpoint. But, his skillset is one where he has a chance. When he gets after the ball, he moves pretty well, and his arm's definitely going to play out there."
Chisenhall collected his first outfield assist Saturday, when he threw out Oakland's Max Muncy at home plate.
"He hasn't been out there forever," Francona said. "But, I think his tools and his ability play really well out there. He goes after the ball fine. He throws really good. He used to run around out there just in batting practice. If he can kind of maintain that idea, and then just try to remember game situations, he'll be just fine."
Jordan Bastian is a reporter for MLB.com. Read his blog, Major League Bastian, follow him on Twitter @MLBastian and listen to his podcast. This story was not subject to the approval of Major League Baseball or its clubs.