Scioscia to employ platoons at left field, DH
Angels will play matchups with left-right combinations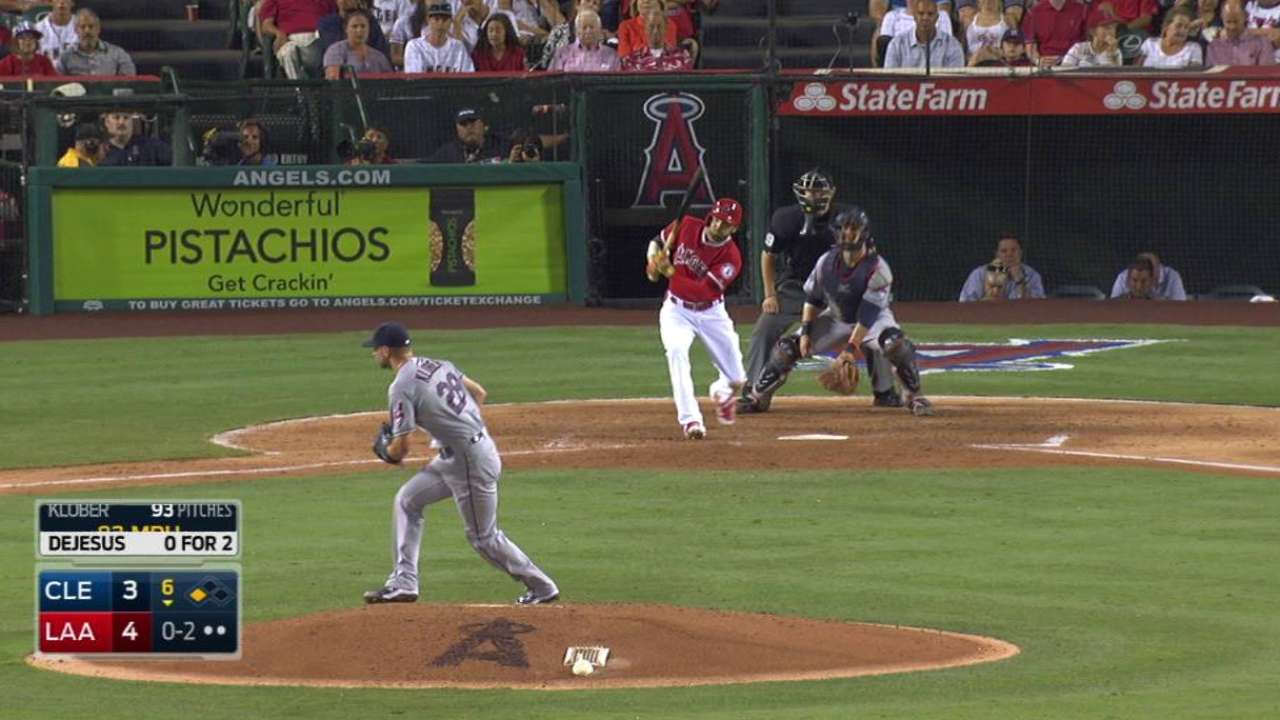 ANAHEIM -- For the better part of two years, from the start of 2002 to the end of 2003, Angels manager Mike Scioscia platooned at two spots in his lineup. It was Adam Kennedy and Benji Gil at second base, and Shawn Wooten and Brad Fullmer making up most of the production at designated hitter, two left-right combos that gave the Angels above-average production at two positions.
"It worked out great," Scioscia said. "It really did."
It was also the last time Scioscia could recall having two platoons in the same lineup. Until now, of course. For the last two months of this regular season -- and, he hopes, an ensuing postseason run -- Scioscia will rely on one platoon in left field and another at designated hitter. It will be the left-handed-hitting David DeJesus and the right-handed-hitting Shane Victorino in left, and the left-handed-hitting David Murphy and the right-handed-hitting C.J. Cron at DH.
But here's the thing about platoons: The lefties always play more, because there are significantly more right-handed-throwing starters throughout the league.
And here's a potential problem with the Angels' situation: It's their two right-handed hitters who will have to adjust the most.
DeJesus has spent the last two-plus years splitting time on platoon-happy Rays teams, while Murphy has basically carved out an entire 10-year career as a specialist against right-handed pitching. But Cron is a 25-year-old still trying to carve out an identity as a Major Leaguer, and Victorino -- a former switch-hitter -- has never been anything but an everyday guy.
"Whatever role it is here, I just want to win," Victorino said. "We'll figure out the rest as we go. The guys I'm platooning with are veteran players, great guys that have had a lot of success in their careers and have played in this role for a long time. For me, it's an adjustment. But who knows. I don't know what's going to happen from month to month."
Victorino stopped batting from the left side in August 2013 because he was coming off an injury to his left hamstring and he felt hitting only right-handed would keep him fresher. He tried switch-hitting again in Spring Training this year, coming off back surgery, but gave it up around the middle of March because it was still taking a toll on his body.
The 34-year-old will try it again this offseason, when he hits the free-agent market, with hopes that he can be an everyday player again.
"The game itself now, it's become such a numbers and matchups thing," Victorino said. "To me, it's become kind of robotic in that regard."
Victorino was speaking in generalities, but that also applies to the Angels, who hope platoon advantages will lead to increased production from the two most troubling spots of their lineup.
Scioscia isn't married to the platoon. He'll give Victorino and Cron occasional starts against righties so that they stay sharp, but mostly, he'll continue to ride the personnel that scores the most runs, because it's August, and singular victories trump everything else this time of year.
DeJesus and Murphy will offer guidance whenever they can.
"The important thing is that you're getting your timing, you have your routines," DeJesus said of the challenge with playing part time. "Sometimes if you have guys who are really behind each other, and really work with each other, and know going in that we're doing this, I think it works out and I think it can be very good for the team, as well. You just have to roll with it."
Alden Gonzalez is a reporter for MLB.com. Read his blog, Gonzo and "The Show", follow him on Twitter @Alden_Gonzalez and listen to his podcast. This story was not subject to the approval of Major League Baseball or its clubs.