Kendrick eyes return by end of month
MRI confirms should inflammation for Rockies right-hander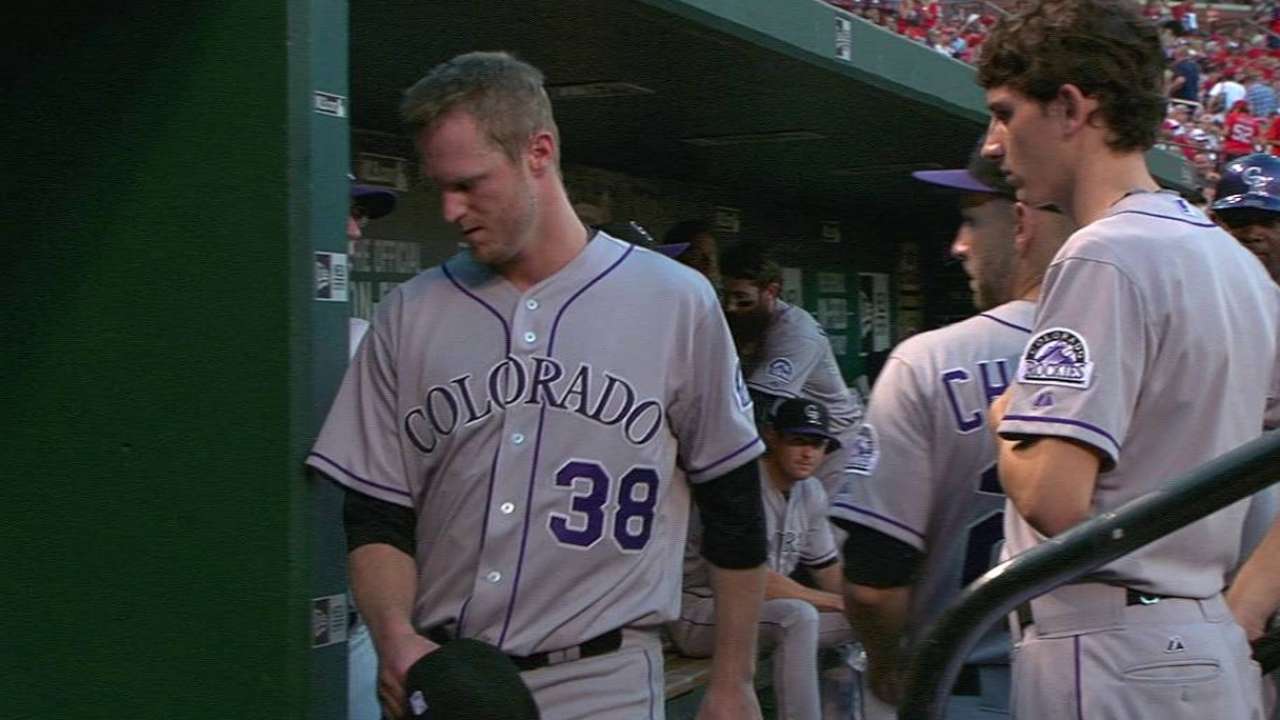 DENVER -- Rockies pitcher Kyle Kendrick plans to receive an anti-inflammatory shot Wednesday for right shoulder inflammation, and hopes to return before the end of the month.
Kendrick (4-12, 6.43 ERA) left his last start on Friday at St. Louis after one inning. Kendrick had pitched through discomfort the last couple of months, but it registered more as pain Friday and his fastball dipped about 5 mph.
An MRI conducted Monday confirmed the team's medical staff diagnosis of inflammation. For a second opinion, Kendrick said the results were presented to Mets medical director Dr. David Altchek -- who consulted with Kendrick when he had a similar problem two years ago and looked at a reading of his shoulder this offseason. If all goes as expected, Kendrick will have the injection.
"It should calm it down, hopefully, and we'll see how I feel from there," said Kendrick, who said he has never taken an injection in the shoulder. "Hopefully, I'll be back by the end of the month, or the beginning of September. So that's good news."
Kendrick has struggled all season with the consistency of his location, and as a result has given up 26 home runs.
"I'm not one to make excuses," Kendrick said. "Everyone assumes that when we take the field we're 100 percent healthy, and that isn't always true. But this has been going on for a while. Hopefully, this will help get me back throwing better."
Worth noting
• Right-hander Chad Bettis, who hasn't appeared since July 18 because of right elbow inflammation, threw his first full bullpen session on Wednesday -- 35 throws, using all of his pitches -- since the injury. He will make the team's next road trip and has another bullpen scheduled for Friday. He hopes to go out on a rehab assignment thereafter.
Bettis (5-4, 4.88 ERA in 13 starts) has thrown 75 2/3 innings in the Majors, and 34 innings at Triple-A Albuquerque before being promoted. Last year, when he worked as a reliever until he was converted to a starter in Triple-A late in the years, he threw a total of 80 innings. After remaking his motion during the offseason and Spring Training, the Rockies entered the season knowing they'd have to monitor his workload.
Bettis said he has learned from the injury, and he has no concerns about the workload for the rest of the year.
"It was just something that flared up," Bettis said. "Now that we have a better understanding of how to go about this for myself and my career, to make sure I'm taking care of it, it's not going to be an issue.
"They haven't said anything [about a set number of innings]. I don't know what that number would even be. I just want to come back healthy and finish out the rest of the season."
Thomas Harding is a reporter for MLB.com. Follow him on Twitter @harding_at_mlb, and like his Facebook page. This story was not subject to the approval of Major League Baseball or its clubs.