Sanchez more confident in swing, approach
White Sox second baseman has displayed some pop lately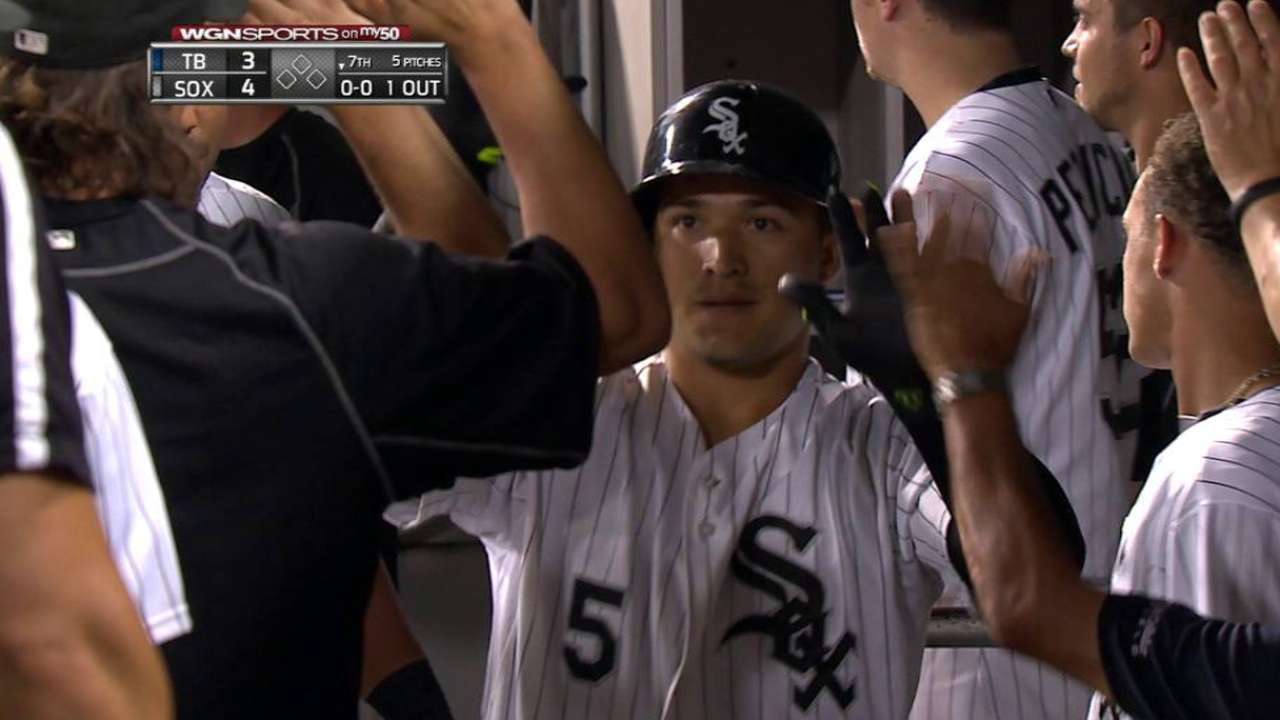 CHICAGO -- Over Carlos Sanchez's first 88 games and 291 at-bats in the Majors, the White Sox switch-hitting second baseman did not hit any home runs. He has three homers in the last 10 games, covering 41 at-bats, entering Tuesday.
And the energetic 23-year-old has warned some of his better known power-hitting teammates that he's slowly but surely chasing them down.
"I say that to Alexei [Ramirez] and [Adam] LaRoche," said a smiling Sanchez, through interpreter and White Sox Spanish language broadcaster Billy Russo. "I'm almost close to them."
In reality, Sanchez doesn't want to get close to Ramirez, LaRoche or anyone else whose approach is power-based. That's not the way this talented young player will find success.
Sanchez hit .157 and .151 in May and June, respectively, only to turn around his fortunes by hitting .323 with an .828 OPS in July. He points to the results as a byproduct of hard work and simply feeling more comfortable with his swing.
"I've been working a lot on my swing. Before I was kind of desperate, trying to hit each pitch that the pitcher throws me," Sanchez said. "Now I'm more relaxed and trying to get a better selection of pitches to swing. I feel more confidence right now.
"Results are there because of that change that I made. That's the key for this moment, and I feel very happy and very good about my offense right now and my approach."
August has not been quite as kind to Sanchez, with one hit in his first 12 at-bats. That one hit was a go-ahead homer in the seventh inning of Monday's loss, an at-bat where he was trying to make solid contact and get Avisail Garcia home for third.
"Homers are not in my mind," Sanchez said. "It's not part of my game, but if they come, they are going to be welcome."
"He has some pop, but you just don't want him relying on it," said White Sox manager Robin Ventura. "We know he's had it in there but first he had to go through the stretch of surviving, and now he's starting to get a little confidence going with it and he's swinging the bat pretty good lately. He's been playing great."
Potential also exists for Sanchez to hit higher in the order, possibly second. For now, Ventura likes him in the eighth or ninth slot.
"You like having him down there," Ventura said. "You like having something down at the bottom of the lineup to make something happen like he did last night."
Scott Merkin is a reporter for MLB.com. Read his blog, Merk's Works, follow him on Twitter @scottmerkin and listen to his podcast. This story was not subject to the approval of Major League Baseball or its clubs.