Knebel latest to emerge from Crew's strong 'pen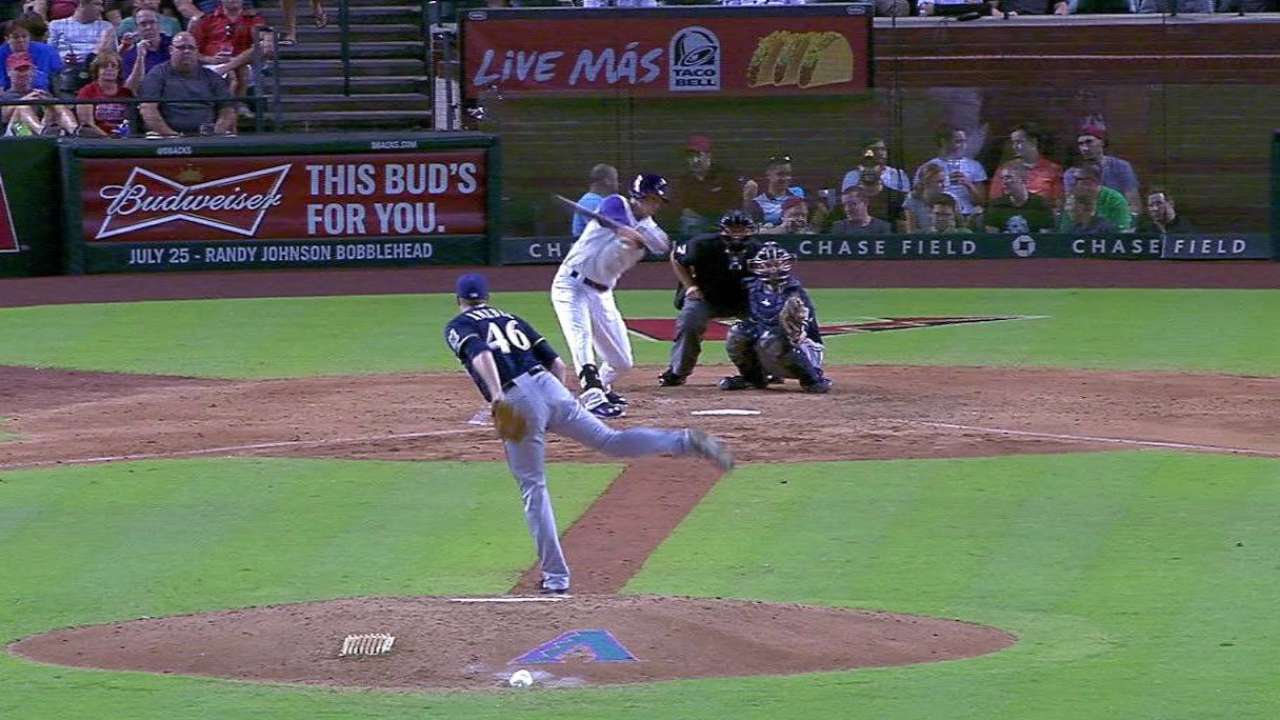 MILWAUKEE -- The Brewers, as currently constructed, have many needs. The final two months of the season are about determining what areas require additions when winter rolls around. The bullpen doesn't necessarily fall into that category, especially with the recent emergence of Corey Knebel.
Knebel has been excellent in a middle relief role since being recalled on July 6. The right-hander has fanned at least two batters in all but one of his seven appearances during that span (eight innings), including striking out the side in the sixth inning of Milwaukee's 13-5 loss to the Padres on Monday.
The impressive run by Knebel has earned him a potential promotion, according to manager Craig Counsell.
"[Monday] night was really good," Counsell said of Knebel before Tuesday's game with the Padres. "He's had more of those outings recently. As we move on, he's probably going to be put in some bigger leverage spots. He's earned it."
The Brewers acquired Knebel in January as part of the Yovani Gallardo trade with the Rangers. Elbow discomfort led to a late start for him out of Spring Training, causing the club to use caution with the 23-year-old. Outside of a brief demotion to Triple-A Colorado Springs to make room on the roster for Scooter Gennett, Knebel has shown no ill effects.
Knebel has struck out 35 batters in 29 1/3 innings this season, after appearing in just eight games last year with the Tigers. He pitched in back-to-back games on Sunday and Monday for the first time in a little over a month. It's just the third time this season he's done so.
"It's becoming less and less of a concern," Counsell said of Knebel's early-season elbow issues. "It wasn't necessarily his elbow, but because he had so few innings you just didn't feel like there was a foundation under him necessarily."
Knebel is part of a young core of relievers experiencing solid seasons in Milwaukee's bullpen, and most are under team control for next year. Knebel (23) and Michael Blazek (26) aren't eligible for arbitration until after 2017, while Jeremy Jeffress (27) becomes eligible a year earlier.
The near future of the Brewers' bullpen appears bright -- and it's under a team-friendly price tag as well. Knebel and his powerful right arm are one reason why.
"He's got a really nice arm," Counsell said. "He came into the season with very few innings in professional baseball. He's still learning a lot, but he has performed."
Brandon Curry is an associate reporter for MLB.com. This story was not subject to the approval of Major League Baseball or its clubs.