MLB.com Columnist
Paul Hagen
Rollins relishes inaugural Philly homecoming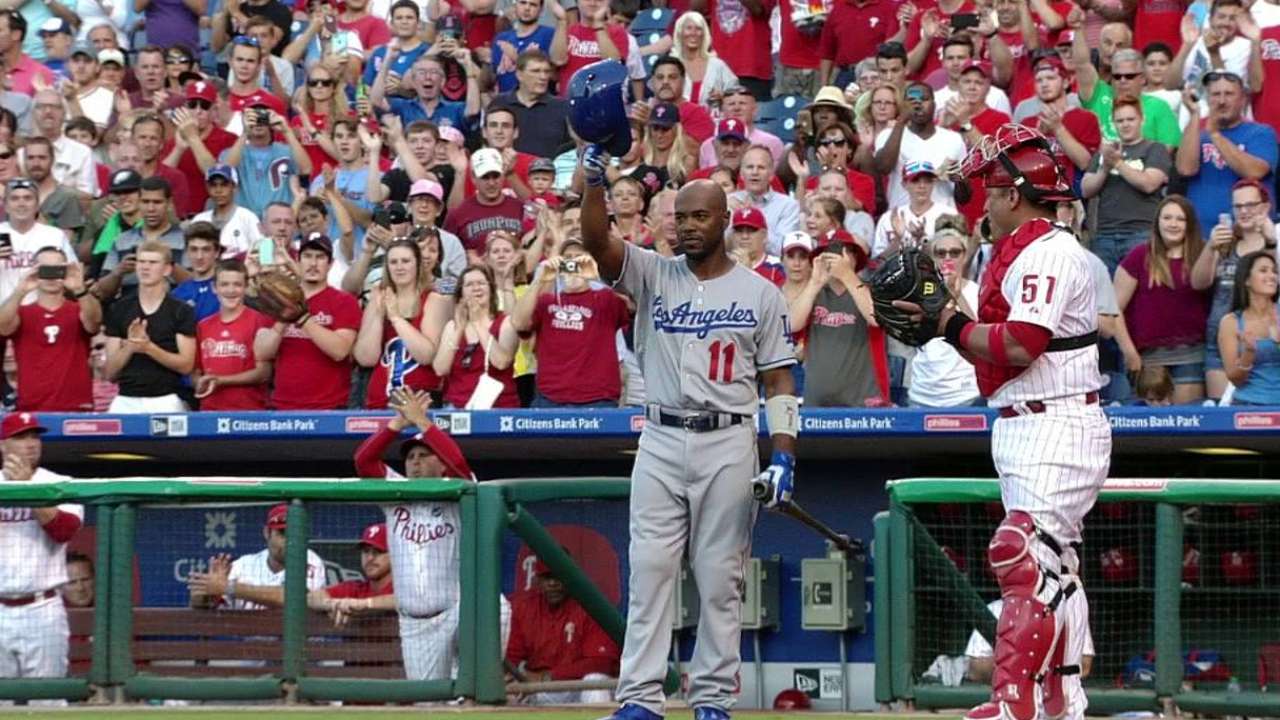 PHILADELPHIA -- He wanted to approach it like it was just another game, not that much different than the 2,190 that preceded it in his 16 big league seasons. Which was both exactly correct and predictably impossible.
For the first time in his career, Dodgers shortstop Jimmy Rollins came to Citizens Bank Park on Tuesday night as a visiting player. He was a spark plug for five straight division champions, two pennant winners and a World Series champion here. He won a Most Valuable Player Award here. He became the all-time hits leader for the charter National League franchise here. He became the best shortstop in the organization's 132 years here.
And even though it wasn't the first time he had played against the Phillies -- that happened a month earlier at Dodger Stadium -- there were reminders everywhere that this wasn't a routine, one-out-of-162 kind of night at the ole ballpark.
Yes, the Dodgers are in contention, and Rollins' first focus had to be on that.
"We're here for bigger things, it's about winning and losing, not just me coming back to Philadelphia," he pointed out before going 2-for-5 with a double in the Dodgers' 6-2 loss. "We have games to win and games to play."
Still ...
His cell phone buzzed all day. It got to the point he had to ask some friends to stop texting. There were the dozens of media members waiting for him and later crowding around when he held court for more than 20 minutes in the dugout.
He got a standing ovation when public-address announcer Dan Baker introduced the lineups, with Rollins batting leadoff and wearing his familiar No. 11 in unfamiliar Dodger Blue. As he limbered up in the on-deck circle before settling in against Jerome Williams, the Phanatic gave him a hard time and former Phillies manager Larry Bowa yelled at him from the dugout. Rollins smiled and acknowledged the man he supplanted as the best shortstop to ever wear a Phillies uniform.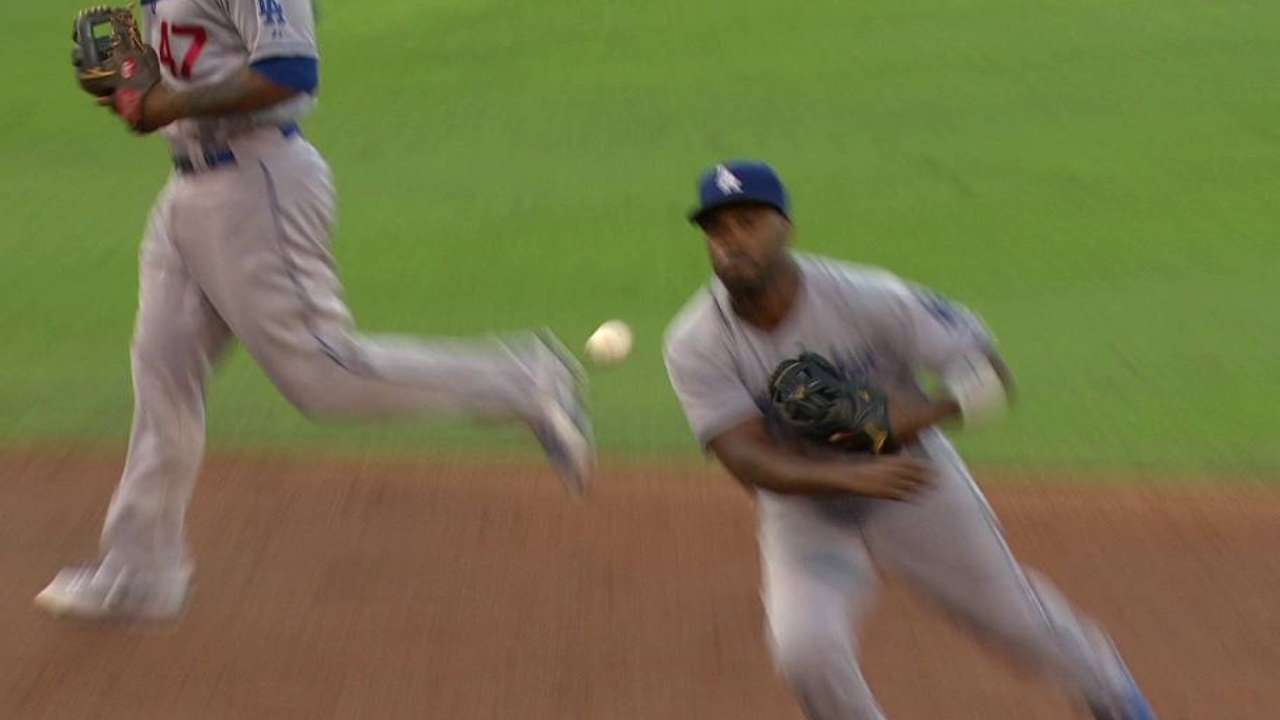 Another standing O followed when he walked to the plate, louder and longer than the first. A message on the giant video board in left: WELCOME BACK JIMMY. Then a picture of him as a kid accepting the Paul Owens Award, emblematic of the best player in the farm system, from the late, great executive.
After that, and only after that, did some sort of normalcy return, even though each subsequent at-bat was accompanied by a different this-is-your-life photo on the big screen. Holding his MVP trophy. As a Little Leaguer. Waving to the crowd after his record-setting hit.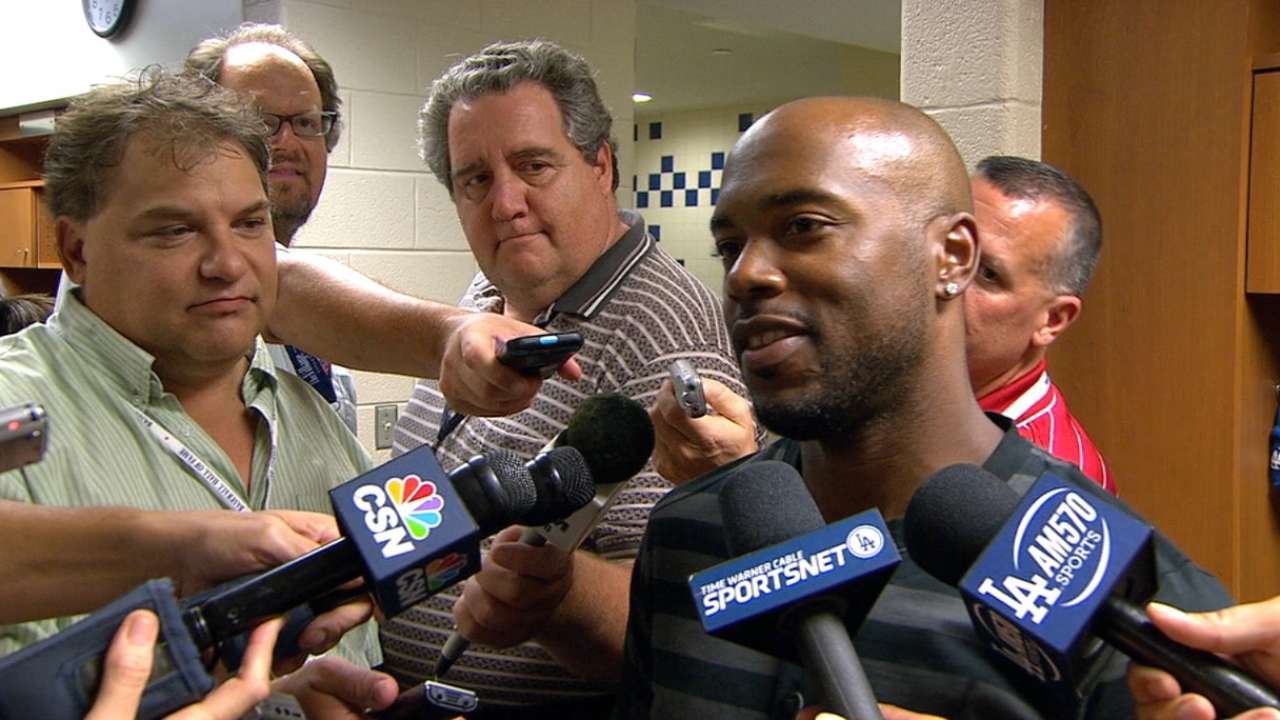 Rollins caught the red-eye after the Dodgers beat the Angels at home on Sunday afternoon, landing at Philadelphia International Airport around 7 a.m ET on Monday morning. He still has his house in Swedesboro, N.J., where his family -- wife Johari and their two young daughters -- have been staying since the All-Star break.
"No cable, so there's been a lot of Cinderella DVDs," he said with a smile.
Rollins' in-laws are also in the area. On Monday night, they all went to a favorite restaurant right down the street. When he got to Citizens Bank Park on Tuesday, he stopped to say hello to some longtime friends -- including director of team travel and clubhouse services Frank Coppenbarger and baseball administration director Susan Ingersoll Papaneri -- and then headed for uncharted territory: the visitor's clubhouse.
"I'm glad there were cameras hanging out around the entrance," he joked.
With the Phillies, Rollins could be a most thoughtful and incisive interview. That hasn't changed. He tackled a wide variety of subjects during his availability.
Ryne Sandberg's biggest problem as manager, he said, was lack of communication. He believes Freddy Galvis has done a good job of replacing him. Of the young players, he's most impressed by Cesar Hernandez. His decision to waive his no-trade rights last offseason, followed by this season's Deadline trade of Cole Hamels to the Rangers, could be seen as a parallel to the July 2006 deal that sent Bobby Abreu to the Yankees.
Then-general manager Pat Gillick said at the time that meant the Phillies were a couple of years away from contending. But the younger players, including Rollins, stepped forward and won the division the next season and the World Series the year after that.
"[Gillick] said we wouldn't compete for about another three years and I think we all took it personally and sped that process up. So if there's any fight over there, those guys will do that too," Rollins said. "Sometimes you just need things to happen, whether it's adding players or subtracting players. That's what happened when I was here. I think that's what they're doing here, they're taking away some of the pieces and having younger players go out there and saying to them, 'This is your team. You show us which way we should go.'"
Not that the players were told that at the time.
"But we're smart guys. We can read the writing on the wall," Rollins said. "More than anything, when Pat had mentioned we wouldn't be competitive for a few years after that, we were already at that point where we wanted to be ready now. And he inspired us, he really did. Whether it was intentional or not, it definitely sparked us."
A player doesn't spend as long as Rollins did and accomplish as much as he accomplished without leaving an indelible mark. He's smart enough to understand that, too, of course. And that it does him no good to build it up in his mind and put additional pressure on himself.
That's why Rollins had to look at Tuesday night as just another game. Even though he knew all along it was anything but.
Paul Hagen is a reporter for MLB.com. This story was not subject to the approval of Major League Baseball or its clubs.