Avila relishes opportunity as new Tigers GM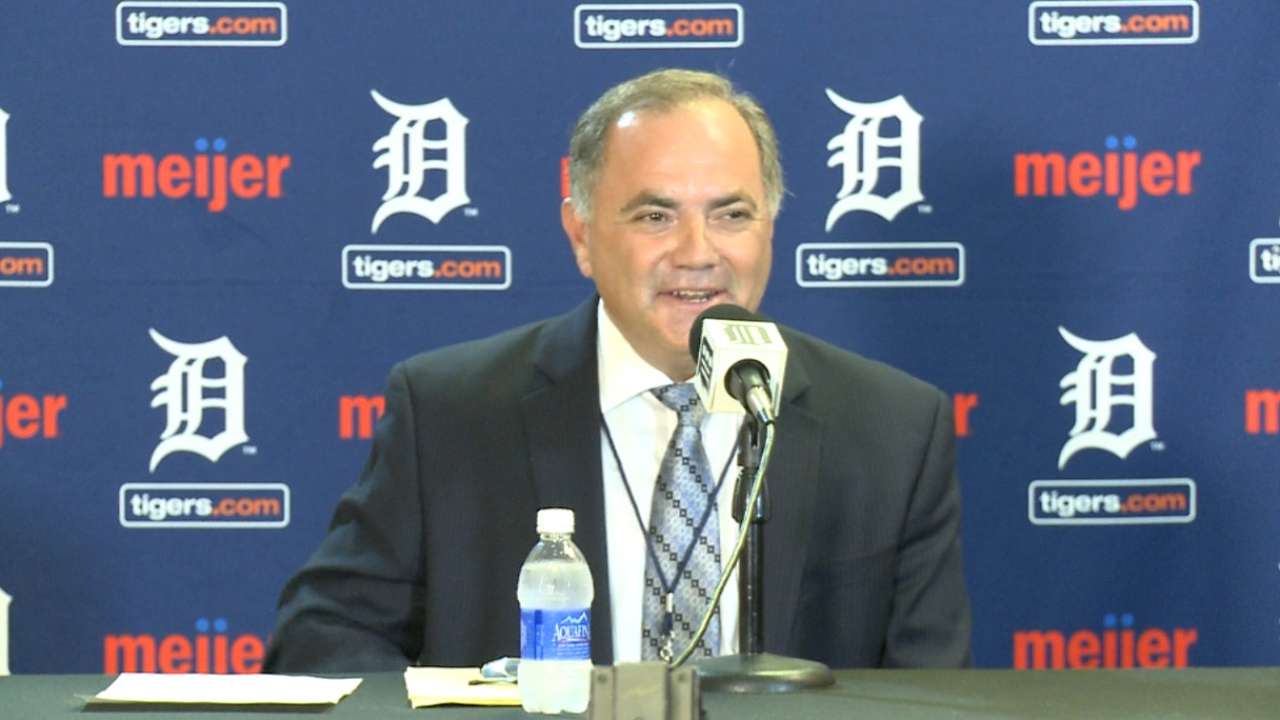 DETROIT -- New Tigers executive vice president of baseball operations and general manager Al Avila spent nearly a quarter century working with Dave Dombrowski, from Latin American operations to scouting director to top assistant. He had the type of rise that logically leads to a shot as a general manager, but teams never hired him.
On Tuesday, Avila finally got his shot, and he doesn't have to leave town to do it. The flip side, of course, is that he's replacing his old boss and longtime friend as GM. Dombrowski was released from his contract as president and CEO on Tuesday afternoon.
"It's with mixed emotions that I do," Avila said at his press conference on Tuesday afternoon at Comerica Park. "I worked with Dave for 24 years and we're good friends. But at the same time, after 24 years and 14 years in this organization, I think that I'm uniquely qualified and I'm prepared to do this, and I've been waiting for a long time.
"I just turned 57 years old on Sunday and I'm very excited about this in particular because we have a nucleus in this organization that we have been working towards for years to move forward and be successful."
In that sense, Avila is carrying forward the project he and Dombrowski have been working together on since 2002. At the same time, Avila is ready to establish his own voice.
To many Detroit natives, Avila is known as catcher Alex Avila's dad, a situation that has drawn plenty of attention over the years. But Al Avila himself is the son of baseball royalty. His father, Ralph Avila, led a baseball revolution by developing a Dodgers talent pipeline to the Dominican Republic, including a winter ball agreement and a training academy that helped bring the Dodgers both Pedro and Ramon Martinez, as well as Raul Mondesi, among others.
Al Avila picked up his father's scouting talent, and after brief stints playing and coaching, went into scouting as assistant director of Latin American operations under Dombrowski with the upstart Florida Marlins in 1992.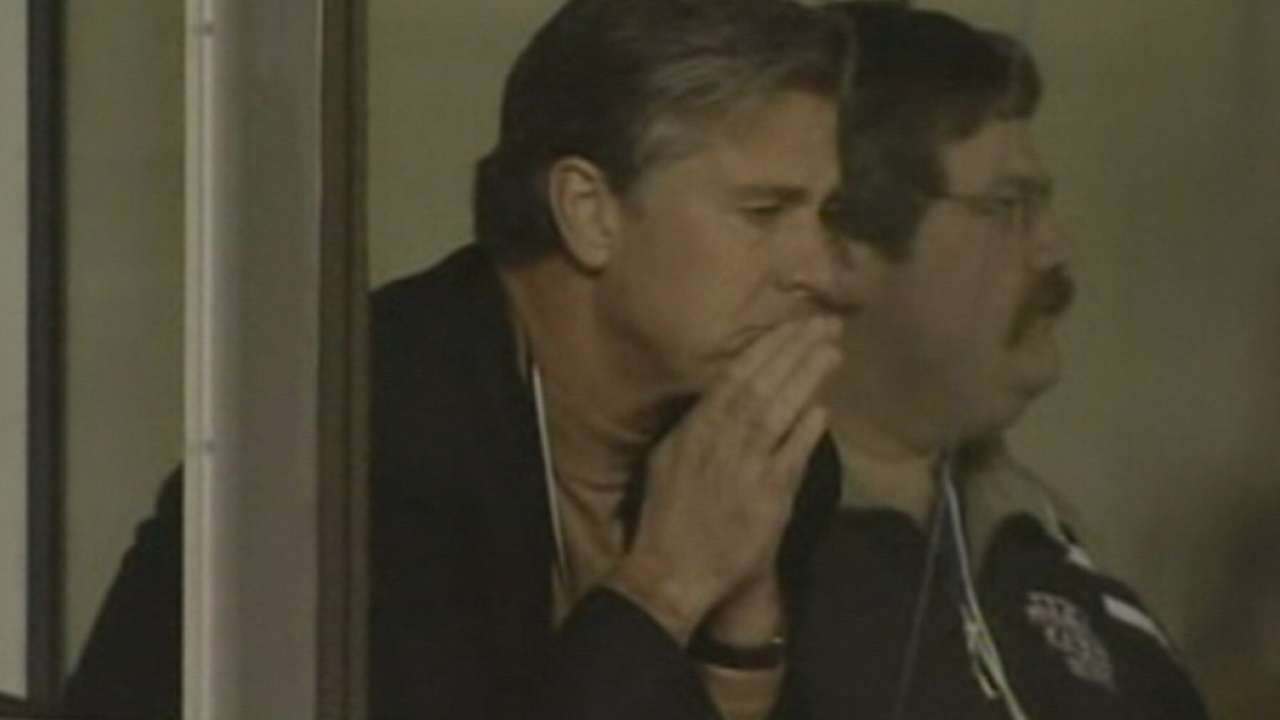 Avila didn't revolutionize the game, but he helped provide talent that led the Marlins to a pair of World Series titles. As director of international operations, he worked with Dombrowski to bring Cuban defector Livan Hernandez to Florida as well as teenage talents Luis Castillo, Alex Gonzalez and Edgar Renteria. As scouting director a few years later, Avila was in charge of the effort to sign a teenage sensation out of Venezuela named Miguel Cabrera.
By the time Cabrera hit it big with the Marlins in 2003, Avila was gone. He actually was the Marlins' general manager for an interim stretch after Dombrowski left for Detroit, overseeing the offseason transition from John Henry's regime to Jeffrey Loria's ownership. After a brief stretch in Pittsburgh's front office, Avila joined Dombrowski early through the '02 season.
Though Avila has still scouted, he has been much more the executive, overseeing Minor League signings and working with Dombrowski on Major League trades.
"I've been involved in every single transaction in this organization since the day I came," Avila said. "I've been involved in everything as far as the amateur Draft, international signings, player development, I've overseen every single department from the day I got here. That was my job. And I worked with Dave hand-in-hand at putting together the Major League roster."
Yet Avila's reputation in player development remains, and it might have been a key to him getting the nod from owner Mike Ilitch.
"He did say that he felt that with my background in scouting and development, he felt that it would be great, moving forward, as far as the future of this organization," Avila said. "He's still committed obviously to make the Major League club the best club possible, and go out there and get free-agent players. But he also wants to make sure we pump in young players through the Draft, international signings, and developing our own players."
So why didn't that resume lead to a GM job in the past? Well, Avila interviewed for at least a handful of jobs over the years that went to others. Then five or six years ago, by Avila's estimation, he signed a contract with a raise that gave the Tigers the right to deny teams permission to interview him for GM openings, a clause that was exercised more than a couple times. It did not, Avila said, come with any assurance he'd be next in line after Dombrowski.
Like Dombrowski, Avila was in the last year of his contract. His promotion to vice president of baseball operations came with a long-term extension, reportedly through 2020.
"It's a number of years that is long enough that will give you the security that you need to continue to build on a winning tradition," Avila said.
That security includes the situation handling his son, Alex, who's eligible to be a free agent at season's end. Asked how his promotion affects their standing, Al Avila was ready with a line.
"You know how you go back to Little League, and the dad used to be the coach and his son always played and was the fourth batter? Well, that ain't going to happen," Avila joked. "It is very unique. It's actually very awkward. But it's actually been that way since the day we drafted him."
Avila was not in favor of the Tigers drafting his son, but the scouting report told him he topped their board. That's how he came in. Now, his dad might well decide whether Alex Avila goes out.
"As awkward as it has been, it's also been a blessing," Al Avila said. "It's a very unique situation. And sometimes it runs its course, I don't know. It is what it is, and as a family, we deal with it."
Jason Beck is a reporter for MLB.com. Read Beck's Blog, follow him on Twitter @beckjason and listen to his podcast. This story was not subject to the approval of Major League Baseball or its clubs.