Royals moving on to next set vs. rival Tigers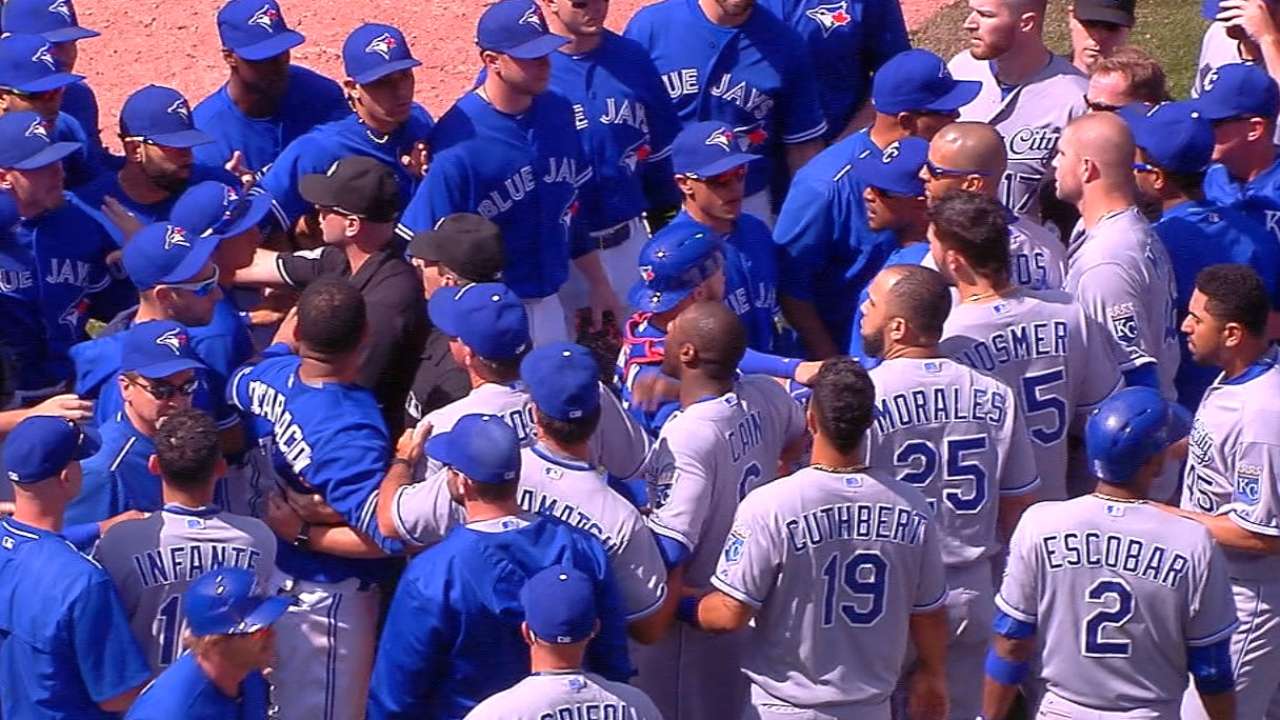 DETROIT -- Two days after an intense series finale against the Blue Jays, Royals manager Ned Yost's opinion of the events that transpired hasn't changed.
"I don't really have many thoughts on it," Yost said on Tuesday afternoon before the opener of a three-game set against the Tigers. "I don't feel like we did anything wrong. We were just playing baseball. It was a spirited series, so it's always nice to get an off-day after a series that was exciting and had a lot of elements to it."
Benches cleared in the eighth inning on Sunday at Rogers Centre, when Blue Jays reliever Aaron Sanchez was ejected after hitting shortstop Alcides Escobar with a pitch, a move which earned the righty a three-game suspension from MLB on Tuesday. The incident followed Blue Jays sluggers Josh Donaldson and Troy Tulowitzki getting hit in the first and seventh frames, respectively.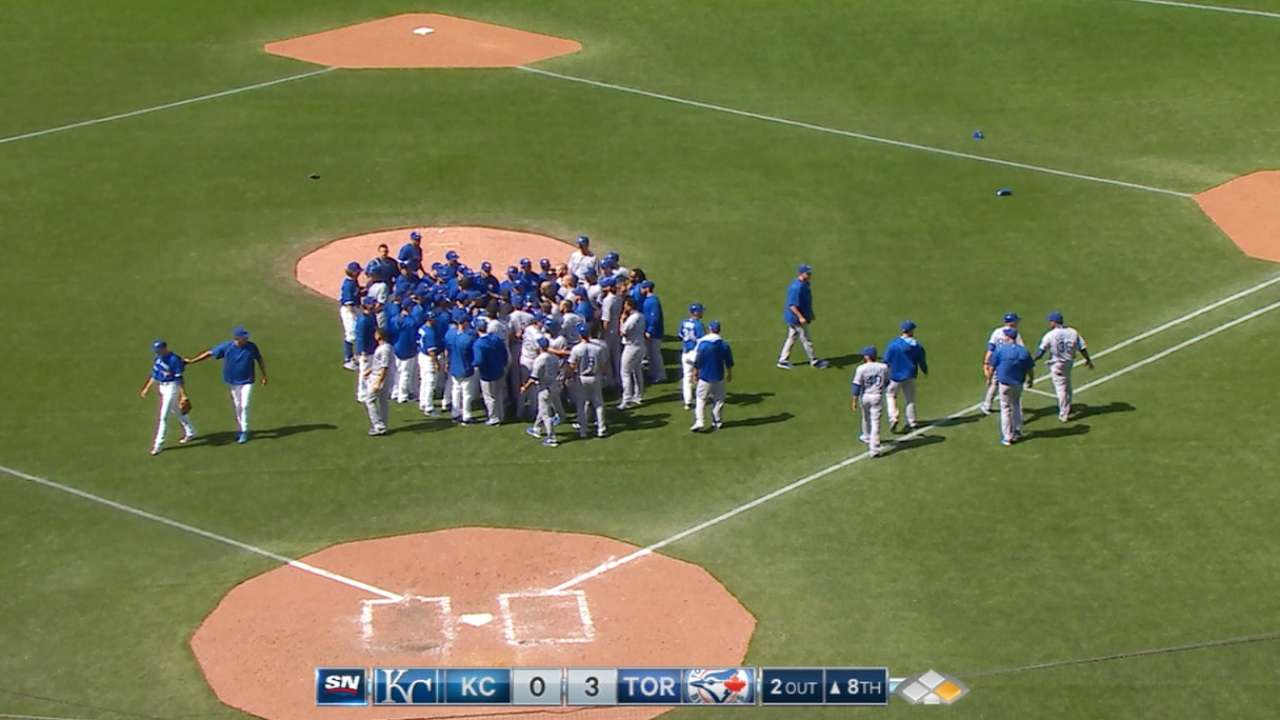 The Royals dropped three of four in the series -- including Sunday's finale -- to the Blue Jays, who scored at least five runs in each game.
Yost reiterated on Tuesday that his pitchers weren't attempting to plunk Donaldson or Tulowitzki, and that the plan was pitching inside because Toronto had demonstrated success hitting fastballs over the outer half of the plate.
"We didn't do anything wrong," Yost said. "The first three games, they hammered us on pitches away. We started pitching in a little more and guys got hit. That's part of the game.
"... We had to try something a little different. Not one time did we intentionally try to hit anybody."
Royals reliever Ryan Madson, who hit Tulowitzki and also told reporters he thought Donaldson had "let his emotions get the best of him," said on Tuesday that he was grateful the club had Monday off to refocus.
"That was an intense series, mentally more than physically," Madson said. "It was a good little reminder of how teams are going to start playing us getting later into the season -- especially good teams like that. It was a good eye-opener for me and a good learning experience."
Madson, like his manager, added that he felt Kansas City wasn't in the wrong, explaining "that's what happens" in a close series between two good teams.
Yost also noted that his club has been hit by pitches 57 times this season -- second-most in baseball and the most in the American League -- while the Royals have hit batters just 29 times.
"I think the scale way out-balances how many guys we hit compared to how many guys hit us," Yost said.
Alejandro Zúñiga is an associate reporter for MLB.com. This story was not subject to the approval of Major League Baseball or its clubs.