Delino plays his way to everyday role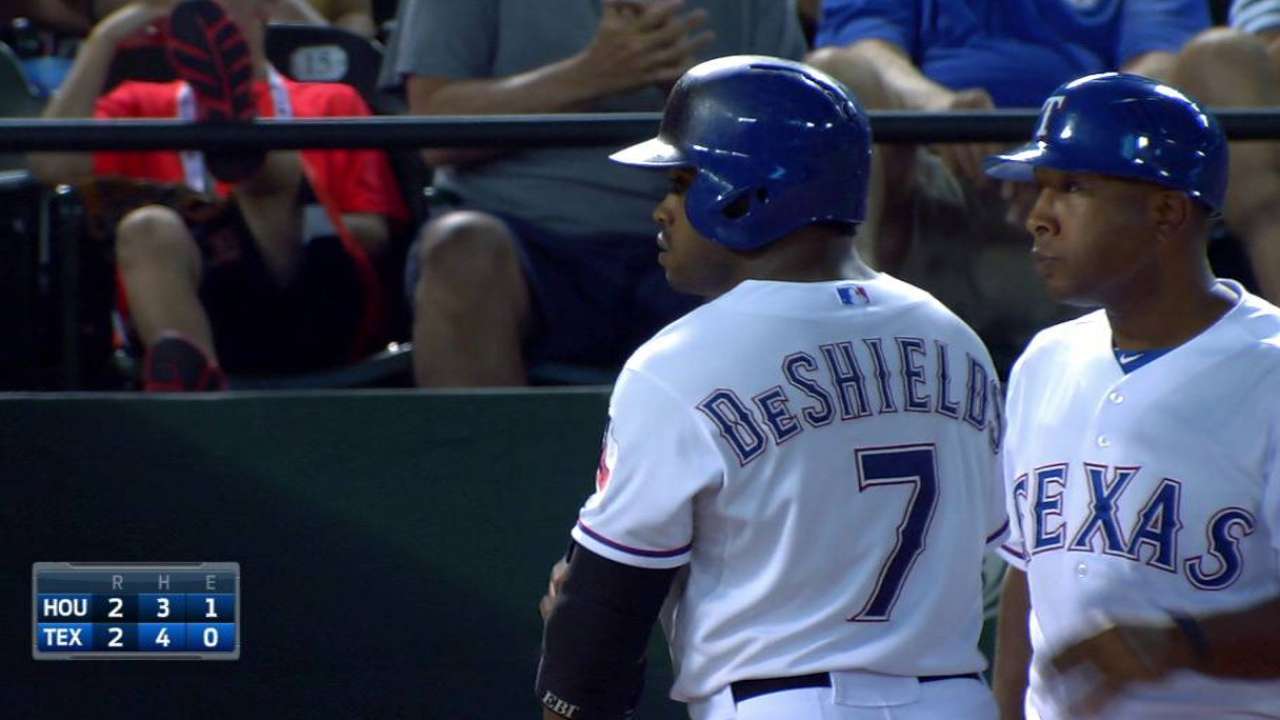 ARLINGTON -- Delino DeShields began this season as a Rule 5 Draft pick who struggled in Spring Training. Now he is the Rangers' everyday center fielder, and his stock only rose when the team optioned Leonys Martin to Triple-A Round Rock on Tuesday. DeShields fought Martin for playing time for much of the season until becoming the regular center fielder in July.
As much as Martin lost the job, DeShields won it. He proved it again on Tuesday, when his triple was a key hit in a three-run fifth that led to the Rangers' 4-3 win over the Astros.
"He's kind of pushed that tide," manager Jeff Banister said. "He jumped in and made the tide pull. He made his own waves."
DeShields did so in part with his blazing speed and exciting style, but the biggest factor was more subtle. DeShields has displayed an advanced plate discipline that has helped him push his on-base percentage to .369. His three walks in Monday's win over the Astros matched a club high this season, and he has reached base via walk in five of his past seven games.
DeShields started making his mark in early May, when Martin was on the disabled list with an injured hand. DeShields ended up as the American League Rookie of the Month for May.
And even though DeShields had his own stint on the DL after straining his left hamstring in mid-June, he picked up close to where he left off. He is hitting .270 with 18 stolen bases, and since his return has reached base in 19 of 22 games.
"He won the opportunity to prove that he can, because he continues to prove that he can," Banister said.
DeShields spent three Minor League seasons at second base, making for a learning curve when he moved to the outfield. He is still inexperienced, but Banister said he has become an average, if not above-average, center fielder.
He doesn't have as strong a throwing arm as Martin, but he has impressed with every other facet of his game, and he is finally reaping the rewards.
"Has he exceeded the expectations?" Banister said. "You would have to say yes, because he was a Double-A player last year."
Cody Stavenhagen is an associate reporter for MLB.com. This story was not subject to the approval of Major League Baseball or its clubs.