Severino to remain in Yankees' rotation
Prospect in for Pineda, who won't return before September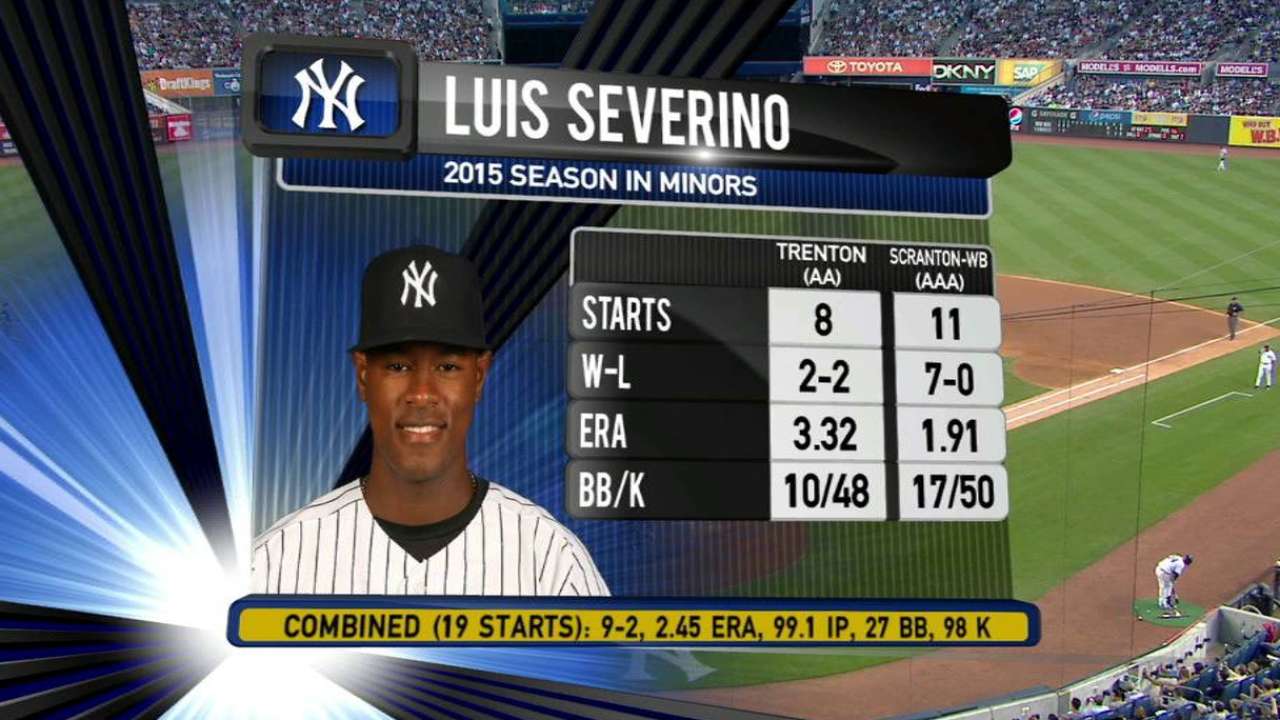 NEW YORK -- There were conversations over the winter, and again in Spring Training, where the Yankees' brain trust discussed what they might do if Luis Severino continued to dominate professional hitters. They agreed that if he was to be promoted, it should be to stay.
General manager Brian Cashman said on Tuesday that this will not be a one-and-done audition for the 21-year-old right-hander; rather, as he prepares to make his debut Wednesday against the Red Sox, Severino is guaranteed to be back on the mound next turn through the rotation.
"This guy seems like a tough kid," Cashman said of the Yankees' No. 1 prospect according to MLB.com. "I think he'll do well. If he doesn't have his best stuff [Wednesday], then obviously he'll get the ball five days later. It's as simple as that."
Severino was 7-0 with a 1.91 ERA in 12 starts at Triple-A Scranton/Wilkes-Barre, and by plotting to limit his workload to 99 1/3 innings, they believe he can pitch unencumbered through the end of the year. They will use a six-man rotation at times in August and then lean on some September callups after rosters expand.
Cashman, manager Joe Girardi, pitching coach Larry Rothschild, vice president of player development Gary Denbo and Minor League pitching coordinator Gil Patterson were among those who weighed in. Cashman said there is nothing to hold Severino back in terms of innings.
"We all sat down numerous times this winter and then again in Spring Training and mapped out this scenario," Cashman said. "If he performed up to his capabilities, we felt he would pitch for us from August on at some point. And here we are. So now it's, let's see what we've got."
Severino is receiving the opportunity because of an injury to right-hander Michael Pineda, who is shut down due to a strained right forearm flexor tendon and will not resume long-tossing for seven days. For all intents and purposes, Severino is replacing Pineda in the rotation, while Bryan Mitchell has been bumped to the bullpen.
"You're not going to see him pitching for us in Major League games here in August," Cashman said. "Obviously September is when we plan on unleashing [Pineda] again at some point."
Knowing that Severino was in the wings reduced Cashman's sense of urgency to push for a big arm like Cole Hamels (traded to the Rangers) or David Price (traded to Blue Jays) ahead of the July 31 non-waiver Trade Deadline.
Cashman said that he rejected trade proposals for some of the Yanks' other hurlers, like Mitchell and Adam Warren, as well as proposals that included Severino, outfielder Aaron Judge and first baseman Greg Bird. He is comfortable having done so as the Yankees attempt to patch together their pitching from within.
"The matches just weren't there because what they wanted from us," Cashman said. "Either the injuries compelled them to go dial up higher or the offers on the table were going to cost me a Warren or a Mitchell, which right now I need anyway -- and may very well be significantly better than what I was getting regardless."
Bryan Hoch is a reporter for MLB.com. Follow him on Twitter @bryanhoch, on Facebook and read his MLBlog, Bombers Beat. This story was not subject to the approval of Major League Baseball or its clubs.