Rangers option Martin to Round Rock
In corresponding move, contract of Strausborger purchased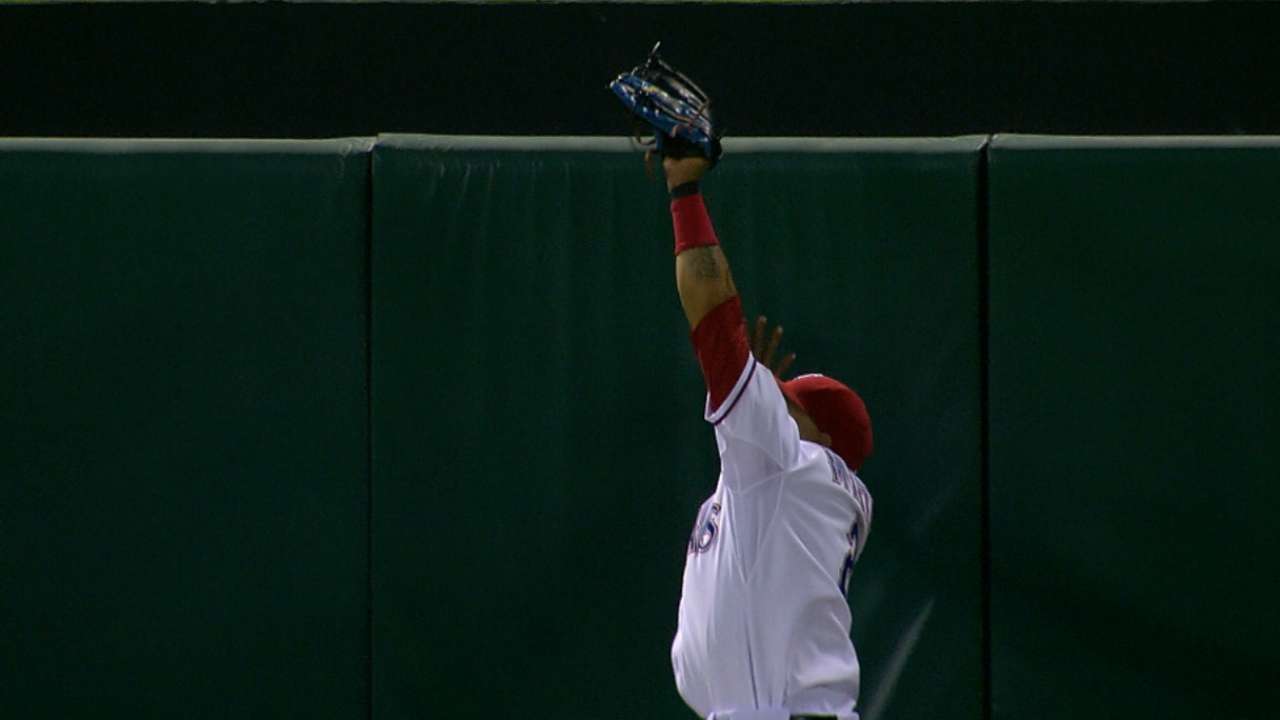 ARLINGTON -- Once the Rangers' everyday center fielder, Leonys Martin is headed to Triple-A Round Rock.
The Rangers announced on Tuesday that they have optioned Martin and purchased the contract of Triple-A outfielder Ryan Strausborger.
Martin lost the regular center-field job to Delino DeShields, who burst onto the scene when Martin injured his hand in early May. Martin kept getting chances, but he is hitting only .220 with five home runs, and his role has diminished to that of defensive replacement.
"He wasn't getting the consistent at-bats that it takes to get going," manager Jeff Banister said. "This is an opportunity for Leonys to go down and find that edge, similar to [Rougned] Odor righting that ship."
Martin leads the Majors with 13 outfield assists and is a premium defender, but his offensive production wasn't close to what the Rangers wanted to see. Last season he hit .274 and had a .325 on-base percentage. This year his on-base percentage is .265, and he has 68 strikeouts against 16 walks.
With a player such as Martin, who has proven he can be a capable Major League player, a demotion is rarely easy, but Banister reiterated that the move is not a punishment, but rather a way to give Martin a chance to get his game back in order.
"I believe that Leonys' competitive nature won't allow [him to take it the wrong way]," Banister said. "As in a loss, there is also a sting in being sent down. You shouldn't feel good about being sent down. Triple-A is not where you want to be. The Minor Leagues is not where you want to be. Ultimately, you want to be in the big leagues. But again, this should be a meritorious-type business where if you play well, and if you continue to play well, you stay on the field."
In Strausborger the Rangers call up a 27-year-old who will be making his Major League debut. Strausborger provides a needed right-handed bat, and he hit .306 against left-handers in the Minors this season.
Strausborger, who hit .278 with 10 home runs and 34 RBIs with Round Rock, was shocked to get the call.
"I called my parents, and I called my girlfriend," Strausborger said. "Honestly, I think I just walked around the room in circles for a little bit, just soaking it in. I didn't know where to start. I had to take a deep breath and get myself into gear and calm myself down."
Worth noting
• The Rangers placed left-hander Wandy Rodriguez on unconditional release waivers on Tuesday. If Rodriguez is not claimed, he will become a free agent on Thursday. He was designated for assignment last Wednesday.
• Derek Holland is scheduled to make his second rehab start with Round Rock on Tuesday. Holland has been on the disabled list with a strain in his left shoulder since April 11.
• With Tuesday's move, the Rangers have used an American League-high 51 players this season. Only the Braves have more, with 52.
Cody Stavenhagen is an associate reporter for MLB.com. This story was not subject to the approval of Major League Baseball or its clubs.