MLB.com Columnist
Fred Zinkie
Brewers could go big at home against Padres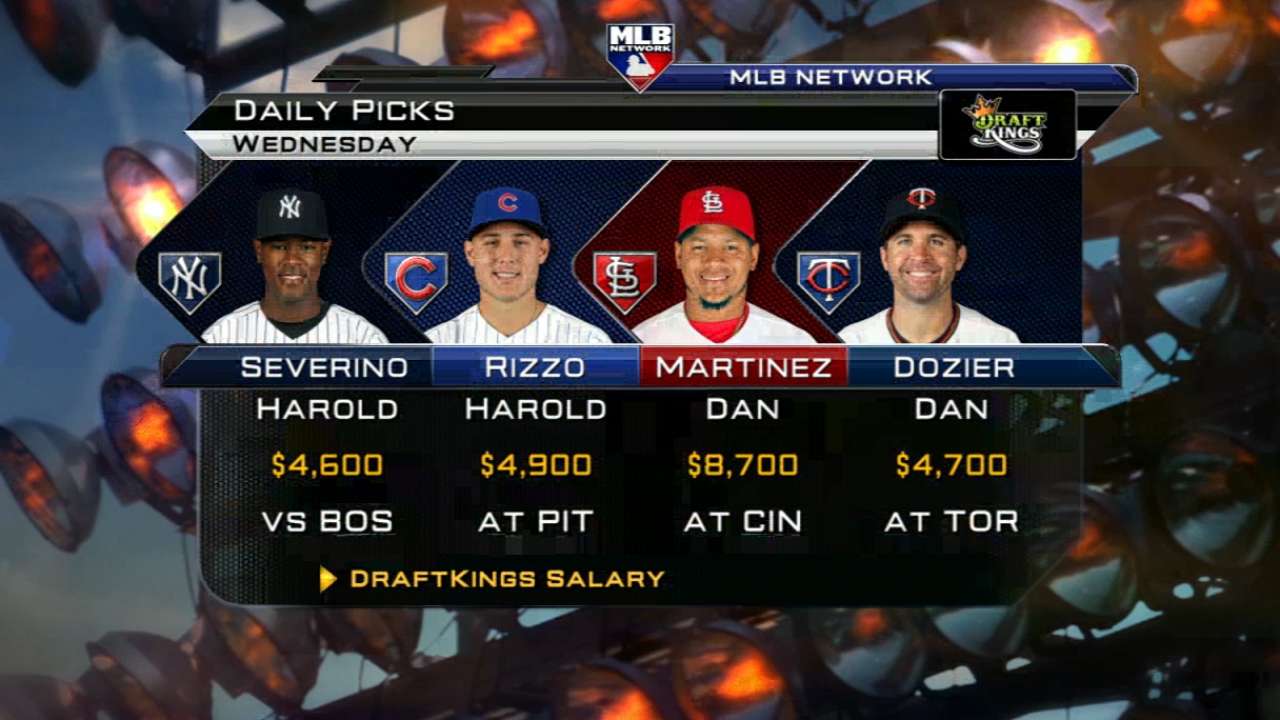 Welcome to DraftKings fantasy baseball, the Official Daily Fantasy Game of Major League Baseball.
The players listed below could provide difference-making stats for DraftKings participants on Wednesday.
Alex Rodriguez (Yankees): The slugger will be in position to improve on his lofty lifetime .302/.382/.559 slash line against right-handers when he bats at his hitter-friendly home park vs. Red Sox righty Steven Wright (career 4.21 ERA, 1.32 WHIP). Also of note: Rodriguez and his teammates will attempt to put balls into play against a Red Sox squad that ranks 27th in the Majors with a .679 defensive efficiency ratio.
Adrian Gonzalez (Dodgers): In his career, the first baseman has excelled against right-handers to the tune of a .300/.376/.532 slash line. Gonzalez could thrive when he faces righty Aaron Harang (7.49 ERA in past seven starts) at offense-inducing Citizens Bank Park.
Yasmani Grandal (Dodgers): The catcher could provide production at a premium position when he faces Harang (career 1.35 WHIP) at Philadelphia's hitter-friendly venue. Grandal owns a lifetime .824 OPS against right-handers that exceeds his .738 mark vs. lefties.
Salvador Perez (Royals): As a big leaguer, Perez has produced a .783 OPS against left-handers in comparison to a .715 mark vs. righties. The catcher could drive in multiple runs against lefty Matt Boyd -- who has allowed 11 runs and five homers in 6 2/3 innings this season -- and a Tigers bullpen that ranks 28th in baseball with a 4.30 ERA.
Jhonny Peralta (Cardinals): With 16 homers and 54 RBIs across 397 at-bats, the shortstop has been among the most productive players at his premium position this season. Peralta could improve on his career .798 OPS against left-handers (.746 vs. righties) when he faces lefty David Holmberg (lifetime 4.76 ERA, 1.51 WHIP) at hitter-friendly Great American Ball Park. Peralta may also thrive late in the game against a Reds bullpen that ranks 27th in baseball with a 4.18 ERA.
Jose Bautista (Blue Jays): Since the outset of the 2010 season, Bautista has produced slash lines of .266/.388/.554 against right-handers and .282/.408/.590 at Rogers Centre. The outfielder could drive in multiple runs when he leads a Blue Jays lineup that paces the Majors with 566 runs scored into a matchup with Twins righty Tyler Duffey, who will be making his first career start.
Ben Revere (Blue Jays): The outfielder owns balanced career splits, but this season he has produced a .737 OPS against right-handers that exceeds his .554 mark vs. lefties. The career .291 hitter has the plate skills to reach base often against the inexperienced Duffey, and he has the speed to swipe his 25th bag of the season against Kurt Suzuki, who has allowed more steals than all but three catchers in 2015.
Adam Lind (Brewers): The first baseman has long fared best vs. right-handers, against whom he has posted a career .864 OPS (.586 vs. lefties). Lind will be poised to display his power when he bats at his hitter-friendly home park against Padres righty Ian Kennedy (2.0 HR/9 rate in 2015).
Scooter Gennett (Brewers): Gennett owns some of the most lopsided lifetime splits in baseball, with an .814 OPS against right-handers that exceeds his .296 mark vs. lefties. The second baseman could be an economical part of a Brewers stack against Kennedy (4.44 ERA in 2015).
Jean Segura (Brewers): With balanced career splits, Segura could provide production at a premium position when he bats at his offense-inducing home park against Kennedy (5.21 FIP, 1.29 WHIP in 2015). The shortstop may also swipe his 17th base of the season against Derek Norris, who has allowed more steals than all but one catcher in 2015.
Luis Severino (Yankees): The rookie righty will make his first Major League start after posting an impressive 2.45 ERA with a 1.00 WHIP in the Minors this season. Severino may be a cost-effective second starter for DraftKings participants when he faces the Red Sox in a seemingly advantageous matchup with Wright.
Taylor Jungmann (Brewers): With a 2.23 ERA and a 1.10 WHIP across 10 starts, the rookie righty has been a cost-effective starter in many recent DraftKings contests. Jungmann could compile quality frames against a Padres lineup that is tied for 25th in baseball with a .681 OPS against righties, and he may earn a win if his supporting cast has success against Kennedy.
Scott Kazmir (Astros): The left-hander leads the Junior Circuit with a season-to-date 2.10 ERA. He could continue to dominate the competition when he faces a Rangers lineup that ranks 19th in the Majors with a .686 OPS against southpaws and contains many same-sided batters. Once Kazmir leaves the game, his quest for a win may be aided by an Astros relief corps that ranks third in baseball with a 2.79 ERA.
Matt Harvey (Mets): The right-hander has the opportunity to improve on his season-to-date 2.91 ERA and 1.06 WHIP when he travels to pitcher-friendly Marlins Park to face a Miami lineup that ranks last in the Majors with a .651 OPS against righties. Harvey may be facing the Marlins at the right time, as their offensive centerpiece, Giancarlo Stanton, is on the disabled list.
Madison Bumgarner (Giants): Bumgarner is the model of a consistent ace, as he has registered an ERA between 2.77 and 3.39 in each season since his rookie year in 2010. The left-hander has the skills to silence the opposition when he works at pitcher-friendly Turner Field against a Braves lineup that ranks 29th in the Majors with a .636 OPS against southpaws.
All statistics are accurate through the completion of Monday's games.
Fred Zinkie is the lead fantasy baseball writer for MLB.com. Follow him on Twitter at @FredZinkieMLB. This story was not subject to the approval of Major League Baseball or its clubs.