Left-hander Parra reinstated off DL by Reds
Cincinnati options outfielder Waldrop to Triple-A Louisville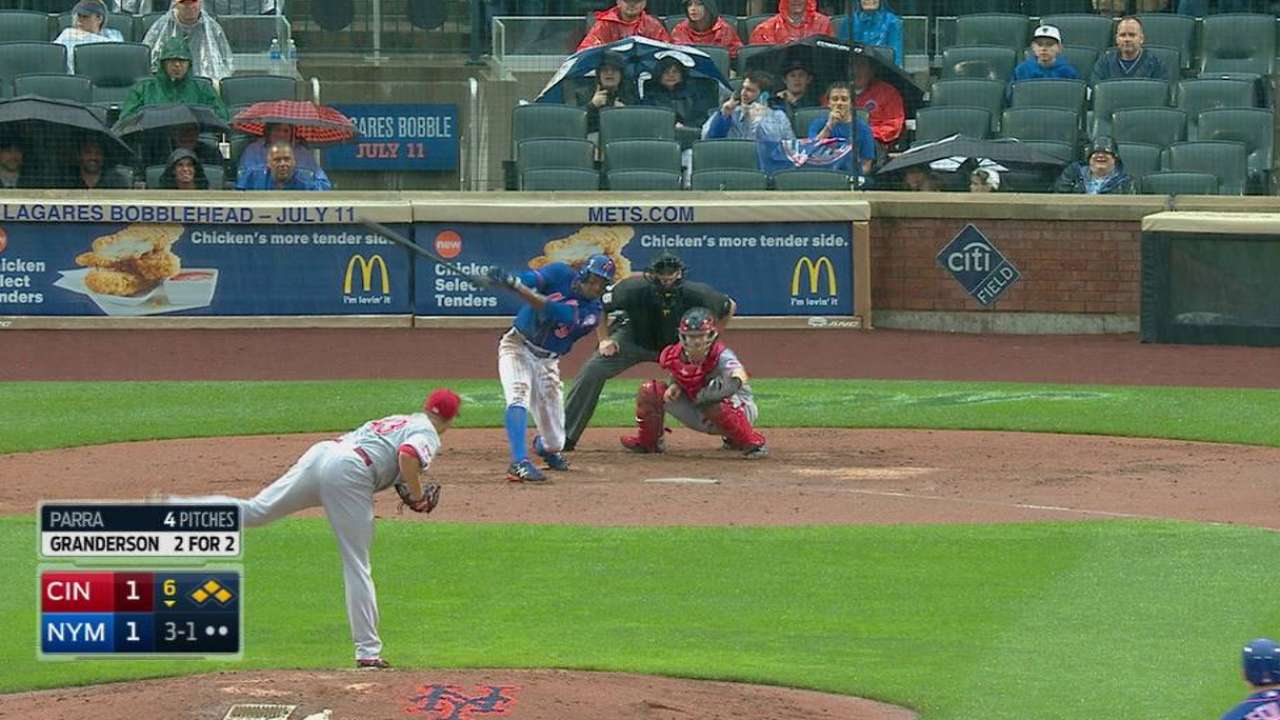 CINCINNATI -- The Reds reinstated left-handed pitcher Manny Parra from the disabled list and optioned outfielder Kyle Waldrop to Triple-A Louisville prior to Tuesday's game against the Cardinals.
Parra was placed on the DL with a strained left elbow on July 20. He last pitched on July 19 against the Indians, giving up two hits and one walk in 1 2/3 innings.
Parra is 1-1 with a 4.00 ERA across 18 innings in 24 appearances this season. Parra also was on the DL from April 29 to May 24 with a strained neck. He retired the first 21 batters he faced when he came off the DL earlier this season.
"Have been using [Burke] Badenhop kind of as our left-handed relief pitcher because he's had a great deal of success against left-handed hitters," Reds manager Bryan Price said. "But to have more of a traditional left-on-left matchup guy, [who] can also get right-handers out and a more established veteran presence in our bullpen definitely is a lift."
Waldrop made his Major League debut on Sunday with a pinch-hit strikeout -- which was his only at-bat while up with the Reds for three games. He was recalled on Friday from Louisville to fill the vacant roster spot from the Mike Leake trade.
Waldrop is hitting .202 with no home runs and four RBIs in 28 games with Louisville this season. He is listed as the Reds' No. 18 prospect and was on the U.S. roster during the SirusXM All-Star Futures Game on July 12 at Great American Ball Park.
Possible suspensions coming
The Reds could see a few players suspended or fined after the benches-clearing altercation with the Pirates on Sunday. Price said he has not heard anything on the matter yet, but is expecting something to come out in the next few days.
"I know stuff is coming in, things are starting to get pieced together," Price said. "I think [Reds president of baseball operations and general manager] Walt [Jocketty] will be the one who gets all of that information first. But just being out on the field with [umpire] Joe West and that crew, he said, 'you can expect that once the tape is reviewed there'll be people that remained in the game that might receive some fines or suspensions.'"
Joey Votto and Marlon Byrd were both ejected from the game during the altercation.
Robert Bondy is an associate reporter for MLB.com. This story was not subject to the approval of Major League Baseball or its clubs.