Sanchez gets 3-game suspension; Gibbons gets 1
TORONTO -- Blue Jays pitcher Aaron Sanchez and manager John Gibbons received suspensions from Major League Baseball on Tuesday for their roles in a benches-clearning incident during Sunday's 5-2 win over the Royals.
Sanchez received a three-game suspension and an undisclosed fine for "intentionally throwing a pitch" at Royals shortstop Alcides Escobar in the eighth inning with warnings in place. He has appealed the decision.
Gibbons received a one-game suspension for returning to the field following his seventh-inning ejection. The 53-year-old served his suspension Tuesday night against the Twins and was not permitted to be in the clubhouse or dugout during the 3-1 Blue Jays victory.
"I didn't know for sure, but that's the rule, that's the law," Gibbons said, when asked whether he expected the suspensions. "Coaches don't go out there and throw punches -- you usually go out there to make peace -- but that's the rule. So you have to have that: If that's the rule, you have to follow it.
"As far as Sanchy, hopefully they'll chip that down a little bit, but I think that's kind of automatic after warnings, when you get ejected for hitting a guy."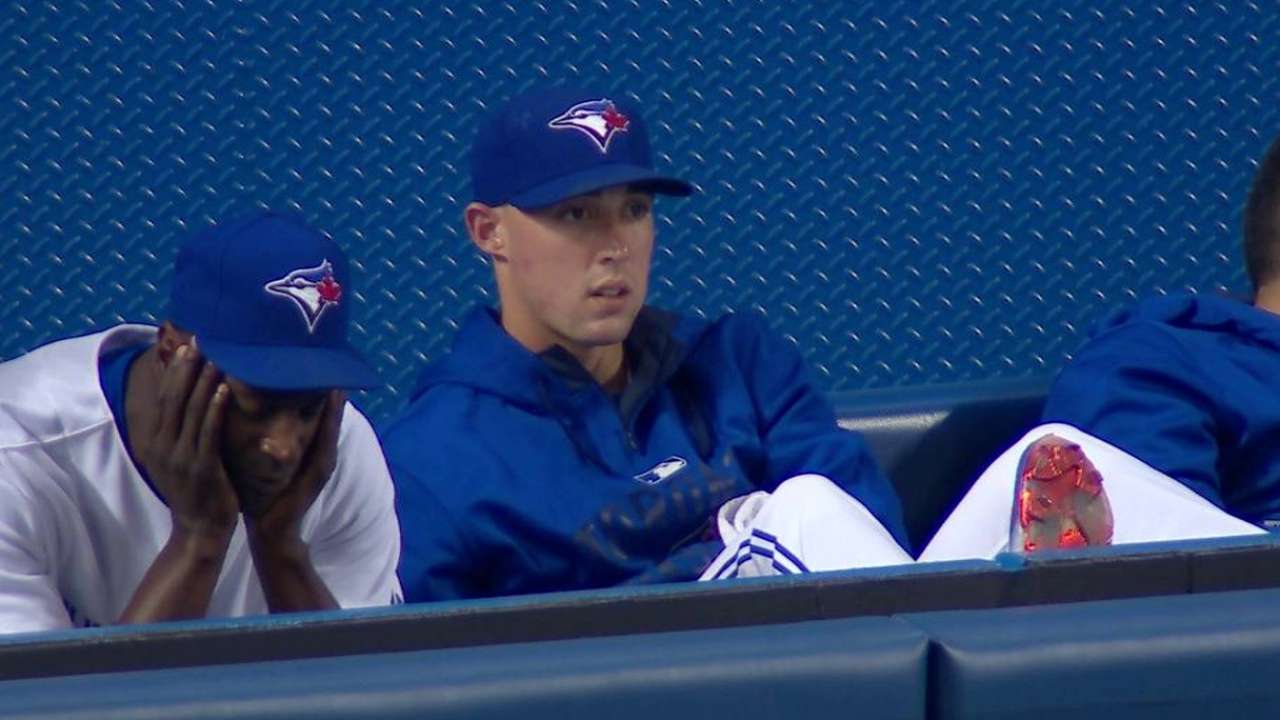 The suspensions stem from an emotionally fueled game. That began in the first inning, when Toronto third baseman Josh Donaldson was hit by a pitch from Kansas City right-hander Edinson Volquez. Donaldson was nearly hit again by Volquez later in the game, while shortstop Troy Tulowitzki was struck by a pitch from right-hander Ryan Madson. Immediately following the Tulowitzki plate appearance, Donaldson dodged a pitch up and in from Madson.
In the bottom half of that eighth inning, Sanchez hit Escobar in the leg with a pitch and was ejected. Following the game, Sanchez publicly denied there was any intention to hit Kansas City's infielder, citing the pitch count and game situation as his primary pieces of evidence.
"Absolutely," Sanchez said, when asked whether the ejection was a surprise. "Go back and look at the at-bat. The first pitch was right down the middle, and the next two got away from me. I'm not the guy out there that's got perfect command, and you guys know that."
Sanchez stood by those comments on Tuesday, adding that he will not have any further comments until the appeal process is over. That could happen later this week in New York, but the exact timeline for a final decision by the league was not immediately known. Sanchez, who retired the side in the eighth inning Tuesday, can keep pitching at least until his appeal is heard at an official hearing.
"You guys heard what I said after the game," Sanchez said prior to Tuesday's game. "Nothing has changed in that [respect]. ... I'm appealing this, so I'll be ready to go tonight, and I'll probably have something to say when the appeal is over with."
Some Blue Jays players were upset that the Royals escaped punishment, despite appearing to be the instigators in Sunday's game. That didn't come as a surprise to Gibbons, since nobody on their team was ejected during the game. That put MLB in a tough spot.
"I think they went down to the letter of the law," Gibbons said. "When the umpire doesn't throw any of those guys out, how do you suspend them? Our guy gets thrown out, so you suspend him. That's probably just the letter of the law, I'd think."
Gregor Chisholm is a reporter for MLB.com. Read his blog, North of the Border, follow him on Twitter @gregorMLB and Facebook, and listen to his podcast. This story was not subject to the approval of Major League Baseball or its clubs.