ICYMI: Solarte's 2 homers help Friars rout Crew
Yangervis Solarte certainly had himself a game at Miller Park on Monday as the Padres infielder recorded the first multiple-home run game of his career in a 13-5 rout of the Brewers during the first of a four-game series in Milwaukee. Indeed, Solarte's multi-hit game was complimented by the four RBI he collected on the day and the 13 hits in total that the Padres pounded out to score 13 runs against the Brew Crew. Starter Tyson Ross also enjoyed an excellent day at the yard as he collected his eighth win of the season and his third RBI of the year en route to the team's victory in the series opener in Wisconsin.
Although Ross' 1-for-3 performance at the plate with an RBI is certainly impressive, what was more impressive was the quality start and victory he posted as he needed 109 pitches to throw six innings of three-run baseball. Of the three runs surrendered only two were earned as Ross yielded only seven hits and five strikeouts while walking two en route to his eighth victory of the year.
Meanwhile, Leonel Campos made his 2015 debut on Monday and pitched an inning of relief, surrendering a run on one hit and one walk with one strikeout. Dale Thayer and Marcos Mateo also pitched in relief of Ross on Monday evening, each collecting a strikeout while Mateo surrendered the Brewer's fifth run of the night in the bottom of the ninth. Those runs would prove to be moot, however, as the Padres offense erupted early on to allow the team to cruise to a comfortable 13-5 victory.
As mentioned earlier, Solarte collected a pair of homers in the game while also collecting multiple RBI on the evening. Joining Solarte in having a multi-hit, multi-RBI game were Alexi Amarista - who went 2-for-5 with three RBI and a triple - and Jedd Gyorko - who went 3-for-5 with two RBI including a solo home run of his own. Rookie Austin hedges also enjoyed a multi-hit game after going 2-for-4 while scoring twice and collecting an RBI on the evening as well.
Overall, eight of the Padres' starting nine collected a hit on the day as Matt Kemp and Melvin Upton Jr. each contributed RBI of their own during Monday's series opener. The only starter to not record a hit was first baseman Yonder Alonso who still managed to score a run after drawing a walk and coming around to score in the seventh inning.
With their 13th victory in their last 17 games, the Padres were able to improve to 52-54 on the year while also improving their current road-trip record to 5-2. The Padres will continue their four game series tomorrow evening with game two in Milwaukee as Andrew Cashner takes the hill to face off against Jimmy Nelson. In case you missed it, here are some highlights and stories you may not have seen from Monday:
Padres post-game recap: Solarte leads Friars' fun night in Milwaukee
Yangervis Solarte launched two solo-homers in Monday's opener: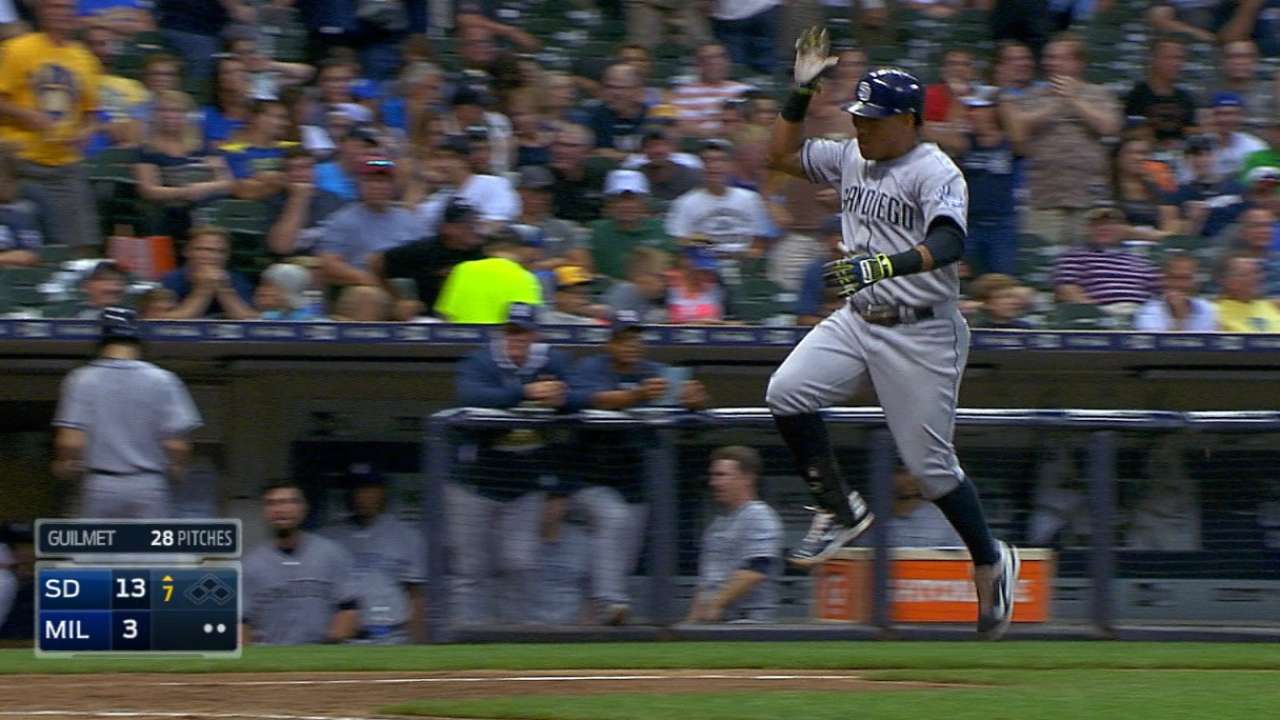 Meanwhile, Amarista put the Padres on top with a two-run triple in the 2nd:
Gyorko then crushed a solo home run in the 5th for his 6th HR of the year: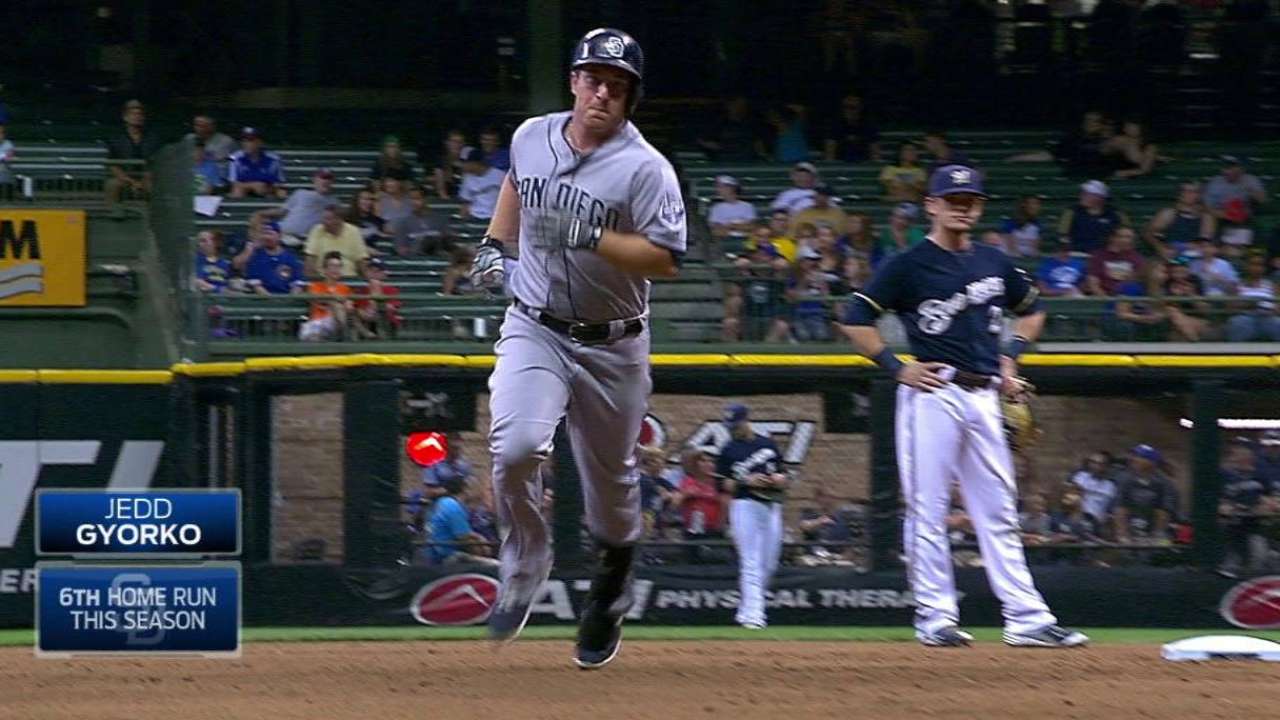 Then the Friars scored six in the 7th to give the Padres a 10-run lead: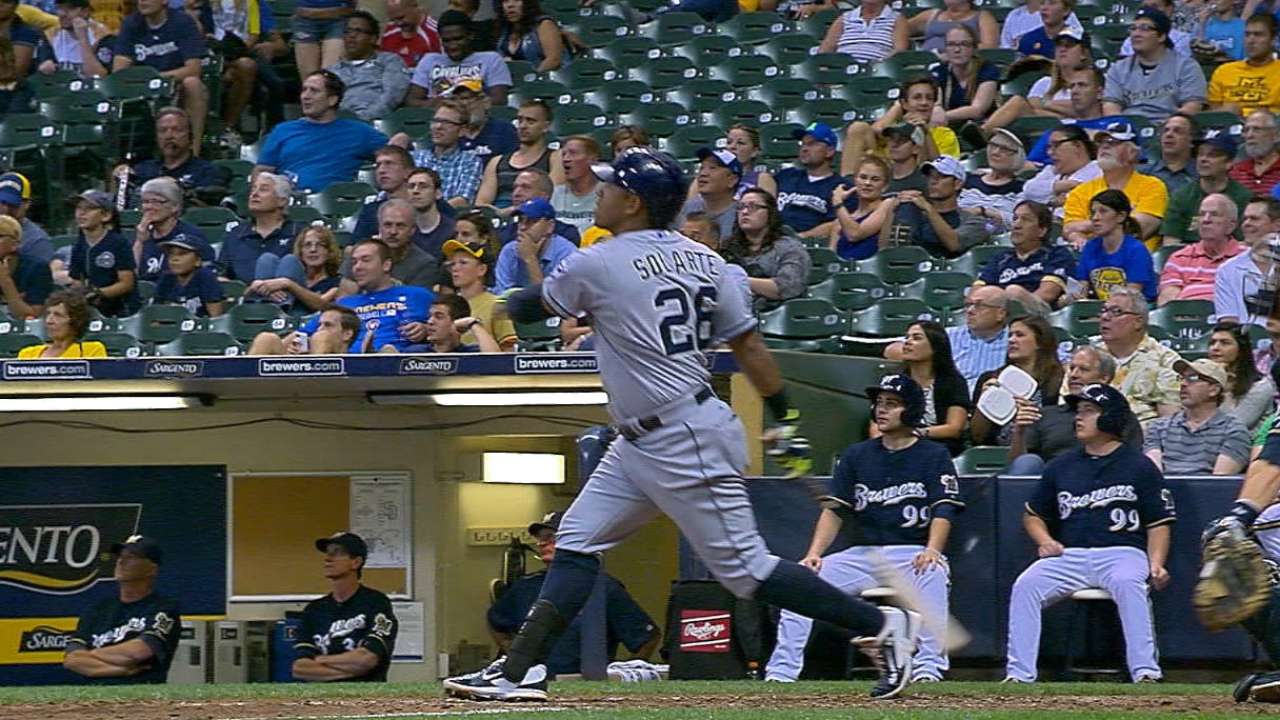 Top stories of the day:
Season's marathon pace may be slowing down reliever: Fatigue a factor for struggling Maurer?
Special reunion awaits skippers in Milwaukee: Managers Murphy, Counsell go way back
Little Ninja carries big bat when visiting Miami Gardens: Marlins Park brings out slugger in Amarista
Comedian turned 'journeyman' prepares to unveil film: Ferrell's special premiering at Petco on Sept. 5
Down on the Farm: A mid-season look at top prospects in the Padres system
Murph's Musings: Murphy (finally) reunited with former student Counsell in Milwaukee
Notable Notes: Game Notes @ MIL (08.03) Friars Continue Trip to Milwaukee for Opener vs. Brewers
Looking forward:
Friar Forecast: Cashner, Padres set to battle Nelson, Brewers
Tuesday's pitching matchup: Andrew Cashner (4-10, 4.13 ERA) vs. Jimmy Nelson (8-9, 3.76 ERA)