MLB.com Columnist
Roger Schlueter
Stats of the Day: Beltre rides tri-cycle into books
Rangers third baseman becomes 4th player in history to accomplish feat 3 times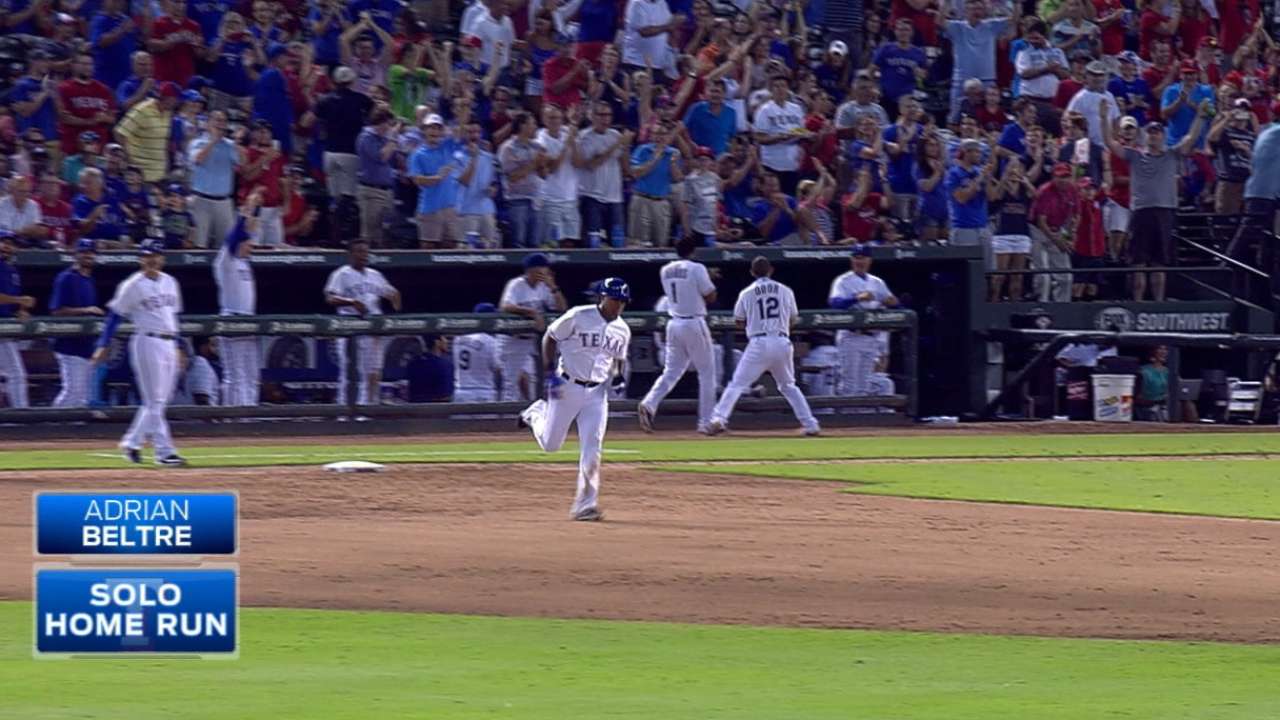 Here are four interesting items from around the big leagues on Monday …
• In Texas, Adrian Beltre hit a two-run triple in the first, a double in the second, a single in the third and a homer in the fifth to complete his third career cycle. The third baseman finished with four hits and three RBIs. Beltre, whose previous cycles came in 2008 (with the Mariners) and '12 (with Texas), joined John Reilly (two in 1883, one in '90), Babe Herman (two in 1931 and one in '33) and Bob Meusel (cycles in 1921, '22 and '28) as the only players to have three. All three of Beltre's cycles have come at the Rangers' home ballpark. Since Globe Life Park opened in 1994, there have been a total of 78 cycles, with seven of them happening at this ballpark in Texas.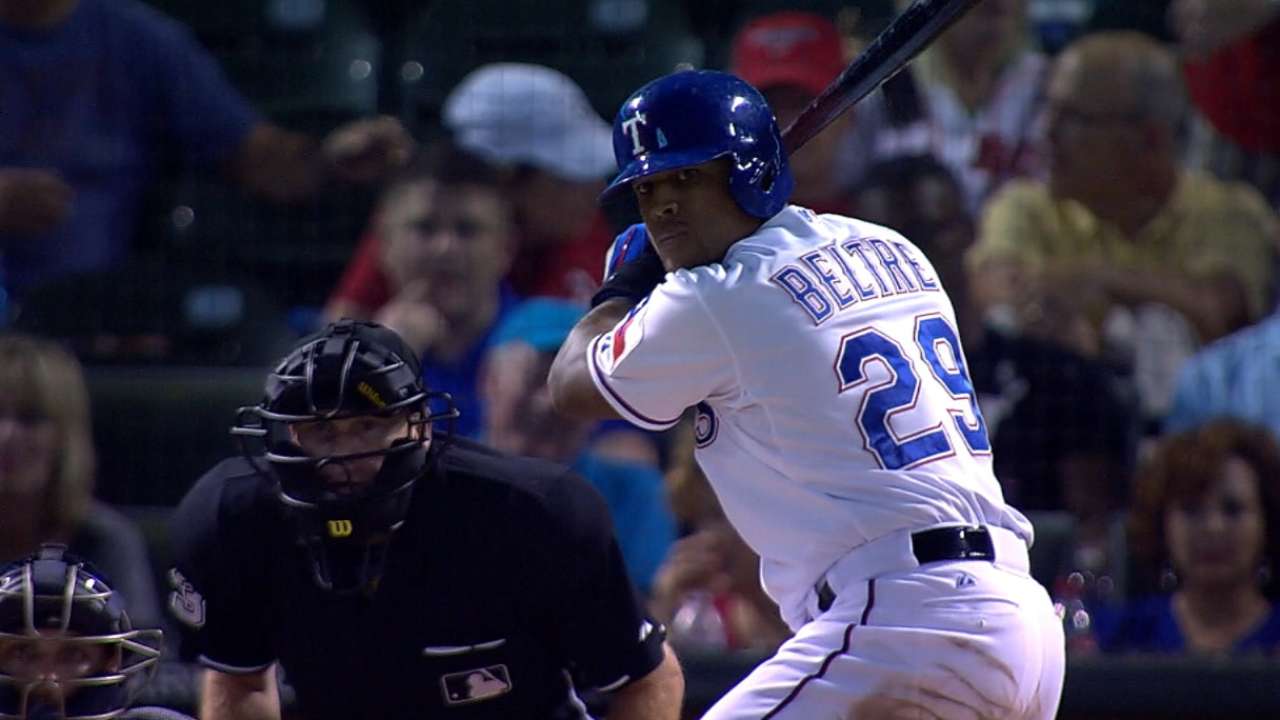 • In his Blue Jays debut, David Price worked eight innings and allowed a run on three hits with 11 strikeouts. The 29-year-old left-hander picked up the win as Toronto topped Minnesota, 5-1. The 11 strikeouts represent the most for a pitcher in a Blue Jays debut, surpassing the nine set down Roger Clemens on April 2, 1997.
• In the Giants' loss, Brandon Crawford hit a pair of home runs and Buster Posey had one. Crawford's 18 homers this season are the sixth most in franchise history for a shortstop. Rich Aurilia blasted 37 in 2001, had 22 in 1999 and 20 in 2000. Travis Jackson hit 21 in 1929, and Alvin Dark had 20 in '54. Posey's homer gave him 99 in his career. That tally represents the second highest for any Giants player with more than half of his career games at catcher. Tom Haller had 107 homers.
• In the Mariners' win, Felix Hernandez fanned nine to raise his career tally to 2,091. For all pitchers in history through their age-29 season, that total is the fifth highest, behind Walter Johnson (2,305), Sam McDowell (2,281), Bert Blyleven (2,250) and Don Drysdale (2,111).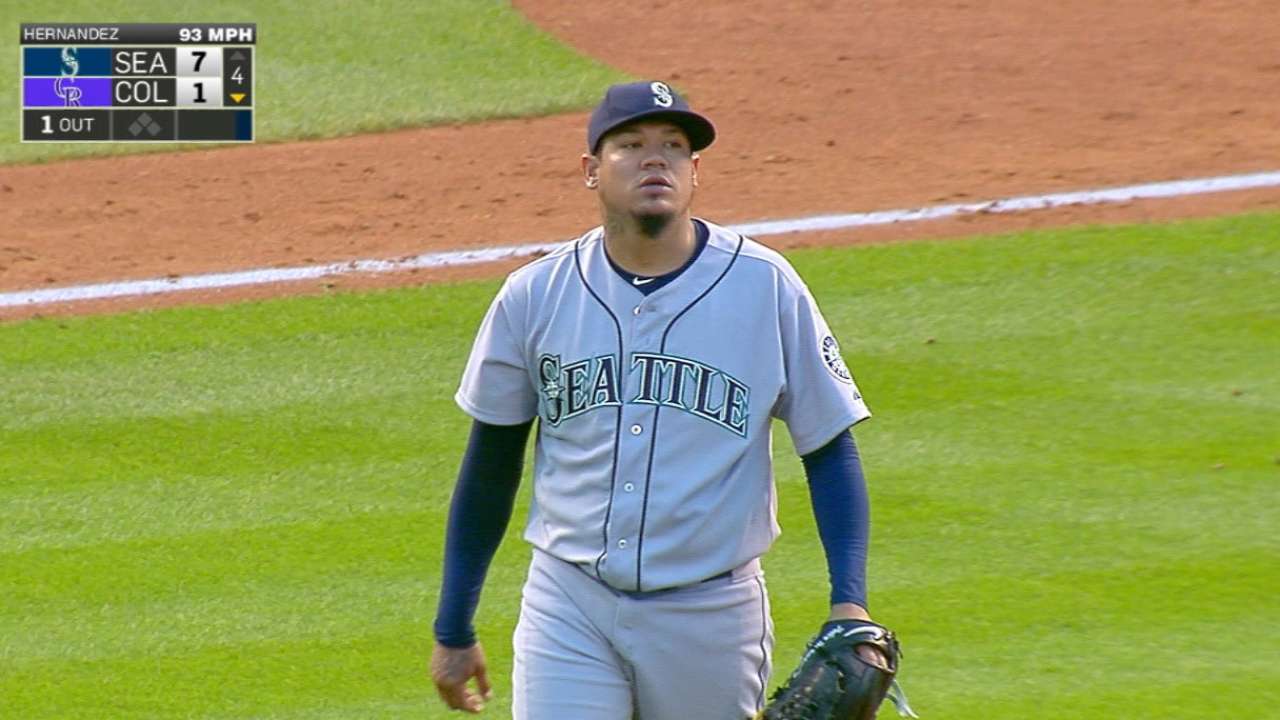 Milestone watch for Tuesday
• David Ortiz needs one extra-base hit to tie Mel Ott (1,071) for 24th all-time.
• Max Scherzer needs seven strikeouts to reach 1,500 in his career. When he gets there, he will be the 24th pitcher to reach the milestone through his first eight seasons.
Roger Schlueter is a contributor to MLB.com. This story was not subject to the approval of Major League Baseball or its clubs.