Garcia, Davis among Monday's Top 10 prospects
Giants' Nos. 11 and 30 prospects combine for three HRs, six RBIs for Class A Augusta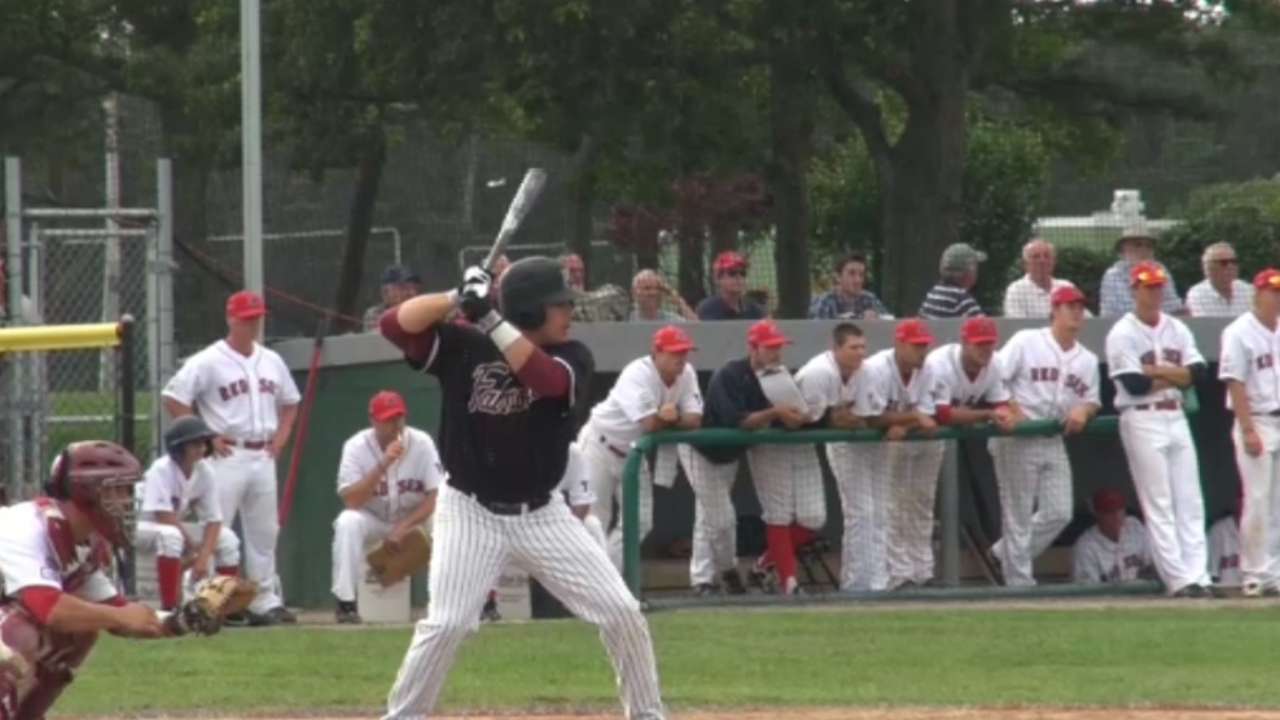 Fans in Kentucky witnessed a firefight Monday night, as Class A Augusta outlasted Lexington, 16-14.
Giants No. 11 prospect Aramis Garcia and No. 30 prospect Dylan Davis led the winning effort, combining for six hits, three home runs and six RBIs for the GreenJackets. Davis was particularly impressive, finishing 2-for-5 with two homers and five RBIs.
"I just really wasn't trying to do too much," Davis told MiLB.com. "Even throughout the whole game, I was just trying to stay within myself. Just ... continuing with the approach that I've been using the last couple games, especially trying to get in a groove and hit my stride.
"I try to take that approach into everything. Things don't go your way when you're trying to do too much and create something that you don't need to."
The right fielder has three homers in his past four games, and stands at the .250 mark for the first time since June 11. Garcia -- 4-for-6 with solo homer -- has 15 homers and 61 RBIs for Augusta and has hit in five of his past six contests.
Lexington brought the wood, too.
Royals No. 9 prospect Chase Vallot and No. 30 prospect Anderson Miller both went 3-for-6 with a three-run homer and four RBIs for the Legends. Vallot has hit in nine straight games, bumping his average from .199 to .220 in the process.
Miller's dinger was his first in 13 Double-A games after jumping from Rookie-level Burlington. Kansas City selected the 21-year-old No. 98 overall in this year's Draft, and he hit .342/.359/.579 with seven RBIs in 10 games with his fellow first-year players before getting the call to join the Double-A squad.
He'll get plenty more chances to show off in front of the home crowd as Lexington hosts Augusta twice more and then welcomes Greenville to town for a four-game weekend series.
Other notable performances from around the Minor Leagues on Monday
Cubs No. 8 prospect Pierce Johnson continues to give Double-A Tennessee a fighting chance. The 6-foot-3 righty recorded his fourth straight quality start by allowing one run on four hits in six innings. He also picked up three strikeouts against two walks, coming away with a no-decision as the Smokies fell to Birmingham, 4-2. Johnson has allowed more than one run just once in 10 starts for Tennessee, and boasts a 1.65 ERA to go with his 5-0 record.
D-backs No. 29 prospect Daniel Palka inched closer to the 20/20 club with a grand slam in Class A Advanced Visalia's 11-2 win over Stockton. The first baseman finished 2-for-3 with two walks, a stolen base and a grand slam for the Rawhide, bringing his season totals to 19 homers and 20 swipes. Palka has provided a steady power bat to Visalia's lineup all season -- he's hitting .277 with 27 doubles in southeastern California. He has three multi-hit games in the past five contests.
Dodgers No. 9 prospect Cody Bellinger hit his fourth home run in nine games for Class A Advanced Rancho Cucamonga, finishing 1-for-3 with a two-run shot. Those were the only runs the Quakes would need in a 2-1 victory over High Desert. The 20-year-old first baseman has hit in eight of his past nine, and has 21 homers to complement 30 doubles and 72 RBIs.
Mariners No. 7 prospect Tyler O'Neill finished 1-for-5 and hit a homer in his fourth straight game as Class A Advanced Bakersfield defeated Lancaster, 9-5. The barrage is not an isolated one; he has nine homers in his past 12 contests. That's how long it's been since the 20-year-old returned from a three-week stint with Team Canada, and his stats have not suffered much despite the lengthy absence. O'Neill boasts a .558 slugging percentage with 25 homers -- three off the Minor League lead -- and 64 RBIs for the Blaze. A native of Maple Ridge, Ontario, he was selected No. 85 overall in 2013, and has since swatted 39 dingers in 166 pro games.
Rays No. 6 prospect Taylor Guerrieri and Braves No. 13 prospect Zack Bird kept the scoreboard clean as Double-A Montgomery took down Mississippi, 1-0, in 12 innings. Both hurlers finished with a no-decision after going at least five innings. Guerrieri put in those five for the home side, allowing just two hits and one walk while striking out three. The night marked his second start for the victorious Biscuits, and he has a 4.50 ERA after giving up four earned runs in three innings last week.
Bird, meanwhile, was making his organizational debut about being traded by the Dodgers on July 31. The Mississippi native gave up two hits and three walks while striking out two in 5 2/3 innings. He's off to a good start after going 5-7 with a 4.75 in 19 appearances for Class A Advanced Rancho Cucamonga this year.
"My mama always says when I go out there, 'Know that you belong,'" Bird told MiLB.com. "You always want to be confident, but my first start in Double-A, I wasn't sure what to expect. Now that I [accomplished that], it really solidifies that I can pitch here."
Alex M. Smith is a reporter for MLB.com. This story was not subject to the approval of Major League Baseball or its clubs.