Angels 'found a way' for much-needed win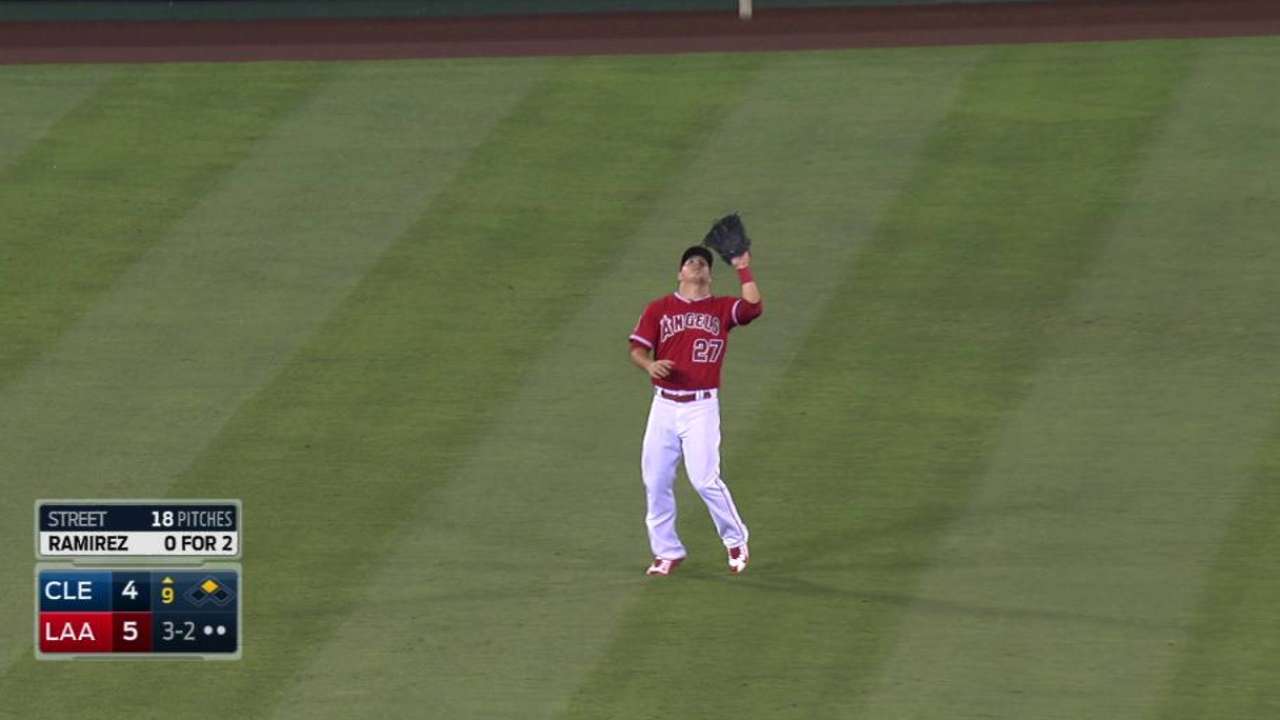 ANAHEIM -- The Angels assumed they had hit rock bottom when they began their homestand this week -- and then the first inning happened. It featured three runs by the opposing offense, 26 pitches from a starting pitcher they badly needed length from and a home-run-robbing catch by the opposing center fielder.
They overcame all of that, somehow, and they won on Monday night, beating the Indians, 5-4, to snap a season-long six-game losing streak and capture their second victory in the last 11 games.
Afterward, Angels closer Huston Street said, "I was proud of the team."
They showed him something.
"The one thing all good teams do is they execute, and the one thing they don't do is make excuses," Street said. "And that's why they're good teams, because they don't have to make excuses. You can talk about all the good pitchers we've faced, you can talk about all those things. It doesn't matter. If you want to be the best, you have to beat the best. Sometimes that means playing through robbed homers, and sometimes it means beating guys who are pitching like Cy Young."
And sometimes it means unexpected contributions.
Conor Gillaspie certainly qualifies.
After Garrett Richards gave up three runs in a sluggish top of the first, after Indians center fielder Michael Bourn robbed Kole Calhoun of a solo homer in the bottom half and after the Angels cut into their deficit with back-to-back, two-out, fifth-inning RBI singles by Calhoun and Mike Trout, Gillaspie came through once again.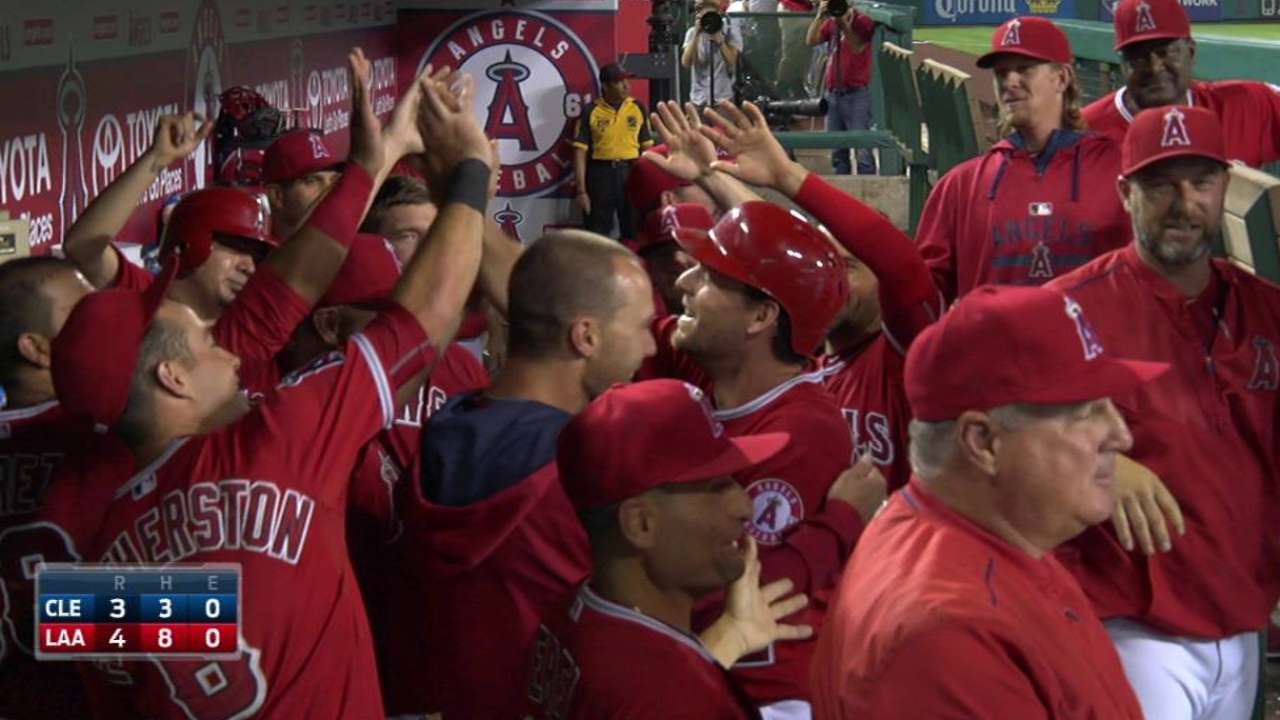 He took a 2-1, chest-high slider from Corey Kluber -- the reigning American League Cy Young Award winner -- and turned on it in the bottom of the sixth, lofting it into the right-field tunnel for the two-run homer that set the Angels up for a much-needed win.
It was the first time the Angels held a lead past the fifth inning in eight days, which was also the last time they had won a game.
"We found a way to pull one off tonight," Gillaspie said after just his fourth home run all season. "You've got to keep your head up when you're facing guys like Kluber and the whole Dodgers staff. Sometimes they just beat you."
The Angels acquired Gillaspie from the White Sox for cash considerations on July 24 out of sheer necessity. With David Freese out until the middle of August with a fractured right index finger, and Kyle Kubitza still a little too inexperienced to take on an everyday role, the Angels needed a stopgap at third base.
Gillaspie's slash line was down to .237/.276/.364, worlds away from the .282/.336/.416 line he posted in a breakout 2014 season. He had lost his everyday job, but the Angels were hopeful that a change of scenery could help the left-handed-hitting 28-year-old find his swing again.
Since changing teams, Gillaspie is 8-for-28, with six RBIs and four extra-base hits.
"It's going to be a big lift for us if he can do what he did for the White Sox, because he had a terrific season last year," Angels manager Mike Scioscia said. "He's a good player. He was just in a bad streak this year."
The Angels held a .500 record 17 separate times in the first three months, then won 17 out of 20 and followed it by losing nine out of 10. They've gone from mediocre to great to bad, all in a span of 17 weeks. And in 11 days, from July 22 to this past Sunday, they went from two games up to four back of the Astros in the AL West.
They're three games back now, and they hope their worst days are behind them.
"I think the nine out of 10 was a lot less of who we are than the 17 out of 20," Street said. "Seventeen out of 20 -- it's clearly in here."
Alden Gonzalez is a reporter for MLB.com. Read his blog, Gonzo and "The Show", follow him on Twitter @Alden_Gonzalez and listen to his podcast. This story was not subject to the approval of Major League Baseball or its clubs.