Lack of command stings Butler in tough start
Rookie allows seven runs over just four innings against Mariners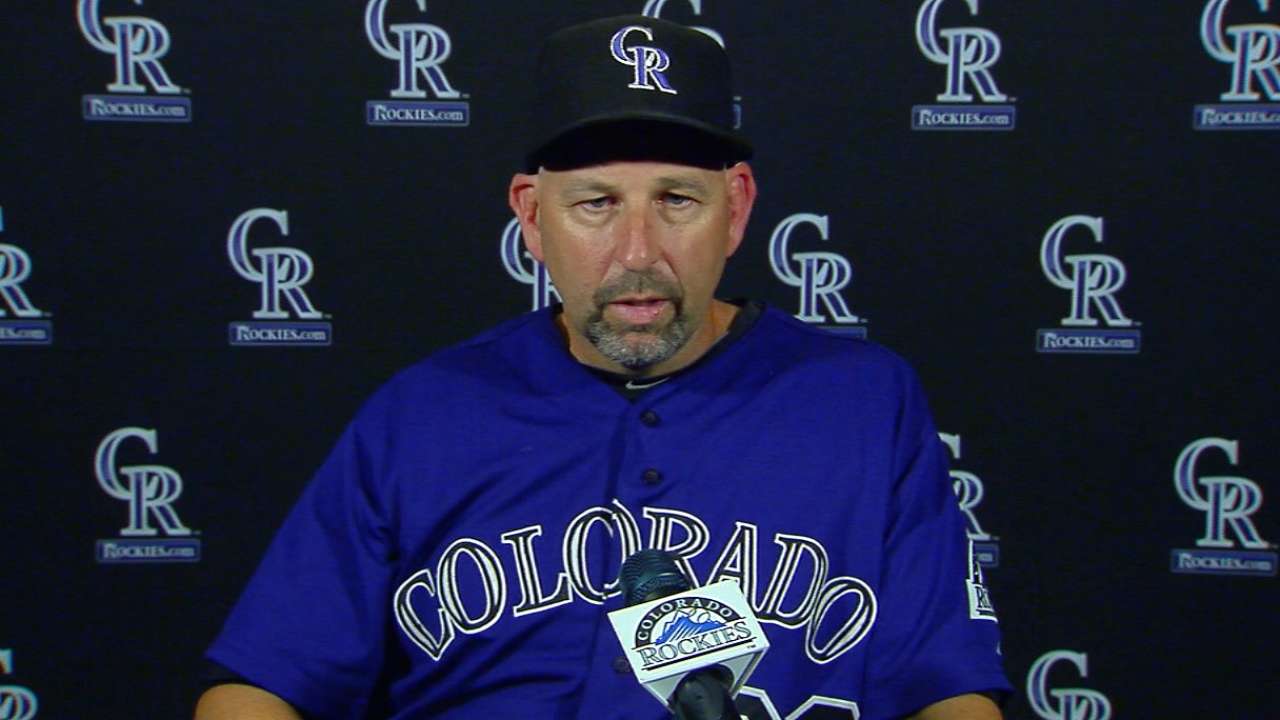 DENVER -- Eddie Butler didn't have to search very far to find the culprit behind Monday's poor outing.
"The first inning just got out of hand," Butler said after the Rockies' 8-7 loss at Coors Field, which was fueled by Seattle's four-run first. "Wasn't able to stop the bleeding. That was the downfall."
In the opening frame, the Mariners nearly batted around and tagged Butler for four hits -- three of which arrived with two outs. The Rockies right-hander sandwiched a pair of groundouts around a Kyle Seager double and looked to be heading toward a potentially clean frame.
But Robinson Cano clocked a 1-0 slider for an RBI single. And Butler followed with a costly, two-out walk to Seth Smith, who fell behind 1-2, but battled back and eventually watched an 89-mph changeup sail wide.
"That definitely hurt," Butler said. "I got ahead -- he swung at a changeup. Then he took a good changeup, fouled off a curveball, took a fastball, and I ended up walking him on a changeup. Again, that's where a big out needs to be made, and I wasn't able to produce that."
From there, Jesus Montero split the left-center field gap for a two-run double, and Brad Miller concluded the first-inning damage with a run-scoring single. Things didn't improve in the second, when Seager and Nelson Cruz took Butler back-to-back -- one to right-center and the other to left-center.
Miller followed suit with a third-inning homer, which handed the Mariners a 7-1 advantage and marked the first time Butler had given up three homers in one game.
Butler eventually exited after the fourth, yielding seven hits and a career-high seven runs on just 67 pitches. He walked one and struck out a pair as well. The Rockies rallied, but after Seattle's monumental first, Butler's early struggles were too much to overcome.
"He struggled with command and left pitches in the middle of the plate," Rockies manager Walt Weiss said. "It almost always comes down to location with any pitcher."
Dargan Southard is an associate reporter for MLB.com. This story was not subject to the approval of Major League Baseball or its clubs.