MLB.com Columnist
Jonathan Mayo
Gray, Owens, Severino ready for big stage
Trio of potential front-line starters set to make MLB debuts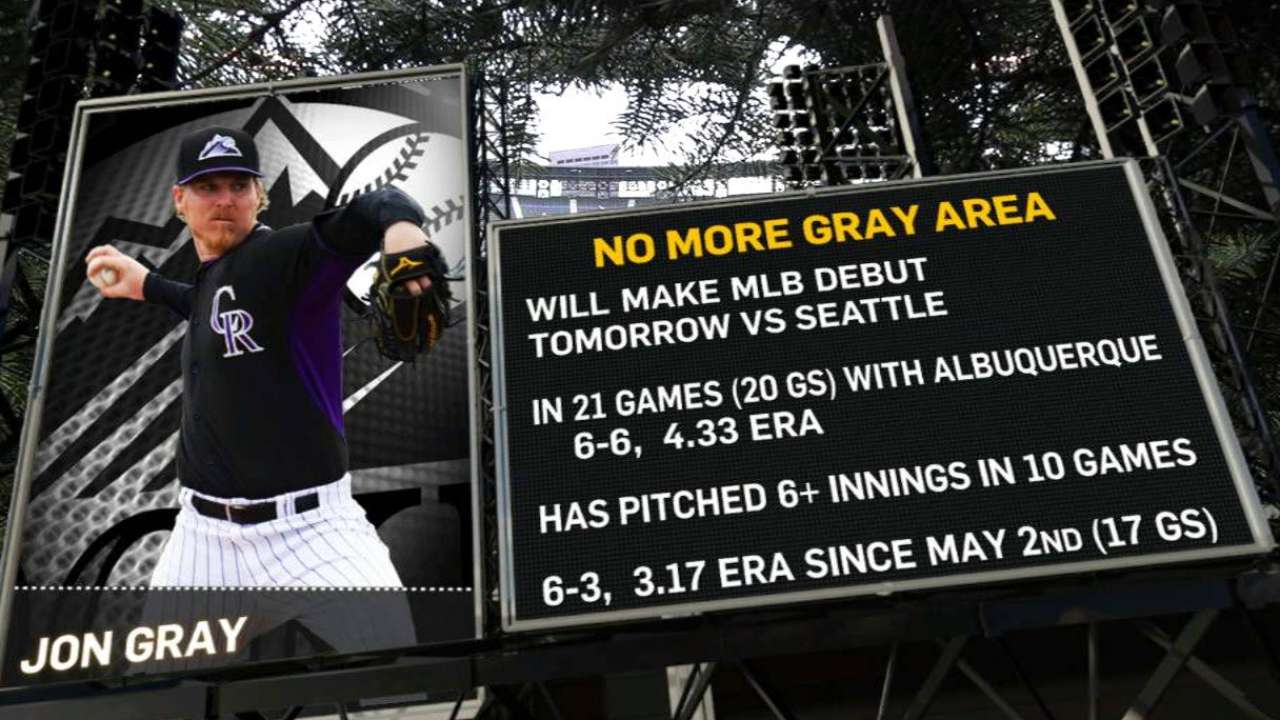 The year of the prospect continues with three potential front-line starters making their debut in the span of 24 hours.
This parade of pitchers from the Top 100 Prospects list begins with the Rockies' Jon Gray, No. 35 on that list, and Red Sox lefty Henry Owens (No. 48), on Tuesday. Gray will take the mound at Coors Field against the Mariners; Owens faces the daunting task of making his Major League debut in Yankee Stadium. The next day, No. 16 prospect Luis Severino of the Yankees gets a taste of the New York-Boston rivalry.
What's fair to expect of this trio of hurlers, all of whom are 23 or younger? Let's take a closer look.
Jon Gray
When the Rockies selecetd Gray No. 3 overall in the 2013 Draft, the thought was the big right-hander from Oklahoma would move quickly through the system. Now here he is, just two years later, though the Rockies' No. 2 prospect didn't exactly have a smooth and straight path to Colorado.
A year ago, a drop in velocity had many concerned with Gray's progress. He had gone straight to Double-A for his full-season debut, but was more hittable than many had anticipated, and when his fastball seemed to lose a few ticks, it did raise some eyebrows. Gray did rebound at the end of the year, assuaging some of those fears, and a strong Spring Training nearly landed him a spot in the big league rotation in April.
Instead, Gray went to try Triple-A Albuquerque for the first time, and he had to deal with adversity once again. Gray gave up 32 hits and 21 earned runs over 17 2/3 innings, not exactly the start a pitcher who hoped to get a call to the big leagues quickly was looking for. To his credit, Gray adjusted with a 2.78 ERA in May, though he wasn't missing a ton of bats. June was OK and July was terrific as he was the overpowering starter the Rockies envisioned, finishing last month with a 2.70 ERA and 43 strikeouts in 30 innings.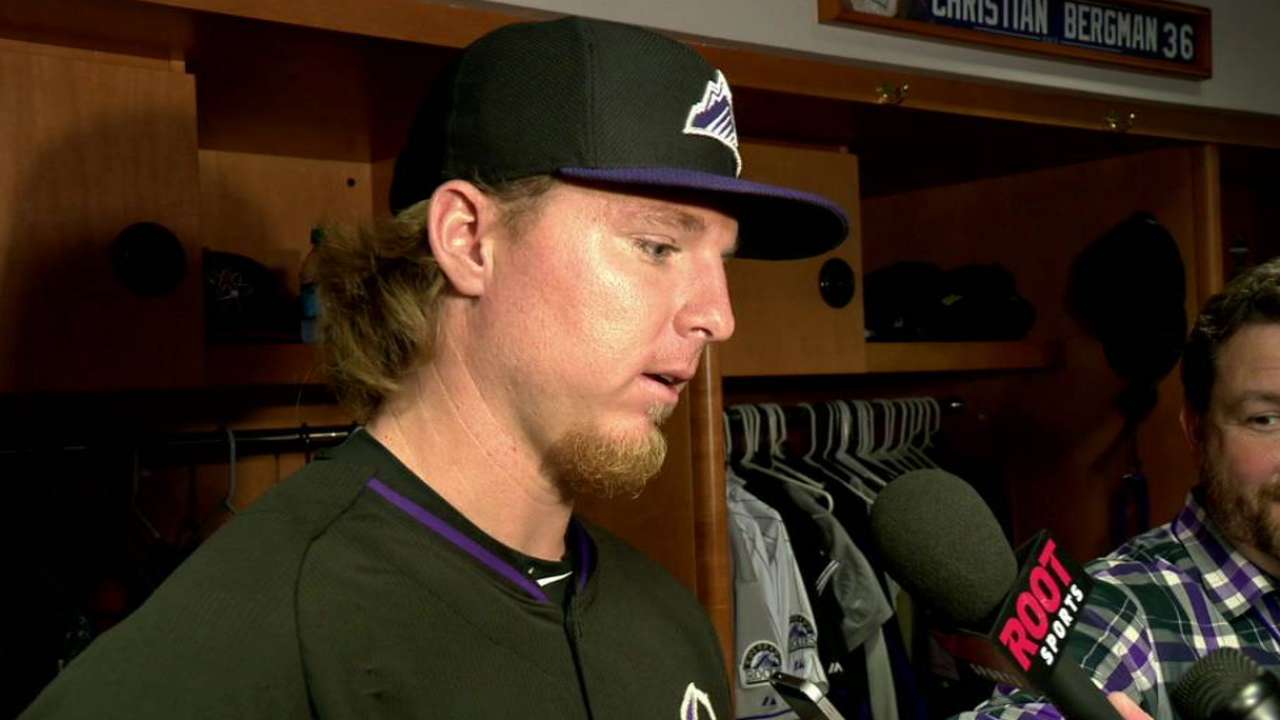 When Gray is on his game, he features a heavy fastball that can touch 97 mph. One of the reasons Colorado felt he would be a good fit in Coors Field was the fact that he misses bats and gets weak ground-ball contact with that fastball when he keeps it down in the zone. Despite his struggles, Gray has still struck out nearly a batter per inning, though he doesn't have the groundout ratio one might expect. An ability to keep his plus heater down in the zone will be a key to his success.
Henry Owens
Like Gray, Owens didn't get off to the best start to the 2015 season. His 4.29 April ERA wasn't quite as garish, but the big issue was Owens' command. The lefty who is No. 5 on the Red Sox Top 30 had struggled with the strike zone, but a big reason for his leap forward in 2014 was that he lowered his walk rate to 3.3 per nine innings.
In April, he walked 7.28 per nine. His ERA dropped in May (2.43 in six starts), but he still walked 4.86 per nine. It was a big reason why pitchers like Eduardo Rodriguez and Brian Johnson were chosen to make starts in the big leagues ahead of him.
He started really moving in the right direction in June with a 3.22 BB/9 rate and his 2.27 rate in July showed he might be ready. When Rick Porcello landed on the disabled list, his opportunity arrived.
It's not like Owens suddenly had become hittable. A year ago, he struck out 9.6 per nine, finishing fourth in the Minors with 170 strikeouts and holding hitters to a .208 combined average. This year, the southpaw may have been missing fewer bats (7.6 per nine), but International League hitters weren't any more successful at making good contact, proof of which came in the form of Owens' .193 BAA. It should surprise no one that he posted his best K rate -- 9.67 -- in July.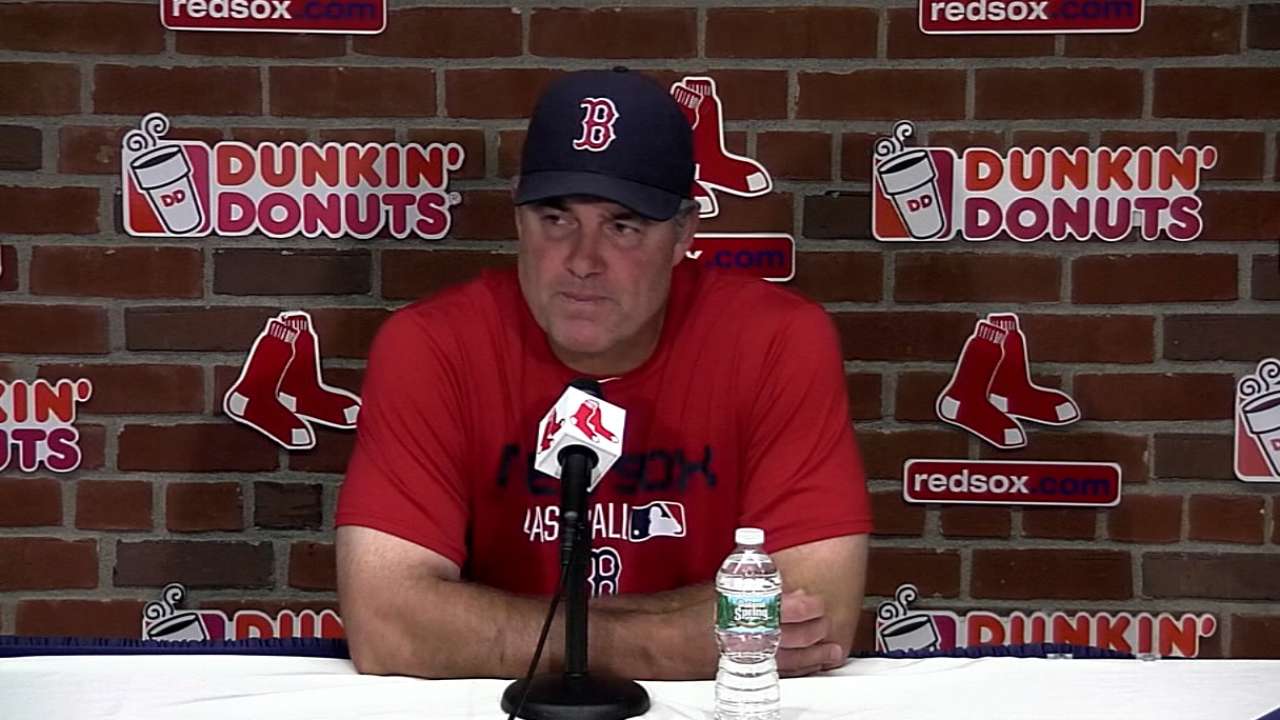 Owens has good stuff, but he relies more on deception than power to miss all those bats and create weak contact. The one pitch that does stand out is his changeup, and it's one of the better offspeed offerings among all pitching prospects. When the 6-foot-6, long and lanky lefty is on, he can add and subtract from his fastball, sinking and cutting it. Owens' curveball has improved, giving him a viable third option.
Luis Severino
When Severino was promoted from Double-A Trenton to Triple-A Scranton/Wilkes-Barre after just eight starts, it was clear it would be a matter of when, not if, the Yankees' No. 1 prospect would get called up to the big leagues. Michael Pineda's injury may be unfortunate, but it does give the Yanks the chance to see what Severino can do on the biggest stage: Yankee Stadium, and against the Red Sox, no less.
The fact Severino, the youngest of this trio at 21, is ready is not surprising stuff-wise. But given the fact that the right-hander began the 2014 season in the low Class A South Atlantic League, to call his rise meteoric would be a vast understatement.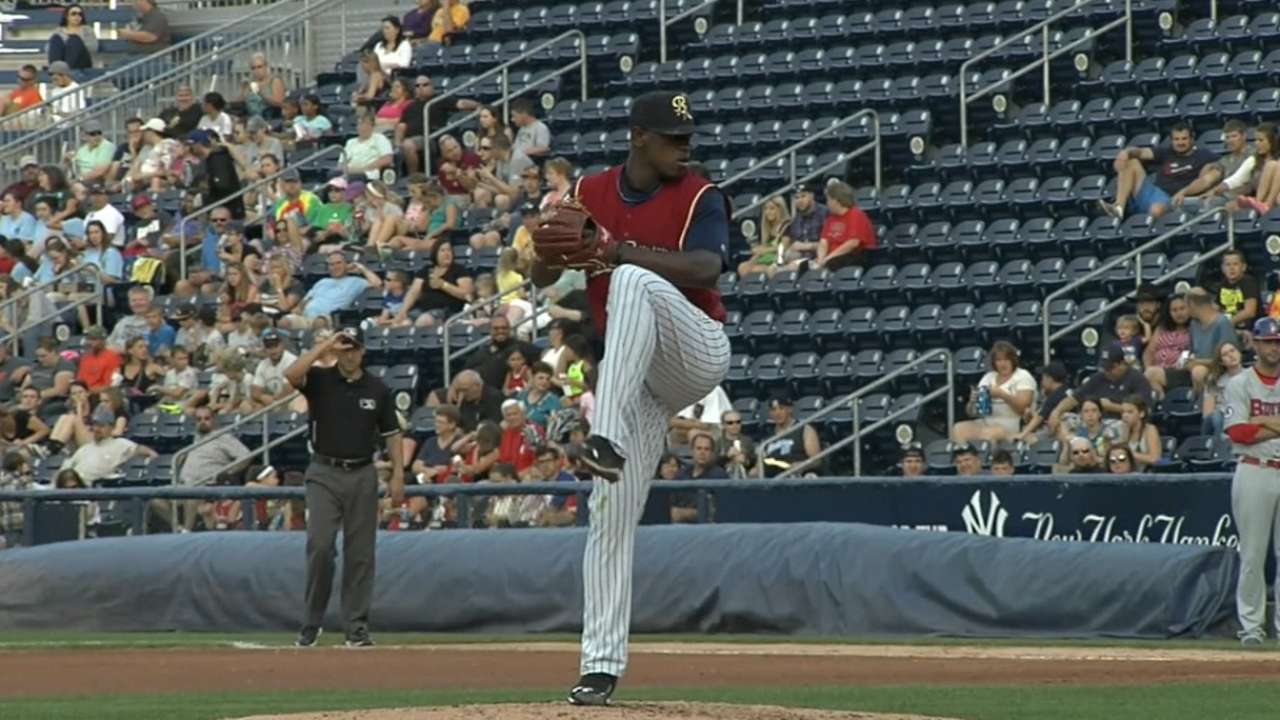 Along the way, the 6-foot Dominican has shown an ability to master each level. Severino pitched at three in 2014, finishing with a 2.46 ERA, a .220 BAA, a 10.1 K/9 and miniscule 2.2 BB/9. This year, he began where he finished, in Double-A, and made quick work of the Eastern League (.227 BAA, 11.4 K/9, 2.4 BB/9). Triple-A? No problem. The strikeout rate dropped a little, but so did Severino's hit rate (5.9 per nine looks like a misprint). And he's never hurt himself with walks.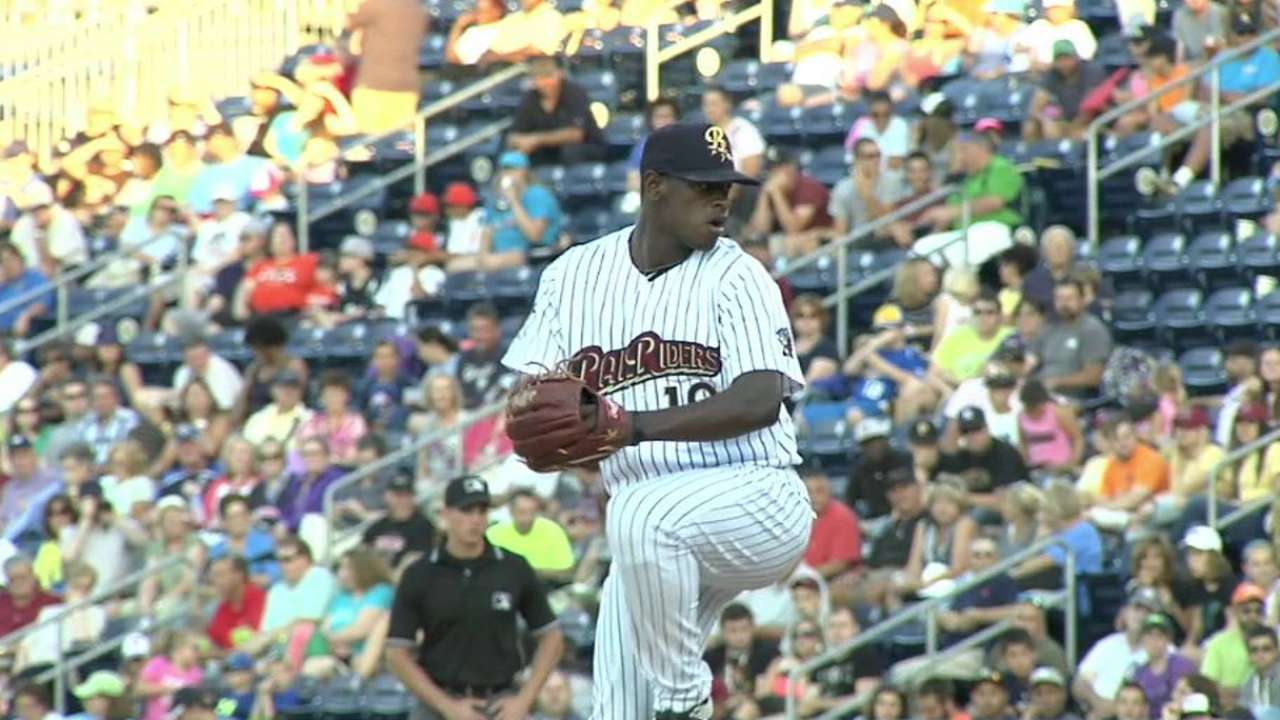 That's what sets Severino apart and gives him a very good chance to succeed immediately. He has a fastball that sits in the mid-90s deep into starts, a heater he can crank up to 98-99 at times. Severino's changeup gives him a second plus pitch and his slider will be at least Major League average. He commands all of them well.
The key for Severino, especially at the beginning, is to not get overly excited, something that typically isn't a problem for him. When he doesn't overthrow his fastball, it has good sink and can generate ground-ball outs. More often than not, Severino has done that, having given up just two homers in all of 2014 (113 1/3 innings) and two this year to date (99 1/3). If he keeps that up, he won't give up a rotation spot in New York any time soon.
Jonathan Mayo is a reporter for MLBPipeline.com and writes a blog, B3. Follow @JonathanMayo on Twitter. This story was not subject to the approval of Major League Baseball or its clubs.