MLB.com Columnist
Richard Justice
Beltre crafting rock-solid Hall resume
Rangers veteran posting numbers reminiscent of all-time great third basemen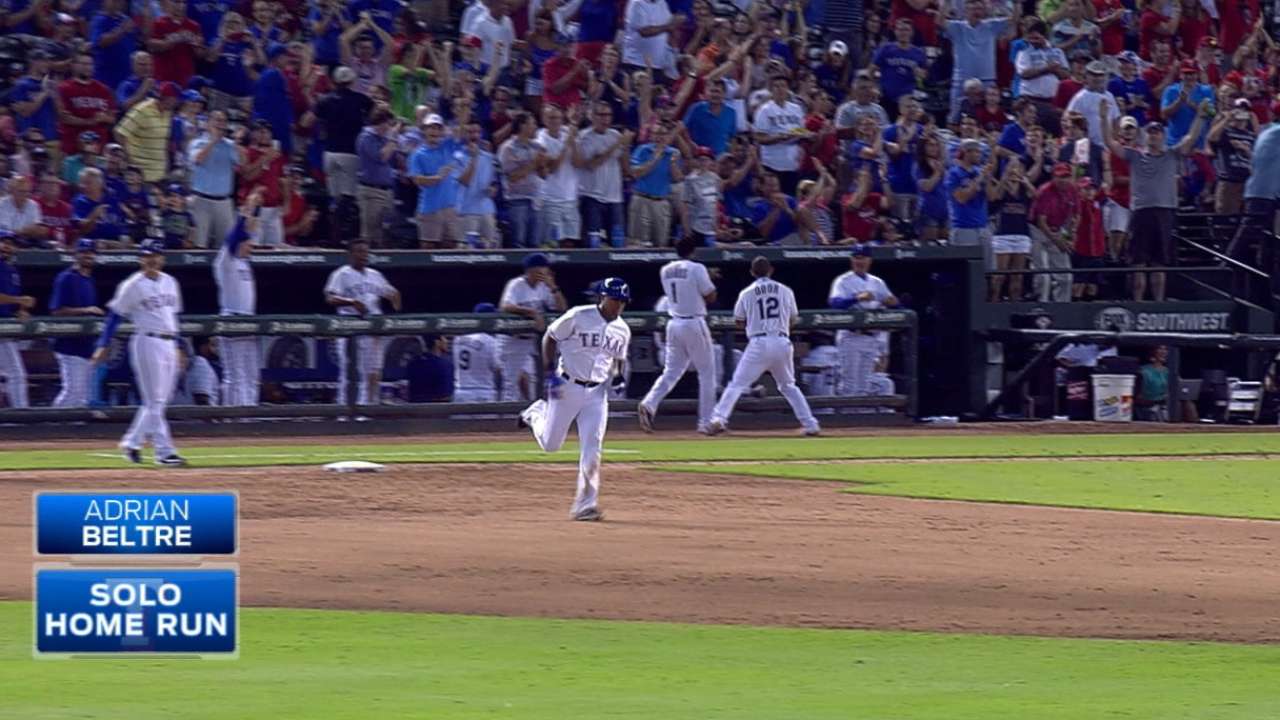 Rangers third baseman Adrian Beltre's greatest strength also happens to be his greatest weakness, at least in terms of assessing his Hall of Fame credentials. He plays the game so smoothly, so efficiently that he's occasionally easy to overlook even after 18 seasons of playing at such a high level.
That's why what happened in Arlington on Monday night was so outside the norm. If it prompts people to pause and put his greatness in context, even better. It was one of those games that will resonate through an entire sport.
Beltre became just the fourth player to hit for the cycle three times as the Rangers beat the Astros, 12-9. And he did it in five innings: First-inning triple, second-inning double, third-inning single, fifth-inning home run.
Easy, huh?
Let's say right up front that Beltre has methodically built a Hall of Fame resume. There's actually not much debate about that.
Beltre's career Wins Above Replacement, according to BaseballReference.com, is 36th all time at 80.7. That places him fifth among all third basemen. Only Hall of Famers are ahead of Beltre: Mike Schmidt (106.5), Eddie Mathews (96.4), Wade Boggs (91) and Brooks Robinson (88.4).
Beltre's career WAR is higher than a long list of Hall of Famers, including Joe DiMaggio, Johnny Bench, Reggie Jackson and Derek Jeter.
Counting the players who spent most of their time at third base, Beltre is fifth all-time in hits, home runs and RBIs.
Defense? Those metrics are sometimes trickier, but Beltre's defensive WAR is second all-time among third basemen, trailing only Robinson.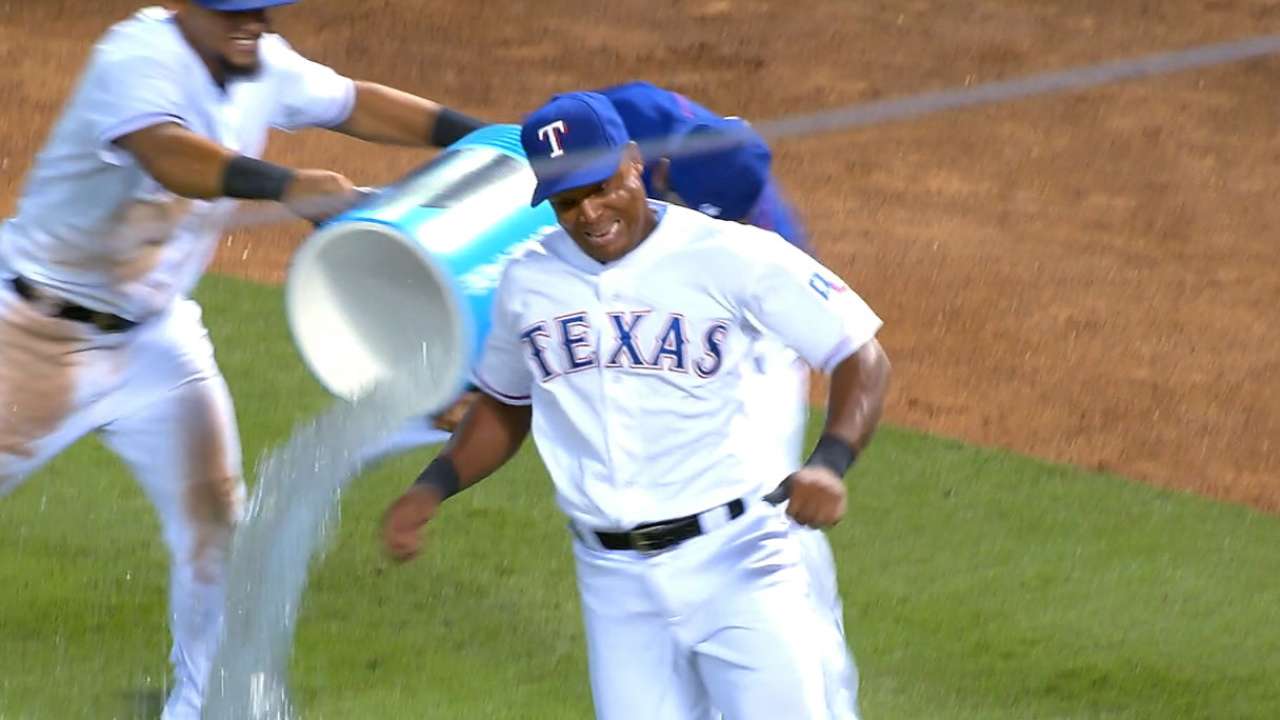 At 36, Beltre is 303 hits away from becoming just the ninth member of baseball's 400-home run, 3,000-hit club. Every single member of that little club -- Stan Musial, Hank Aaron, Willie Mays, etc. -- is in the Hall except for Rafael Palmeiro.
And there are the four Gold Gloves, four All-Star appearances and four Top 10 finishes in MVP Award voting.
In short, Beltre has made the game look easy. He never seems to lunge, never seems to rush. He's positioned smartly, fields virtually every ball cleanly and makes one of the game's toughest positions look maddeningly easy.
Beltre's teammates say he's anything but quiet. He's a talker and a joker. He's also a leader.
"Consummate leader," Rangers general manager Jon Daniels said.
"Finest leader I've ever been around," Rangers manager Jeff Banister said.
Teammates have endless stories of small gestures, from comforting a teammate going through tough times to being the guy to welcome a new kid to the club.
Five years ago when Beltre was a free agent, it was former Rangers scout Don Welke, now with the Padres, who convinced Daniels to fly to Las Vegas and meet with Beltre.
"You're going to be blown away by this young man," Welke told Daniels.
Daniels already knew plenty about Beltre's play, that he was that rare combination of a player just as productive with his glove as his bat.
Welke wanted Daniels to meet Beltre and understand that his contributions would extend beyond the field, that he would help bring cohesion and focus to the clubhouse.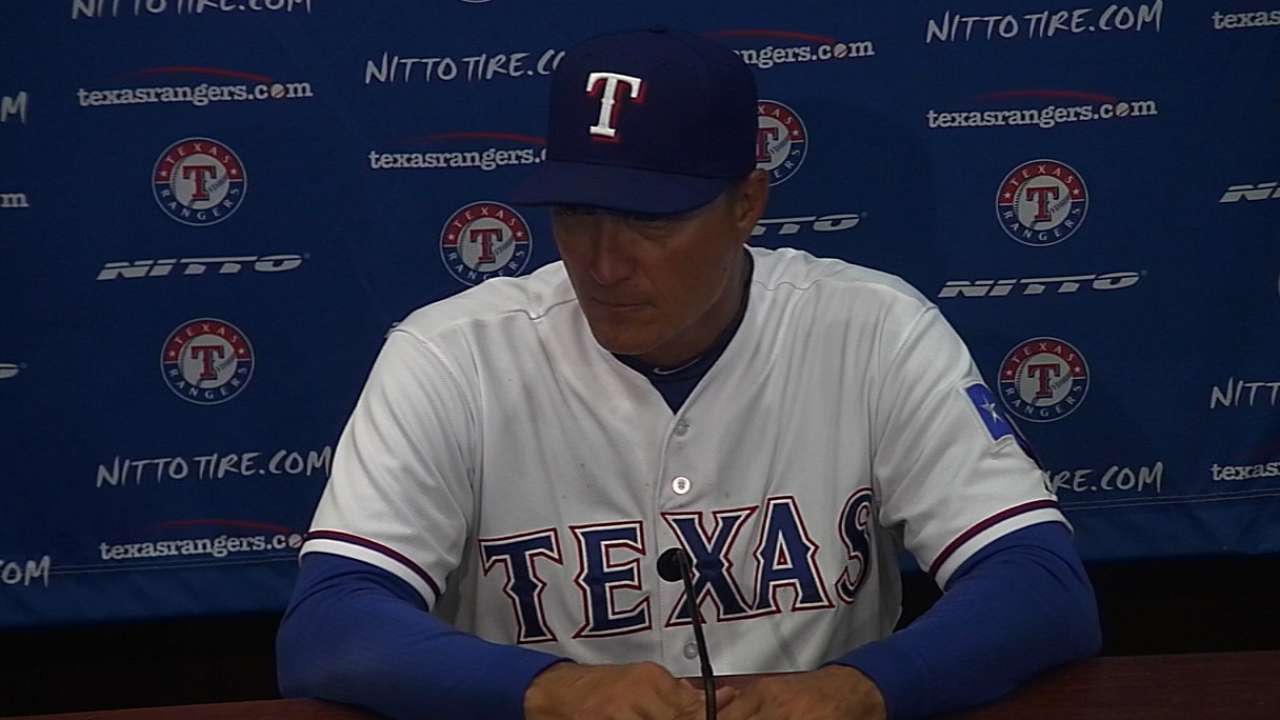 Beltre had been to the postseason only once when the Rangers signed him, and even though he spent seven years with the Dodgers, five with the Mariners and one with the Red Sox, he was one of those players who had to be seen to be appreciated.
Beltre's Hall of Fame credentials will require an admiration of his defense, which historically hasn't been the easiest path to Cooperstown. Recently when USA Today attempted to sell Beltre on his Hall credentials, he wanted nothing to do with the discussion.
"That means I've been playing for a long time," he said. "That's all it means. I don't want to think about it. After I retire, I might sit down and think about it."
When Beltre is done, a lot of people will be doing that. And that's when they'll almost certainly decide that he belongs to be mentioned in the same breath as Schmidt, Brett and the others.
Richard Justice is a columnist for MLB.com. Read his blog, Justice4U. This story was not subject to the approval of Major League Baseball or its clubs.