Cespedes deal pays quick dividends for 1st-place Mets
Outfielder ties club record with three doubles in Monday's rout of Marlins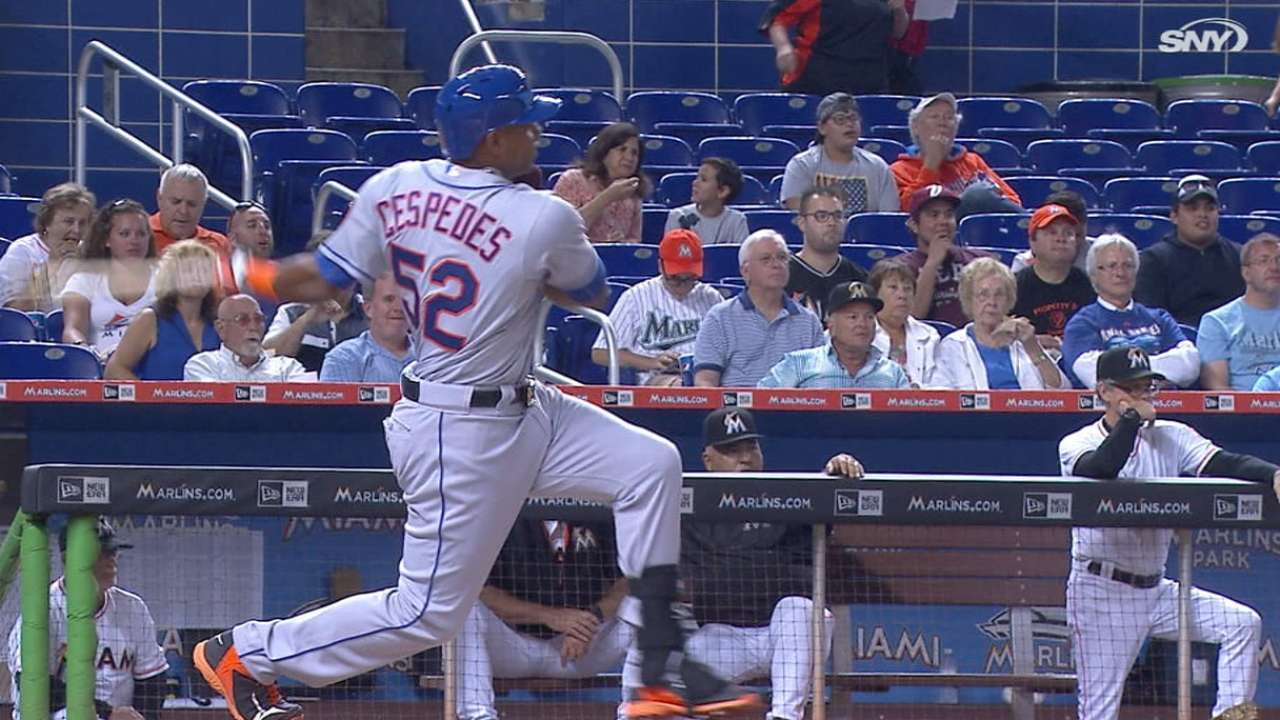 MIAMI -- When the Mets traded for Yoenis Cespedes with 13 minutes to spare at the non-waiver Trade Deadline, the hope was that, ultimately, his blend of power offense and outfield defense would buoy the Mets to first place.
It's just that few imagined it happening so fast. Cespedes' franchise record-tying three doubles paced the Mets' 15-hit attack in a 12-1 rout of the Marlins on Monday, moving the Mets into sole possession of first place for the first time since June 19.
"That's why we got him," manager Terry Collins said. "We got him to be that guy in the middle of the lineup who drives in those big runs."
In any other ballpark, two of Cespedes' doubles might have been homers. After rapping out his first two-base hit in the first inning, Cespedes rocked one off the right-center-field wall in the fifth, for a Statcast-projected distance of 406 feet. That plated two runs, as did his next double an inning later: a 394-foot shot, per Statcast™, that ricocheted off the top of the left-center-field fence.
Those 800 feet bought Cespedes a four-RBI game and the admiration of his new teammates, who painted the picture of a slugger far stronger than his 5-foot-10 frame might make it seem.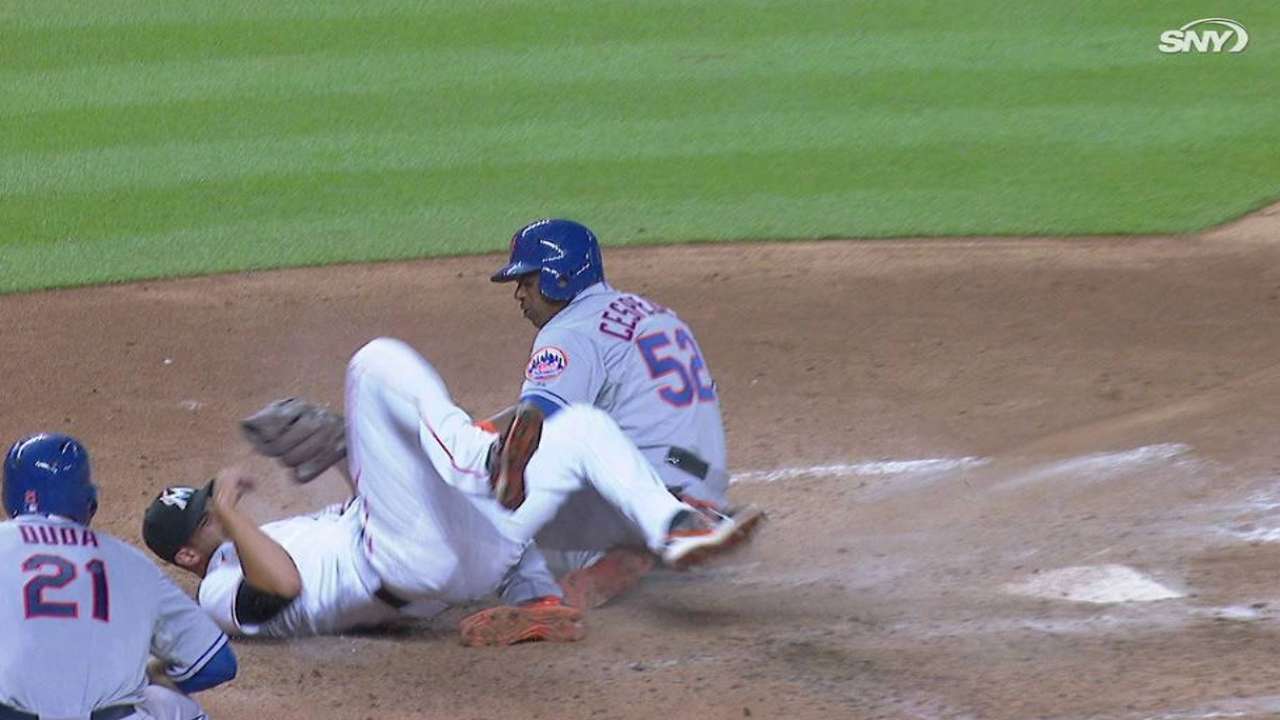 "That's the one thing I noticed as an opponent, that he's not necessarily the physically biggest guy, but he's able to move the baseball with the best of them," outfielder Curtis Granderson said.
"I know what he can bring to the game, to the table," said starting pitcher Bartolo Colon, who played with Cespedes from 2012-13 in Oakland. "He's a great competitor and you could see it tonight."
Through three games as a Met, it's clear that Cespedes has already made a difference. With Saturday's game on the line against the Nationals, manager Matt Williams refused to pitch to him, instead setting the stage for Lucas Duda to rip the game-winning double. The next night, Cespedes collected his first hit as a Met, singling to extend the team's five-run, third-inning rally. And now this: a 3-for-5 night to raise his Mets slash line to .333/.385/.583.
The newly-minted first-place Mets will take it.
"He's got some skills, boy, I'll tell you," Collins said. "He's the real deal."
Anthony DiComo is a reporter for MLB.com. Follow him on Twitter @AnthonyDiComo and Facebook, and listen to his podcast. This story was not subject to the approval of Major League Baseball or its clubs.