Nats hoping big blast sparks Zim's bat
No-doubt HR ignites ninth-inning rally in loss to D-backs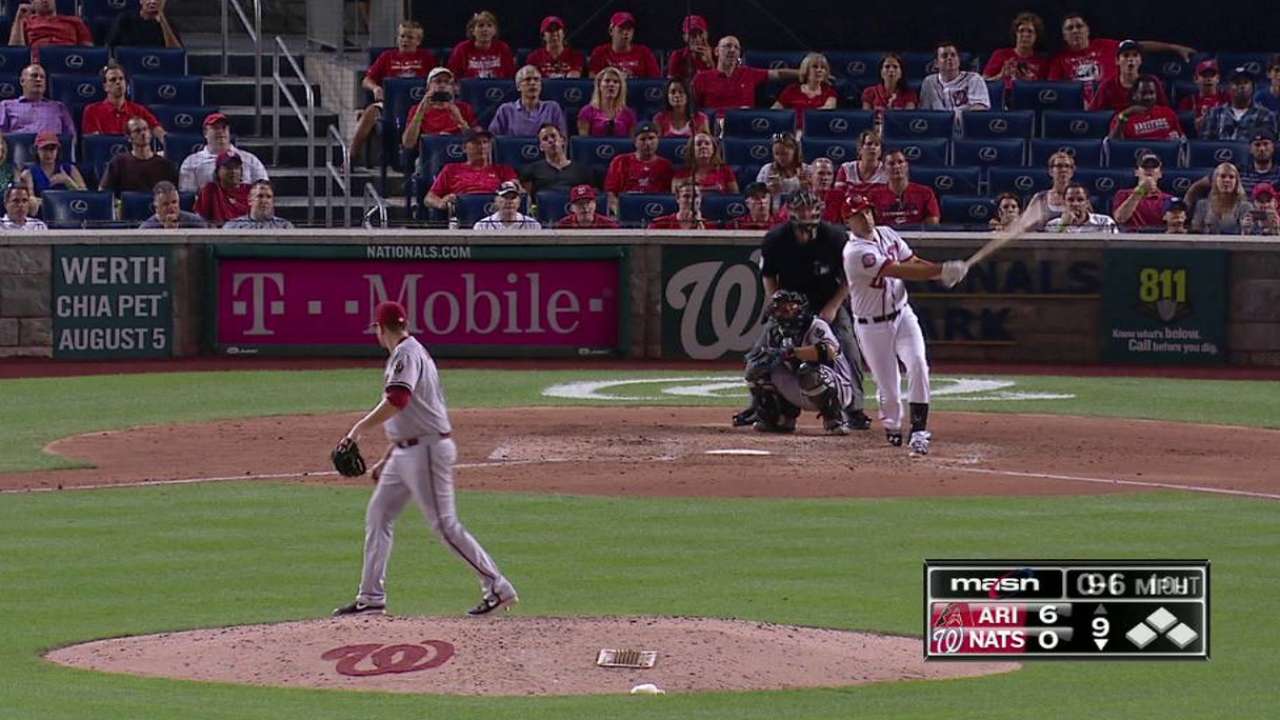 WASHINGTON -- Ryan Zimmerman's seventh home run of 2015, a solo shot in the bottom of the ninth Monday night, was the first Nationals run in a comeback effort that fell short.
The Arizona Diamondbacks escaped with a 6-4 victory at Nationals Park, but if the mammoth blast ignites Zimmerman, whom the Nationals are counting on for the final 58 games of the season, it will end up being well worth it for Washington.
"Zim, I think he needed that one," right fielder Bryce Harper said. "He felt good on that swing and it's huge to see. Being able to come through in that situation and get four runs up there, it's good to see."
The home run was Zimmerman's second since returning from the disabled list on July 28. Back from missing more than a month with plantar fasciitis, he is 6-for-26 (.231), a continuation of the two-month-long struggle he experienced to start the season.
Zimmerman, Jayson Werth and Anthony Rendon, all of whom have been major offensive factors in the past, are fresh off the DL and expected to revitalize a struggling offense that has become heavily dependent on Harper's success.
Before the four-run outburst in the ninth inning, the Nationals had scored six runs in 44 innings.
"If you're here and ready to play, there's really no excuse," Zimmerman said. "Bottom line, it just comes down to we have to score more runs. To get to where we want to get, we're going to have to score runs against good pitchers and help our guys out."
Jacob Emert is an associate reporter for MLB.com. This story was not subject to the approval of Major League Baseball or its clubs.