Peralta knocked around in 2nd start off DL
Righty gets hit by foul ball in dugout, gives up six runs vs. Padres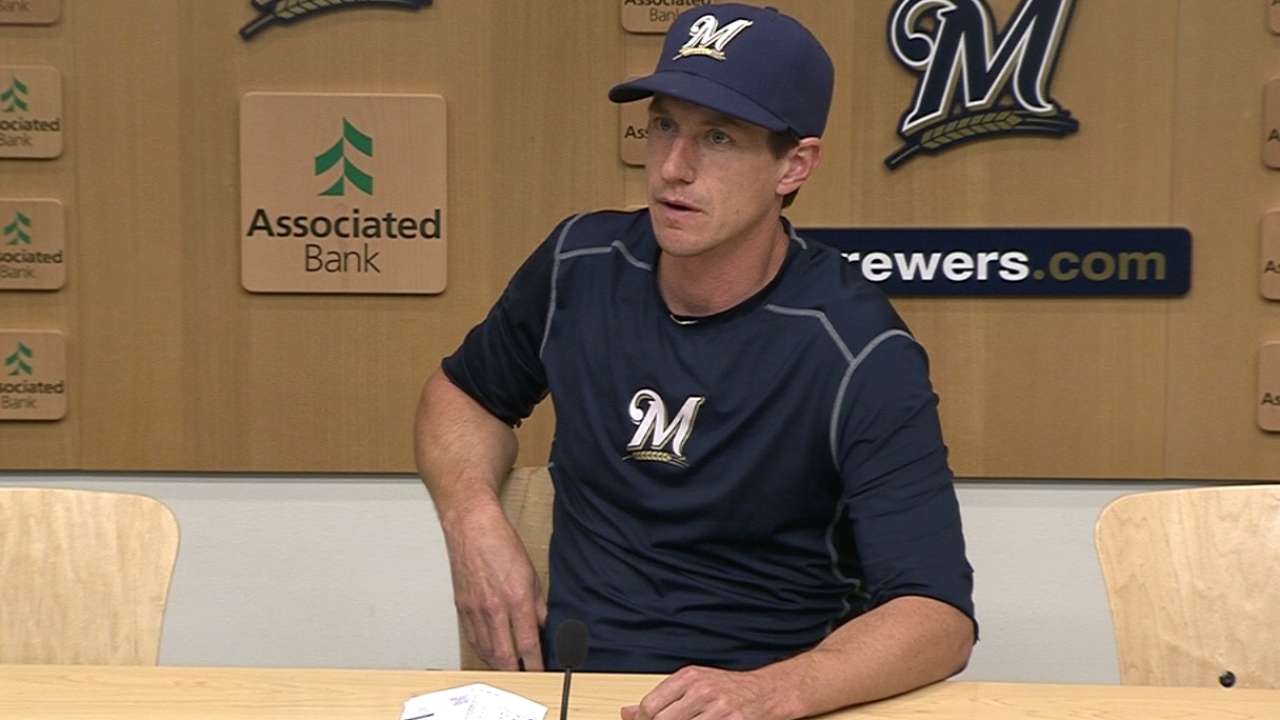 MILWAUKEE -- Sitting in the Brewers' dugout in the bottom of the first inning, starter Wily Peralta was smacked in the back of the head by a foul ball. It might have been the least painful part of his night.
Coming off a solid return from the disabled list last week in San Francisco, Peralta delivered a dud in Monday's 13-5 loss to the Padres at Miller Park. He surrendered a run in each of the four innings he pitched in, was out of the game after recording only 10 outs, and fell to 2-6 with a 4.55 ERA in his injury-interrupted season.
"Tough day," Peralta said.
Peralta was talking about the Shane Peterson foul that hit the back wall in the dugout and struck Peralta near his left ear. But those two words summed up the night for the Brewers, who have lost six games in a row and 11 of their last 13 while watching a number of veteran players, from Aramis Ramirez to Carlos Gomez to Gerardo Parra, get traded away.
"I thought we competed well in the Cubs series," Brewers manager Craig Counsell said, referring to his team's four games prior to Monday night. "Tonight wasn't very good."
Much of the blame for that fell on the wide shoulders of Peralta, who faced a deficit five pitches into his outing when Yangervis Solarte hit a solo home run. Solarte would do more damage later, hitting a three-run shot off Brewers newcomer Preston Guilmet in a six-run San Diego seventh.
But the game really got away from Peralta in the second inning, after Brewers hitters had answered with two runs off Padres starter Tyson Ross in the bottom of the first. Peralta had a fresh start, and responded by issuing a pair of two-out walks, followed by a tying RBI single for Ross and a go-ahead, two-run triple for Alexi Amarista.
The Padres never trailed again, and Peralta never recovered. He allowed another run in the third inning, and one more in the fourth before Counsell pulled the plug. Peralta was charged with six earned runs on eight hits in 3 1/3 innings.
"He got stuck tonight," Counsell said. "He couldn't put it back together. We haven't seen that. I'm hoping it is just a one-time thing. It did happen a couple of times in his first year, but we haven't seen it in a couple of years."
Physically, Peralta felt better on Monday than he did last week in San Francisco, where he returned from a two-month stint on the DL for a left oblique strain and held the Giants scoreless through five innings before allowing two runs in the sixth.
"What's frustrating is especially in the first inning, I was all right. I just gave up a homer and felt fine," Peralta said. "I was locating pretty good. After that, the third hitter in the second inning, things got away."
Adam McCalvy is a reporter for MLB.com. Follow him on Twitter @AdamMcCalvy, like him on Facebook and listen to his podcast. This story was not subject to the approval of Major League Baseball or its clubs.