Bourn soars to rob HR with spectacular catch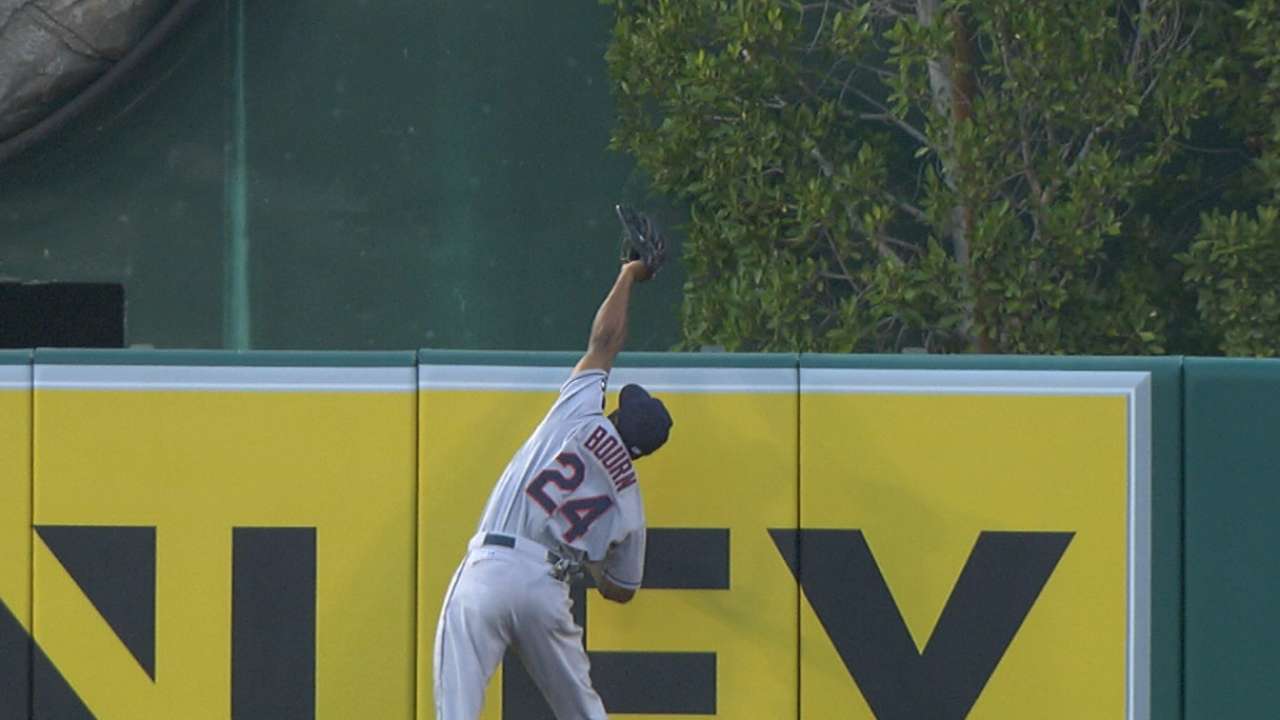 ANAHEIM -- For a few seconds, Michael Bourn let the Angel Stadium audience believe that Kole Calhoun had hit a home run in the first inning on Monday night. Cleveland's center fielder was down on the warning track, and the baseball that had just rocketed off Calhoun's bat was nowhere in sight.
Then, Bourn grabbed the ball from his glove and raised it in the air, creating a stunned groan from the crowd.
"I wasn't trying to fake them out," said Bourn, following Cleveland's 5-4 loss to the Angels.
With one out in the frame, Bourn made a jaw-dropping catch at the center-field wall to rob Calhoun. The Angels right fielder belted a 1-0 offering from Cleveland ace Corey Kluber to deep center field, where the fleet-footed Bourn closed in quickly on the wall.
Bourn reached the base of the fence, jumped and plucked the baseball from the sky before it could clear the top of the wall. The two-time Gold Glove Award winner crashed hard into the fence and then fell to the dirt, but it was not immediately clear that he had completed the catch.
"He kind of faked me out a couple times," Kluber said. I thought he was camped under it, then he took a couple steps back. I thought he was camped under it again, and then all of a sudden he jumped. It was a great play."
Calhoun even slowed from a sprint to a trot and rounded second base as the Angels fans cheered what they thought to be the outfielder's 15th homer of the year. That was when the veteran Bourn lifted the baseball above his head, showing that he had indeed finished the job, keeping the Indians' 3-0 lead intact at the time.
"The way he was sitting there, I was hoping [he had the ball]," Indians manager Terry Francona said. "That was a heck of a play."
As the cheers turned to shock, Calhoun jogged back to the dugout, while Bourn smiled from deep in center.
"I knew I had it," Bourn said. "He hit it very high. He got a lot of backspin on it, and it carried out there. I was able to get to the wall. I think what helped me was I got there in time. I didn't time the jump. I got back quick enough where I could jump, and it was actually coming down harder than I expected it to be."
Jordan Bastian is a reporter for MLB.com. Read his blog, Major League Bastian, follow him on Twitter @MLBastian and listen to his podcast. This story was not subject to the approval of Major League Baseball or its clubs.