Beltre joins elite club with third cycle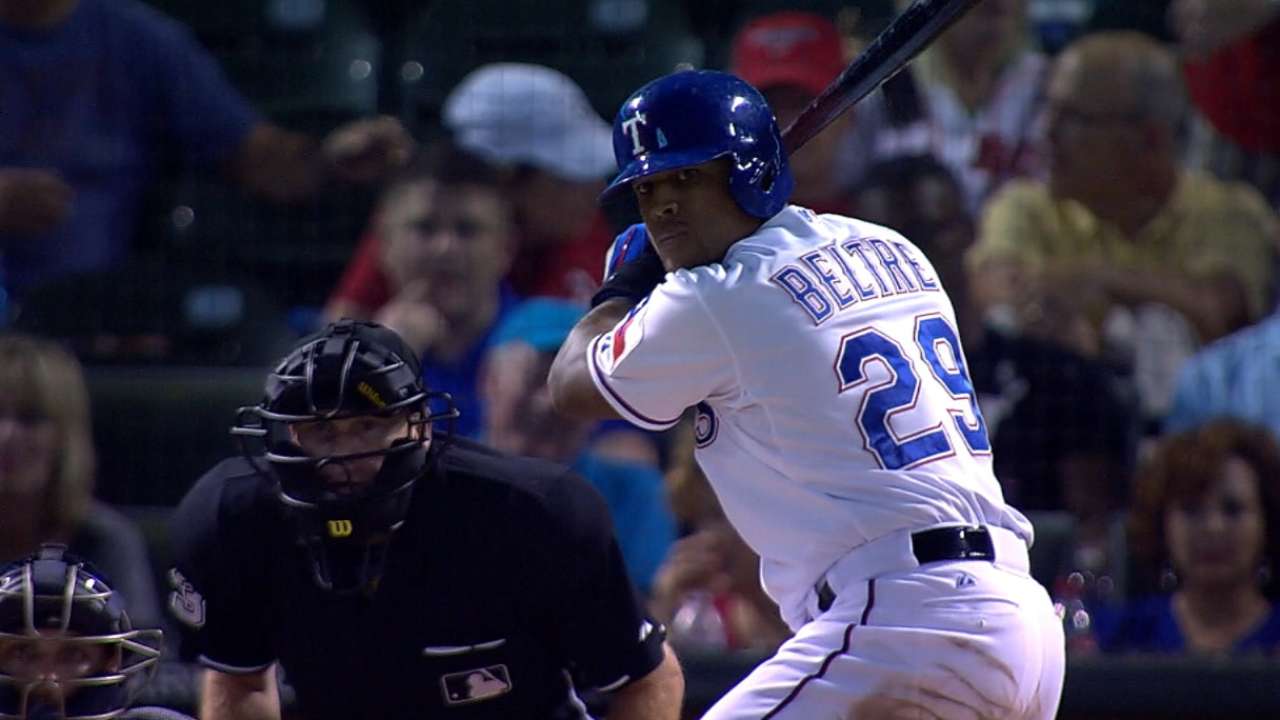 ARLINGTON -- Third baseman Adrian Beltre had a perfectly plausible explanation as to why he was able to hit for the cycle for the third time in his career in the Rangers' 12-9 victory over the Astros on Monday night.
"When you're fast like me, it's not that difficult," Beltre said.
He was joking. Beltre, 36, used to be able to run pretty well, but that was a few years and a few leg injuries ago. He doesn't have the wheels he once had, but he was still able to make Major League history when he hit a home run off Mike Fiers in the fifth inning on Monday.
The home run allowed Beltre to tie a Major League record by hitting for the cycle for the third time. He joins John Reilly, Babe Herman and Bob Meusel as the only four players who have accomplished it.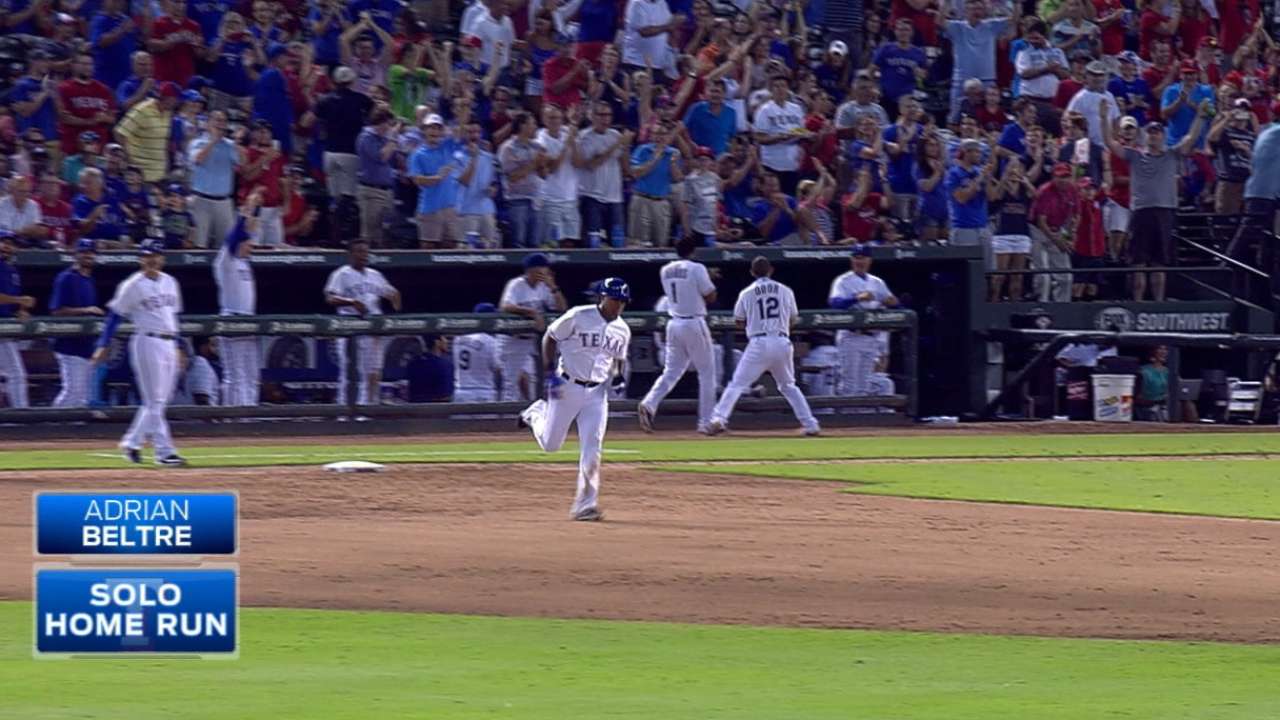 "This is special, but when you play for a long time, you start to accumulate some stuff," he said. "I didn't expect to be hitting cycles around this age. ... It's a nice compliment today."
Beltre hit a triple in the first, a double in the second and a single in the third. By blasting the home run when he did, he became the first player to complete the cycle within the first five innings since Melvin Upton Jr. on Oct. 2, 2009, against the Yankees while with the Rays.
"Yeah, I knew I had a single, double and a triple, and I'm not going to lie, I was looking for a homer," he said. "I was looking for a pitch up, and he threw me a fastball that I think was in."
Beltre hit for the cycle on Sept. 1, 2008, against the Rangers while with the Mariners. His second came with the Rangers on Aug. 24, 2012, against the Twins. All three of his cycles have come in Arlington.
• Did You Know? Facts and stats from Beltre's cycle
"It's just a testament," winning pitcher Colby Lewis said. "He's a Hall of Famer. For him to continue to put up numbers and go out there and always take the field no matter how he's feeling, what's going on with his body, a lot of young guys look up to that. It's just another chapter in his book."
• Justice: Beltre crafting rock-solid Hall resume
The cycle is not as important to the Rangers as the fact that Beltre is starting to get hot at the plate. He has been bothered by a sprained left thumb since the end of May, and has struggled at the plate since coming off the disabled list on June 23.
But after his cycle, he is hitting .328 with a .400 on-base percentage and .507 slugging percentage in 17 games since the All-Star break.
"Feeling better," he said. "I'm working on different things, and the last two weeks, it's been working, and hopefully it keeps me going and keeps me consistent the last two months of the season."
The Rangers will need that.
"There is a correlation between our offense and Beltre's at-bats," manager Jeff Banister said. "This is a guy who never once let you know something was wrong. He wanted to continue to battle through it. He is one of the toughest players I've ever been around. He is a true champion and a true warrior."
This is the ninth cycle in Rangers history and the second this season, following Shin-Soo Choo's on July 21 in Colorado. The Rangers have had six players hit for the cycle since 2009. No other team has more than three in that period.
T.R. Sullivan is a reporter for MLB.com. Read his blog, Postcards from Elysian Fields, follow him on Twitter @Sullivan_Ranger and listen to his podcast. This story was not subject to the approval of Major League Baseball or its clubs.