Mahtook lifts Rays with go-ahead 1B in ninth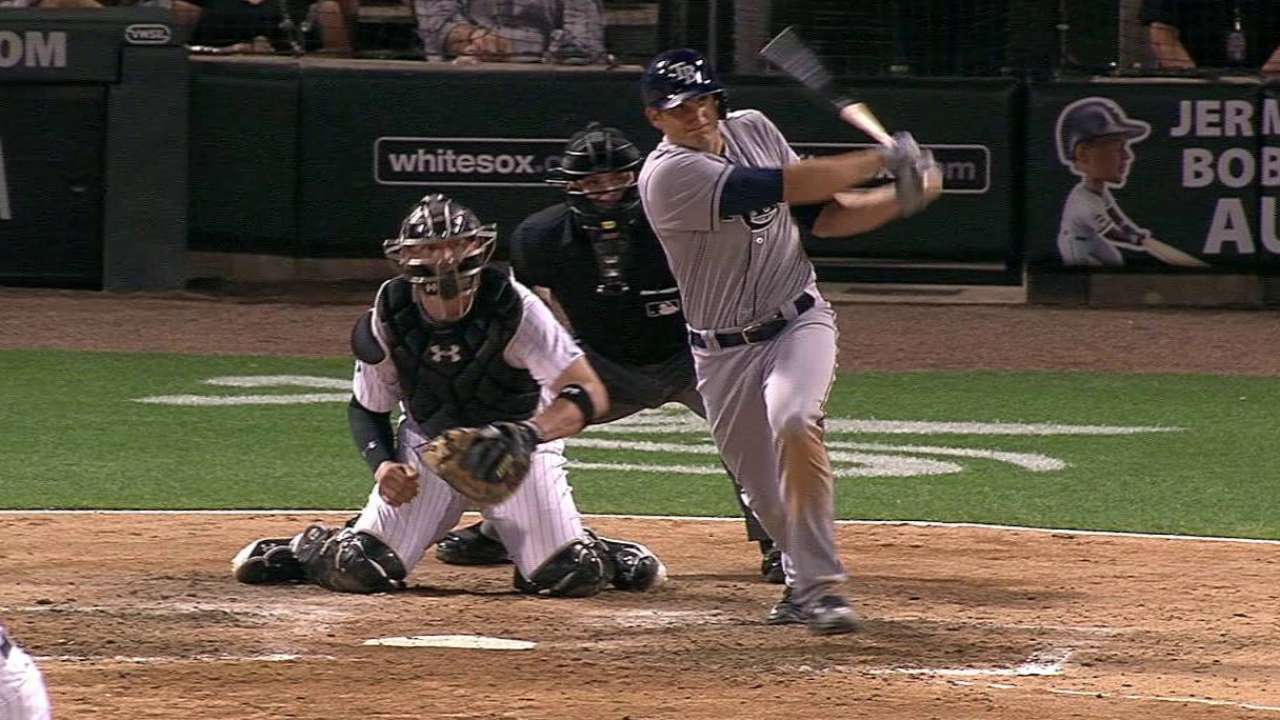 CHICAGO -- Mikie Mahtook's two-out single in the ninth off of David Robertson scored Logan Forsythe with the game-winning run in a 5-4 Rays victory over the White Sox on Monday night at U.S. Cellular Field. Robertson had appeared to get out of trouble when he struck out James Loney with runners on first and third and one out, but Mahtook connected on a hanging curve.
The White Sox had the tying run thrown out at the plate in the ninth, when Kevin Kiermaier nailed Alexei Ramirez on Adam LaRoche's single to center with nobody out. Catcher Curt Casali made a short-hop catch of Kiermaier's throw and was able to tag Ramirez as he tried to jump out of the way.
"That was a great game," Rays manager Kevin Cash said. "I think the last two [games] speak volumes about the character of this club. The way we get the lead, they tie it up. Back and forth. There were a lot of key components [to the win]."
"I just liked the fight we had," White Sox manager Robin Ventura said. "You go down, you come back -- [Carlos] Sanchez with a big homer and then we give up a couple. Our bullpen has been really good in those situations and we didn't get it done tonight, but we still fought back and had a chance."
Sanchez's two-run homer with one out in the seventh gave the White Sox a 4-3 lead. But Grady Sizemore, who entered in the seventh with a pinch-hit double, tied the game in the eighth on a solo homer off of Zach Duke.
Jose Quintana and Nathan Karns started and received no-decisions. Quintana struck out seven and allowed two earned runs on seven hits over six innings for the White Sox, while Karns fanned seven over 5 1/3 innings for Tampa Bay. Karns exited after allowing Jose Abreu's game-tying home run. Kiermaier made a valiant attempt on Abreu's drive but it landed just over his glove in center.
MOMENTS THAT MATTERED
Help from Durham: Sizemore, who was recalled from Triple-A Durham on Saturday, had a pinch-hit double and scored in the seventh to give the Rays a 3-2 lead. He also came through with a solo home run in the eighth to tie the game at 4. Then Mahtook, who was recalled to the team on Friday, optioned to Durham on Saturday and recalled on Sunday, came through with a two-out RBI single in the ninth. More >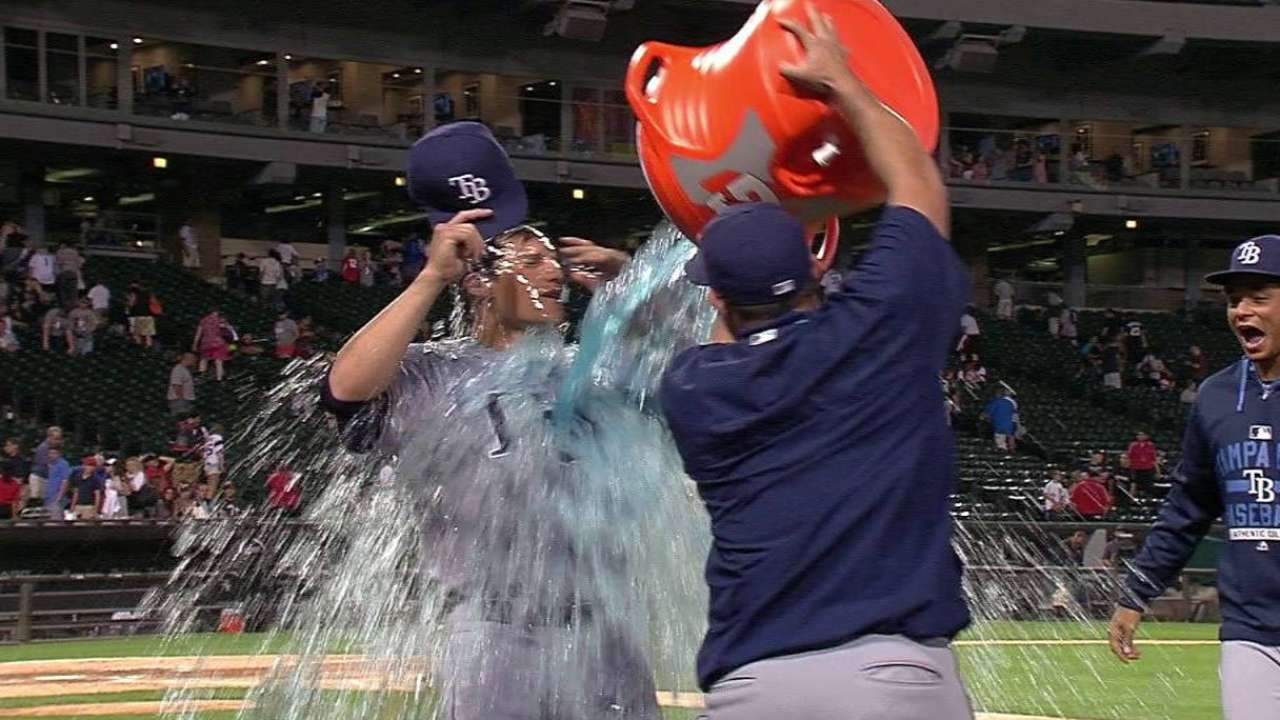 It could have been worse: The Rays scored a run in the first, fifth and seventh innings but could have had more. With runners on second and third and one out in the first, Quintana struck out Asdrubal Cabrera and then retired Mahtook on a ground ball one batter later with the bases loaded. In the fifth, Richie Shaffer left runners at first and second when he took a called third strike, and Mahtook struck out swinging with the bases loaded in the seventh.
"I tried to go pitch by pitch. I think I fought with my delivery tonight," Quintana said. "It's going to happen sometimes. I tried to throw pitch by pitch and get ahead in the counts."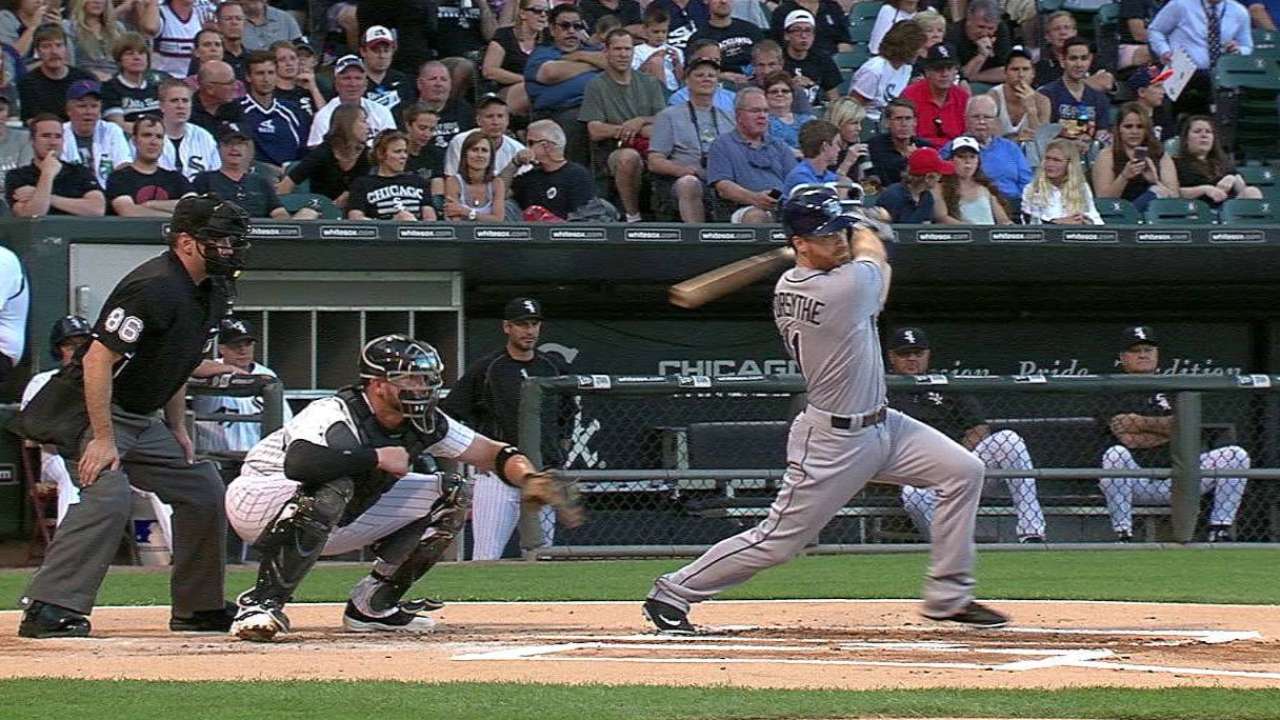 Stranded at second: Along with his game-tying homer in the sixth, Abreu opened the fourth with a double off of Karns to extend his hitting streak to 14 games. But he did not move from second as Melky Cabrera flied out to left, Ramirez popped out to first and LaRoche struck out looking.
Old reliable: Evan Longoria already had two hits in three trips when he stepped to the plate with one out in the seventh and Sizemore on third. And the slugger came through as he has so many times in his career, slashing a double down the left-field line to give the Rays a 3-2 lead. Longoria has now reached base in his last 11 games, hitting .364 (16-for-44).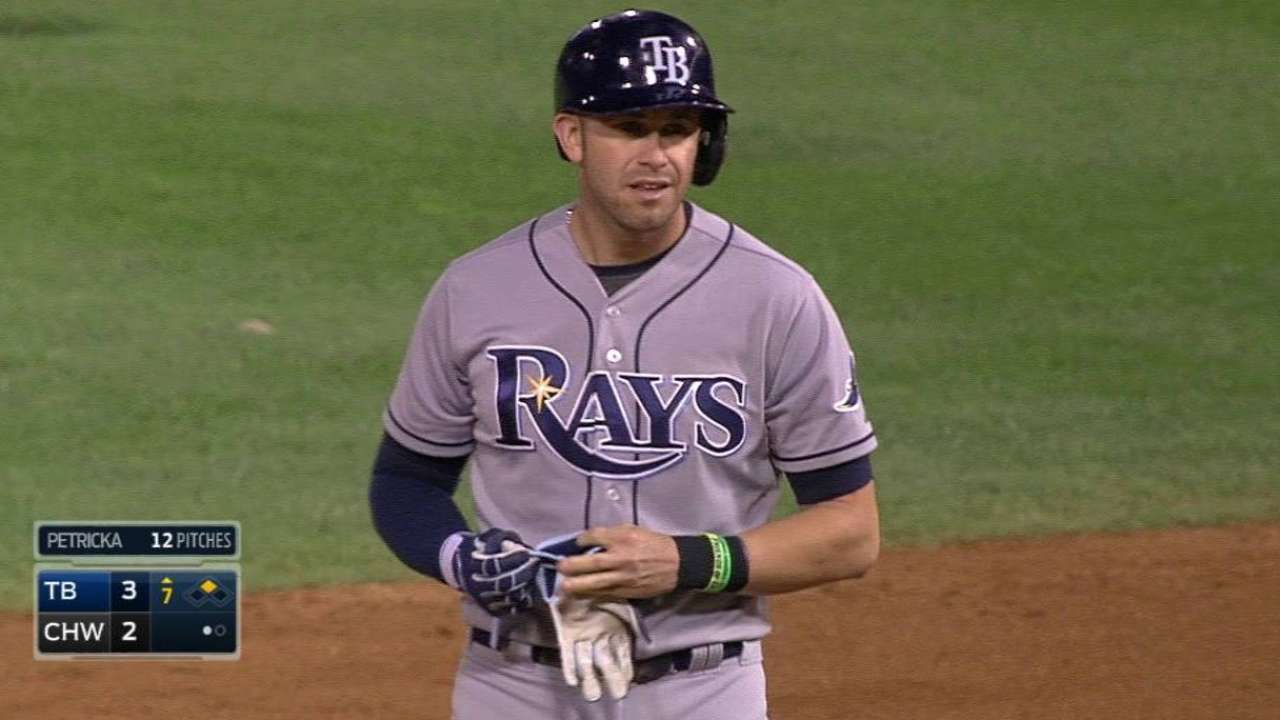 QUOTABLE
"Yeah, I mean it's not too often that you're going to see Jake [Petricka], myself and David each give up a run. In my case I threw a cutter that was supposed to be away and instead it just spun right in the middle of the plate, right in his swing. They had to work a little harder for the other guys. They got some hits in here and there. That's a tough night. We take it hard out there for sure." -- Duke, on the bullpen's rare meltdown
"Ton of ups and downs. Being happy and being mad and frustrated. So it felt good [to win]." -- Kiermaier, on Monday night's win
"I should have held him from the beginning." -- White Sox third-base coach Joe McEwing, on the decision to send Ramirez home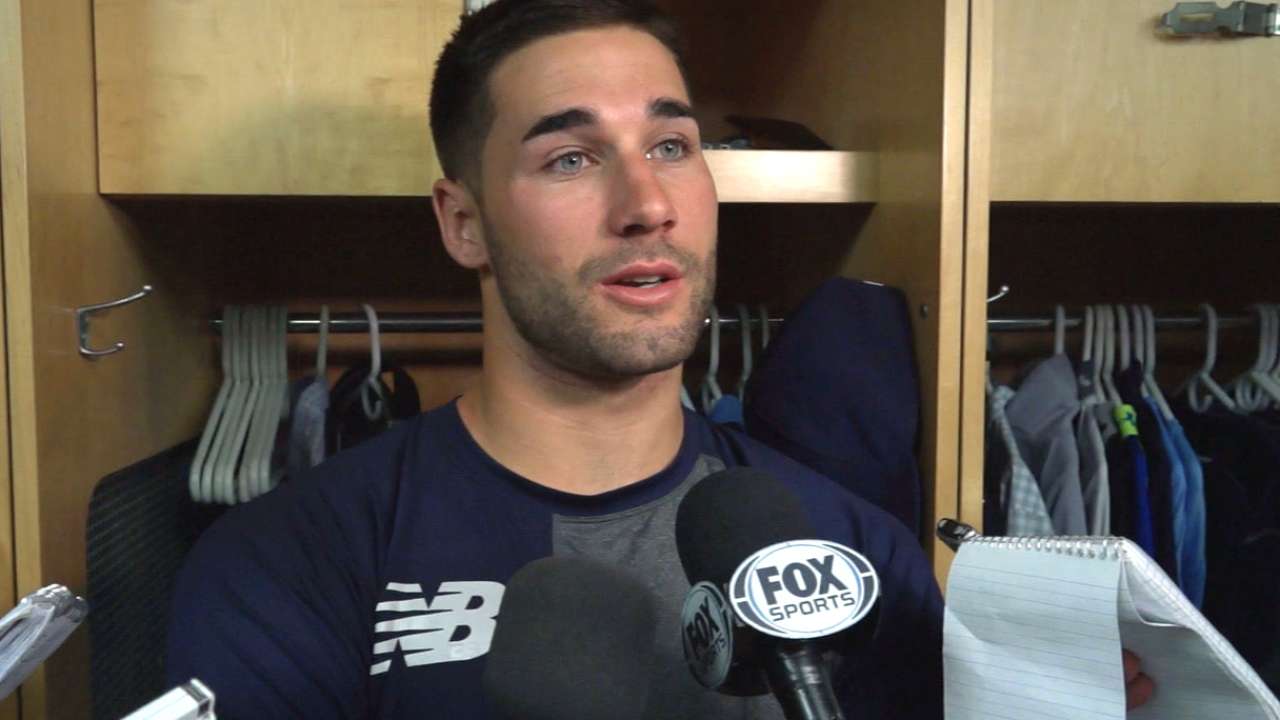 UNDER REVIEW
A crew chief review took place after Abreu's two-run homer in the sixth. After a brief review, the call on the field was confirmed.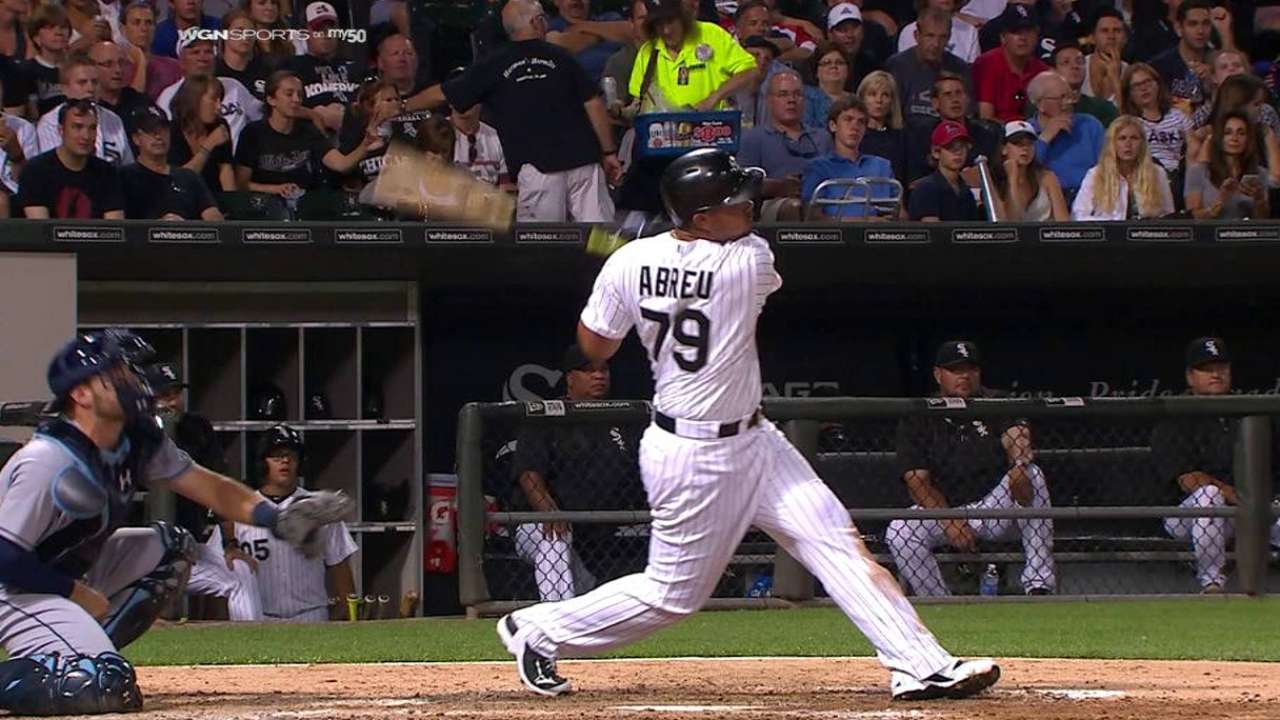 NOT A WIN, NOT A LOSS
Quintana has 46 no-decisions since the start of the 2012 season. That total is tops in baseball, leading the Padres' James Shields by three.
WHAT'S NEXT
Rays: Chris Archer (9-8, 2.54 ERA) will make his 23rd start of the season in Tuesday's game, which is scheduled for 8:10 p.m. ET. He has not picked up a win in his last six starts, going 0-4 with a 3.96 ERA. Archer retired the first 19 batters in order in his last start against the Tigers.
White Sox: An excellent pitching matchup appears to be on tap for Tuesday's 7:10 p.m. CT game, with four-time All-Star Chris Sale (9-6, 3.20 ERA) getting the call for the White Sox against Archer, Tampa Bay's All-Star right-hander. Sale is coming off of a rare rough start against the Red Sox, allowing seven runs on a career-high 12 hits over five-plus innings.
Watch every out-of-market regular season game live on MLB.TV.
Bill Chastain is a reporter for MLB.com. Scott Merkin is a reporter for MLB.com. Read his blog, Merk's Works, follow him on Twitter @scottmerkin and listen to his podcast. This story was not subject to the approval of Major League Baseball or its clubs.