MLB.com Columnist
Mike Petriello
Kang proving to be amazing investment
His .485 average against fastballs 95 mph or higher ranks No.1 in baseball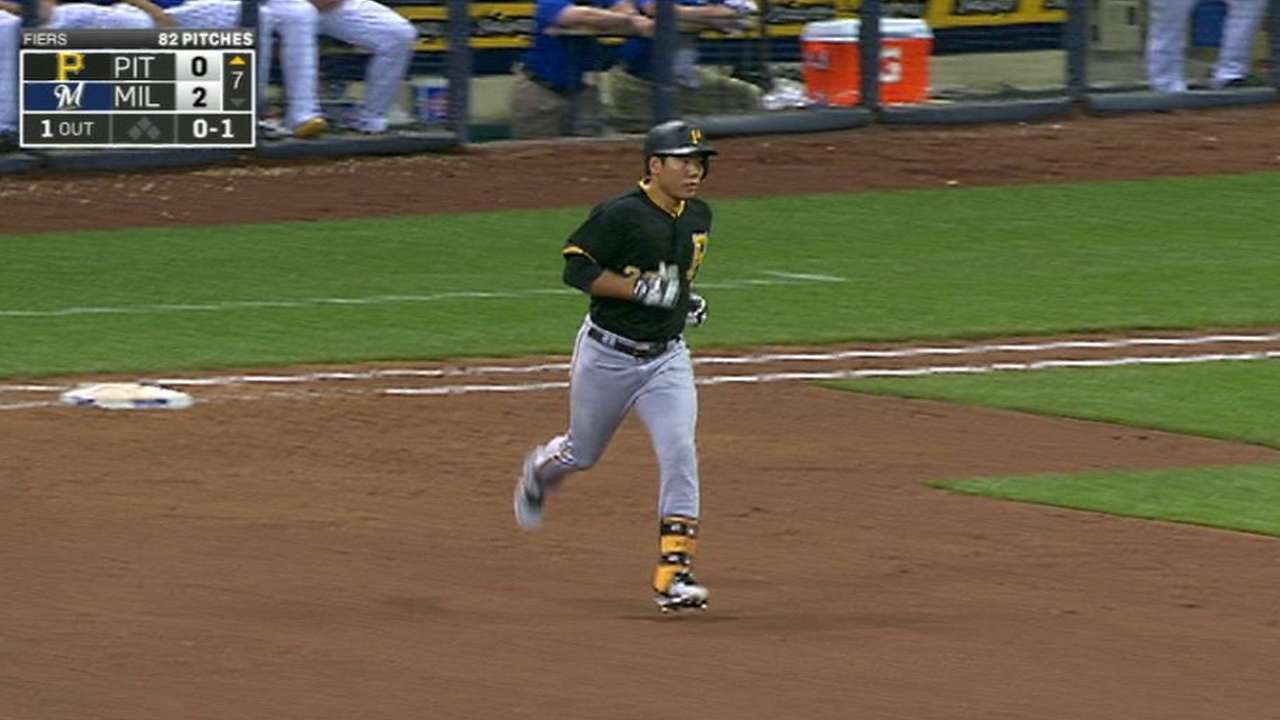 When the Pirates signed Korean shortstop Jung Ho Kang in January to a four-year deal worth $11 million -- on top of the $5 million posting fee they'd sent to his old team, the Nexen Heroes -- it represented something of a risk.
There had never been a successful Korean Baseball Organization position player in Major League Baseball. (Shin-Soo Choo has been a star in America, but he arrived as an amateur.) No one knew if Kang had the defensive range to unseat Jordy Mercer at shortstop, but his other options were limited since Josh Harrison was coming off an All-Star year at third base and Neil Walker had second base locked down. And while Kang had hit 40 homers for Nexen in 2014, baseball in the country had seen such a wild increase in offense that home runs were up 80 percent over just two seasons before (based on research from former major leaguer Ryan Sadowski), casting doubts on what his true offensive skill level really was.
Still, the relatively limited financial outlay -- 44 players are earning $16 million or more in 2015 alone -- represented the uncertainty about how good a player Kang could be. Two-thirds of the way into the season, that risk has paid off -- and then some. Kang has essentially earned every penny of the deal already. With Mercer and Harrison both suffering serious injuries, Kang's presence has been an enormous boon towards Pittsburgh's postseason hopes. Kang has turned himself into a bonafide Rookie of the Year candidate despite a deep National League class, and on Monday, he was named the NL's Rookie of the Month for July.
Let's quantify just how well Kang has done, and just how important he's been. 189 hitters have had at least 300 plate appearances this season. Kang's Weighted Runs Created Plus -- an offensive metric that measures a hitter's performance against the rest of the league -- is 134, meaning he's 34 percent above average. That puts him 31st, ahead of noted big bats like Joc Pederson, George Springer, and Matt Carpenter, and second on the Pirates, behind only Andrew McCutchen.
On defense, the metrics view Kang as a positive third baseman and are split about his work at shortstop (DRS likes him, UZR doesn't), but he's at the very least capable at the position. When he gets to 3 Wins Above Replacement -- and at 2.7 entering Monday night, he will -- he'll be one of just eight Pirates rookies, including McCutchen and Barry Bonds, to reach that mark since World War II.
But while Kang played only sparingly for the first few weeks of the season, trying to find a way to fit into the lineup, his true value has come since Harrison suffered a left thumb injury in early July and Mercer injured his leg two weeks later. The Pirates have sent out 25 starting lineups since Harrison went down, and Kang has been in all 25, even after Pittsburgh traded for Aramis Ramirez to play third. With a .379/.443/.621 July line that was the seventh-best mark in the month per wRC+, Kang's presence has saved the Pirates from being forced to give more playing time to backups Brent Morel, Sean Rodriguez, or Pedro Florimon , all of whom have proven ineffective this year.
Perhaps most interesting, Kang's biggest successes have come against the hardest pitching he's seen, because the majority of KBO pitching just doesn't reach the speeds we see in MLB. However, it hasn't been fastballs that have tied up Kang; quite the opposite, actually:
Batting average/Slugging percentage against pitch type
Four-seam fastball: .402/.650
Sinker: .279/.328
Change: .182/.182
Slider: .236/.436
Curve: .286/.500
In fact, of the 96 players who have had 30 batted balls against pitches 95 mph or more, Kang has had the most success in terms of turning that heat into hits:
1) Kang, .485
2) Miguel Cabrera, .419
3) Daniel Murphy, .400
4) Howie Kendrick, .482
5) Jose Abreu, .462
The question for the remainder of the season has to be, now that Kang has proven he can handle big league pitching, can he handle the inevitable adjustments pitchers will make? It's not hard to look at his hitting heat map -- expressed here in slugging percentage, from the batter's viewpoint -- and see where his trouble spot is, the pitch inside and low:
Jung-Ho Kang has been great this year. Will be interesting to see if pitchers attack that cold area (via @fangraphs) pic.twitter.com/ctWHGnykvS

— Mike Petriello (@mike_petriello) August 4, 2015
The Statcast™ exit velocity numbers align with that, as his average exit velocity is just 78.13 mph in that lower-left third of the strike zone, compared to a scorching 101 mph in the upper third.
Maybe that adjustment will be difficult, and he won't be able to keep up this pace. Or, maybe he'll prove he can, and Harrison and/or Mercer lose playing time when they return. Either way, Kang has proven that there is a path from KBO to the bigs. He's proven that the Pirates were right to take the risk.
Mike Petriello (@mike_petriello) is an analyst for MLB.com. This story was not subject to the approval of Major League Baseball or its clubs.