Joyce could be nearing return from concussion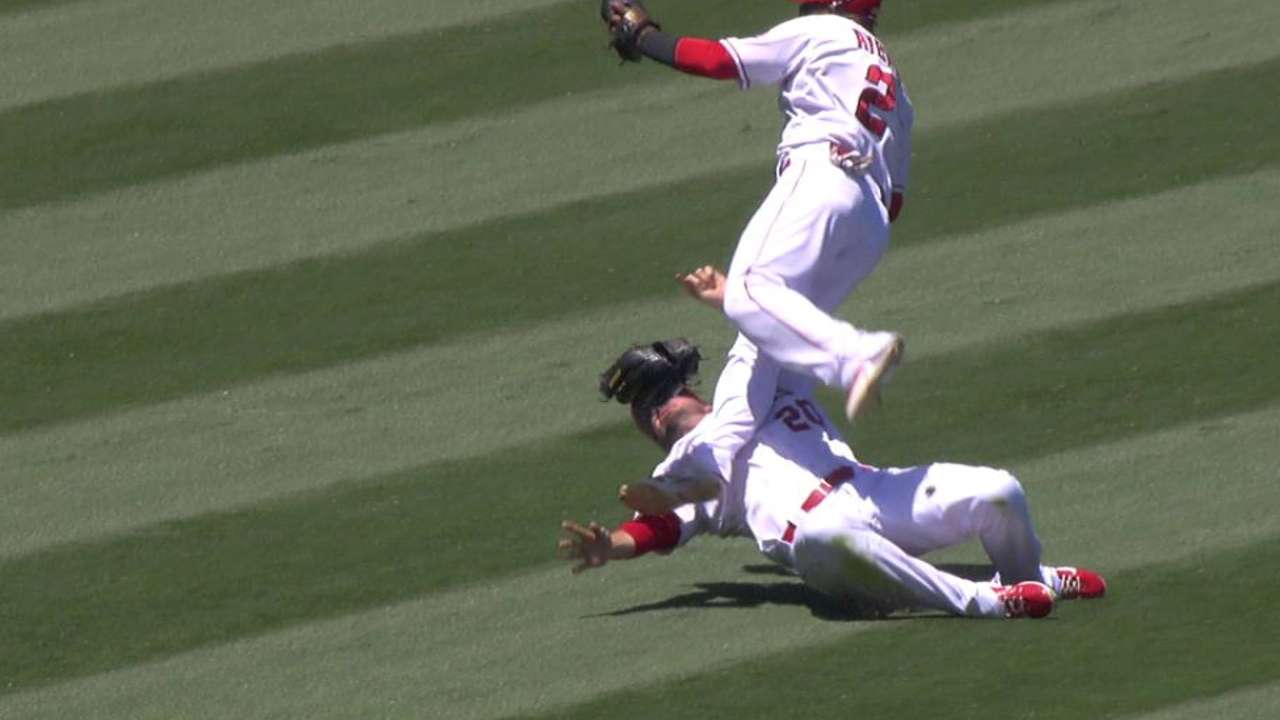 ANAHEIM -- Angels left fielder Matt Joyce worked out on Monday, his first physical activity since sustaining a concussion July 26 in an outfield collision with shortstop Erick Aybar.
Joyce said his symptoms -- headaches and dizziness -- have subsided, and he was set to see a doctor Monday, before the Angels' series opener against the Indians at home, to evaluate the next steps for him toward his return.
"I did some bike, did some core activation stuff, and everything feels good," Joyce said Monday. He added that he doesn't have a timetable for his return, since he's never had a concussion before.
"A lot of it's up to [the doctors], just to see how things progress, how long it takes and how far you can push it without having any issues," Joyce said.
Joyce has been seeing a doctor every other day since he took Aybar's knee to his head last Sunday. On the play, Joyce said he was told he was knocked out for several seconds, and he didn't remember walking off the field. He was evaluated immediately afterward.
Joyce was told "just to kind of sit in a dark room, basically. Don't do anything. Just take it really easy and don't push yourself."
The next day, though, was difficult.
"I was really sore," Joyce said. "I had some really bad headaches, had some bad whiplash and was dealing with some things that obviously aren't really fun to deal with."
Joyce then met with the doctor on Tuesday. He was still experiencing some dizziness and whiplash, but said he has progressed steadily since.
Whenever he does come back, it will be into a logjam of left fielders, with the Angels having acquired Shane Victorino, David Murphy and David DeJesus -- Joyce's teammate with the Rays last year -- before the July 31 non-waiver Trade Deadline. Those moves were almost certainly made with Joyce's season-long struggles at the plate in mind. Joyce is batting just .178 on the season, and he was on an 0-for-23 stretch spanning 10 games before the concussion.
"This team is in a playoff race right now, and it's important for us to add some good players," Joyce said. "So obviously that's what [the Angels front office] did -- they went out and acquired some very talented players. As far as how things are going to shape out when I come back -- I have no idea. I'm just focused on today and trying to get through the day and get prepared for the next step."
Worth noting
• Albert Pujols' absence from the lineup Monday was a routine off-day, manager Mike Scioscia said, which the Angels have been trying to give Pujols for a while.
• Nick Tropeano was scratched from his start at Triple-A Salt Lake Monday, which Scioscia said was in case the Angels need to use one of their normal starters, like Matt Shoemaker, in relief in the next couple of days. (The Angels bullpen is short-handed after Sunday's staff day went extra innings.)
• The Angels recalled reliever Cam Bedrosian from Salt Lake Monday in a corresponding move after optioning Drew Rucinski on Sunday. Reliever Vinnie Pestano also cleared waivers on Monday and was outrighted to Triple-A.
• • Tyler Skaggs has ramped up the intensity of his twice-weekly bullpen sessions, throwing off the mound at an estimated 70 percent on Mondays and Fridays. But C.J. Wilson's absence won't have any effect on Skaggs' timetable. He still isn't expected to pitch this year, and he still won't face hitters until well into September.
David Adler is an associate reporter for MLB.com. Follow him on Twitter @_dadler. This story was not subject to the approval of Major League Baseball or its clubs.