Murphy grateful for time in Cleveland, new opportunity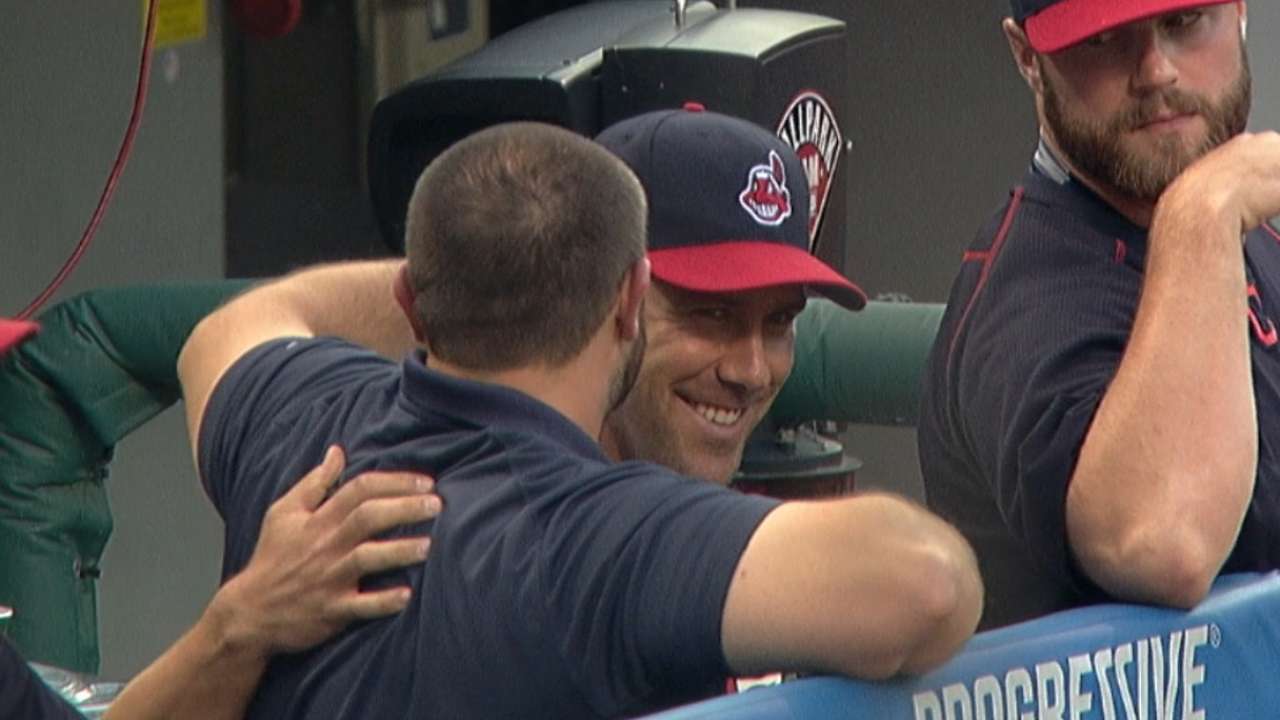 ANAHEIM -- Official word of the trade reached David Murphy during the fourth inning of the Indians' game against the Royals on Tuesday. Just like that, his time in Cleveland had come to a close. It was time to pack his bags and catch a flight to join the Angels.
In the dugout at Progressive Field, Murphy began saying his farewells in what was a surreal moment for the veteran.
"I don't even know if I could tell you what was going through my head. Just chaos, really," Murphy said. "There were so many different emotions running through my head, while at the same time I'm trying to think, 'What does this mean for my family? How am I going to get them out here? I've got my house to take care of. How am I going to get my stuff packed? How am I going to get my truck from Cleveland to California?'"
Murphy recalled Tuesday's whirlwind events prior to Monday's game in Anaheim, where the Indians arrived to begin a three-game set against the Angels. Standing in front of his new locker in the home clubhouse at Angel Stadium, the 33-year-old outfielder expressed gratitude for his time with Cleveland and understanding for the circumstances that led the Tribe's front office to trade him.
A role player, Murphy had a team option for $7 million for next season and -- given Cleveland's fade in the standings -- it looked unlikely that he would return for 2016. He became expendable for the Indians, who sent him to Los Angeles in exchange for Minor League shortstop prospect Eric Stamets.
"I didn't know which direction the team was going to go," Murphy said. "I mean, you definitely have to consider yourself buyers or sellers at some point. And they're still in a position where they can make a run and win, but after we had lost five or six in a row, and we were in a tough spot, I guess they had to make a decision. There's positives and negatives.
"I'm happy to be on a contending team, a team that, if the season ended today, would be going to the playoffs. The difficult part is definitely the relational side of it. When you build relationships with guys, it's hard to up and leave."
Given Cleveland's outfield depth at the start of this season, Murphy was considered a trade candidate dating back to the winter. He ignored the rumblings, accepted his role as a platoon player and hit .296/.344/.437 in 84 games with the Tribe before the trade to the Angels.
"He's the ultimate pro and great teammate," Indians general manager Chris Antonetti said. "There was a time there, too, when we had maybe one or two too many left-handed hitters, and we were having some decisions with playing time. He handled every one of those with professionalism and continued to do the work and preparation, so when he had those opportunities, he was ready to succeed. I think we all saw evidence in the results."
Said Murphy: "I controlled the situation. If I would've gone out and I would've had a terrible year, I'm sure I wouldn't have been traded, because not really anybody would've wanted me. The good thing about being traded is you know that somebody wants you."
Jordan Bastian is a reporter for MLB.com. Read his blog, Major League Bastian, follow him on Twitter @MLBastian and listen to his podcast. This story was not subject to the approval of Major League Baseball or its clubs.