Rags to Richards: Halos win after rocky start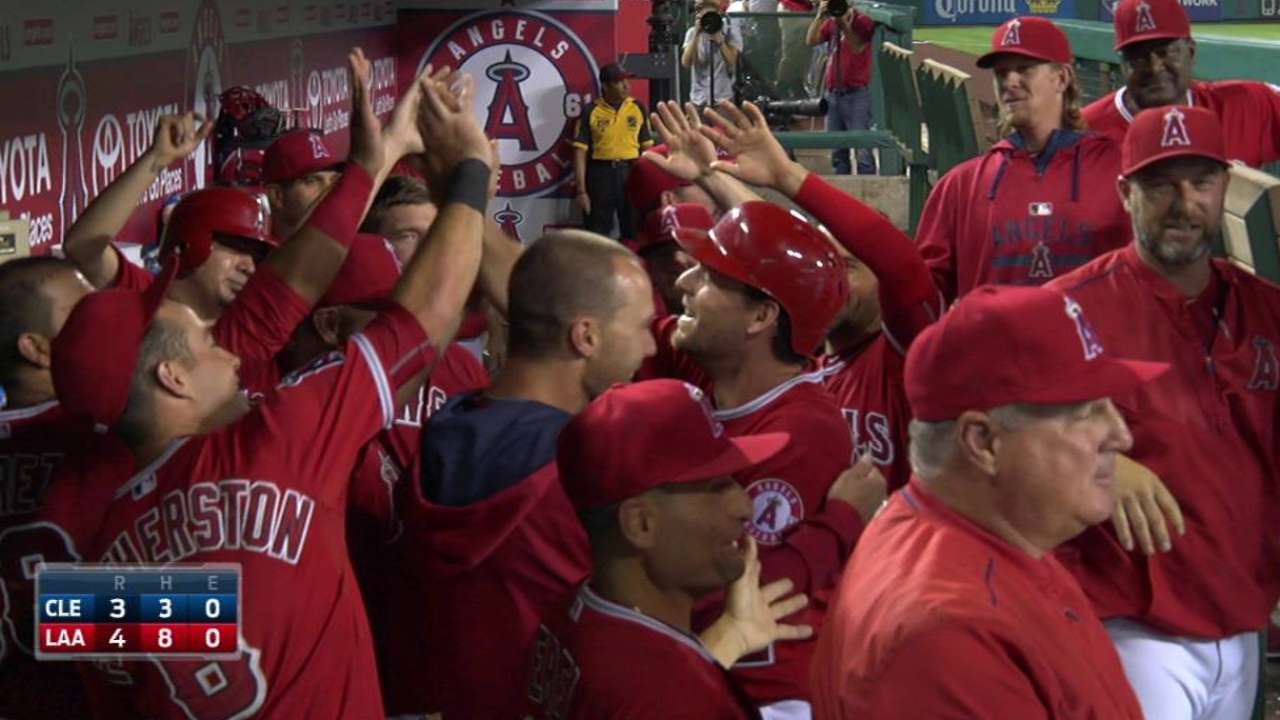 ANAHEIM -- Garrett Richards settled in after a rough first inning and the Angels plated a combined five runs in the fifth and sixth, surging to a 5-4 victory over the Indians on Monday night and snapping their season-long six-game losing streak.
The Indians, last in the Majors in runs since the beginning of June, took a three-run lead against Richards in the first, getting an RBI single by Michael Brantley and a two-run homer from Yan Gomes. But then the Angels began to chip away against Corey Kluber.
"It was a good grind-it-out win tonight," Angels manager Mike Scioscia said, "especially the way it started."
Kole Calhoun and Mike Trout came through with back-to-back two-out RBI singles in the fifth, and Conor Gillaspie added a two-run shot in the sixth, giving the Angels their first lead beyond the fifth inning in eight days. The Angels added an insurance run later that inning, when Johnny Giavotella took two bases on a groundout and scored on David DeJesus' infield single.
With the win, the Angels moved three games back of the first-place Astros in the American League West.
"I just really didn't make good pitches when I was ahead of guys," said Kluber, who fell to 6-12 with the loss. "The home run was obviously the biggest mistake. Early on in the game, I made better pitches when I was ahead of guys. The last couple innings, I just kind of didn't execute them well enough, and they were able to find some holes."
• Staked to a lead, Kluber comes undone late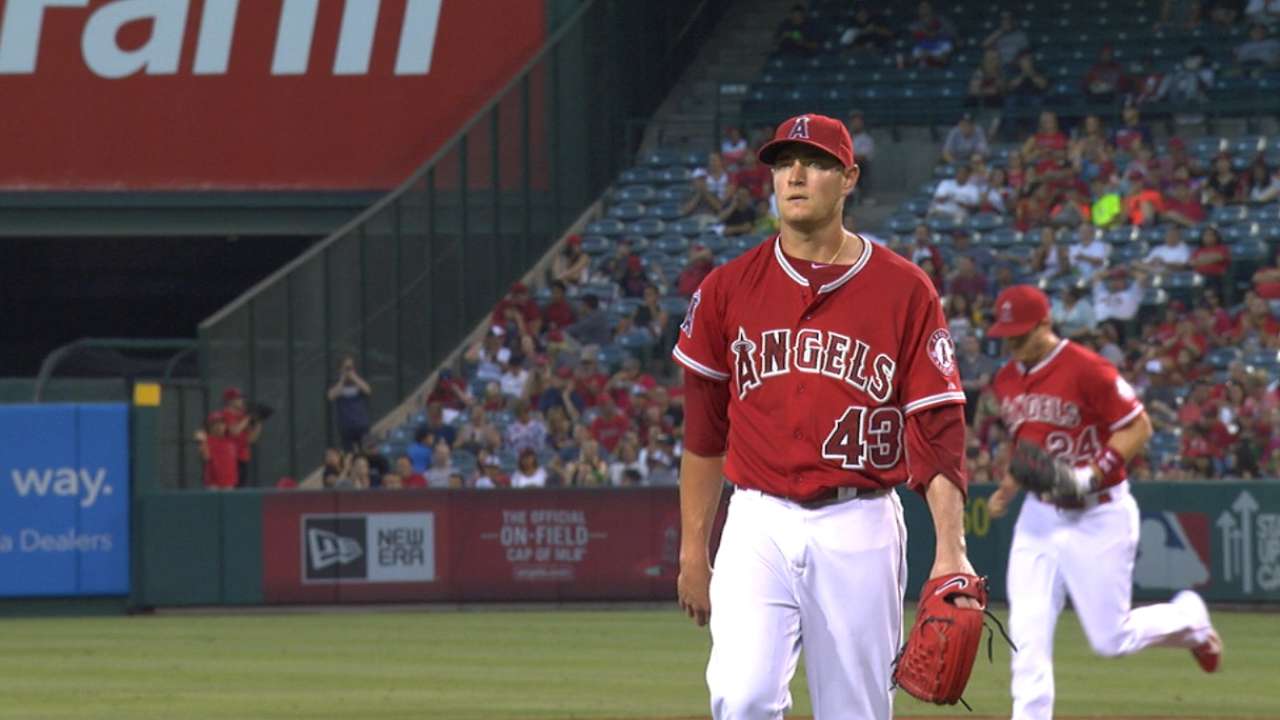 MOMENTS THAT MATTERED
The Great Gillaspie: Trailing by one with one on and none out in the bottom of the sixth, Gillaspie turned on a 2-1, chest-high slider from Kluber, sending it into the right-field tunnel for his first home run in an Angels uniform. In need of a stopgap third baseman until David Freese returns from the disabled list around mid-August, the Angels acquired Gillaspie from the White Sox for cash considerations on July 24. Since then, the 28-year-old has gone 8-for-28, with six RBIs and four extra-base hits.
• Angels 'found a way' for much-needed win
"Obviously any time you go to a new environment, kind of a fresh start, so to speak, it's just new and exciting," said Gillaspie, who was hitting only .237/.276/.364 with the White Sox this year. "I don't know if I feel better than I did earlier in the year, but obviously I'm getting the chance to contribute and getting at-bats most days. It's awesome, winning this time of year."
Bourn thief: Indians center fielder Michael Bourn made a spectacular catch to rob Calhoun of a would-be home run in the first inning. With one out, Calhoun crushed a pitch to center, where Bourn crashed into the wall after making a leaping grab. Bourn fell to the warning track and stunned the crowd when he raised the ball in the air.
"I knew I had it," Bourn said. "He hit it very high. He got a lot of backspin on it and it carried out there. I was able to get to the wall. I think what helped me was I got there in time. I didn't time the jump. I got back quick enough where I could jump, and it was actually coming down harder than I expected it to be."
• Bourn soars to rob HR with spectacular catch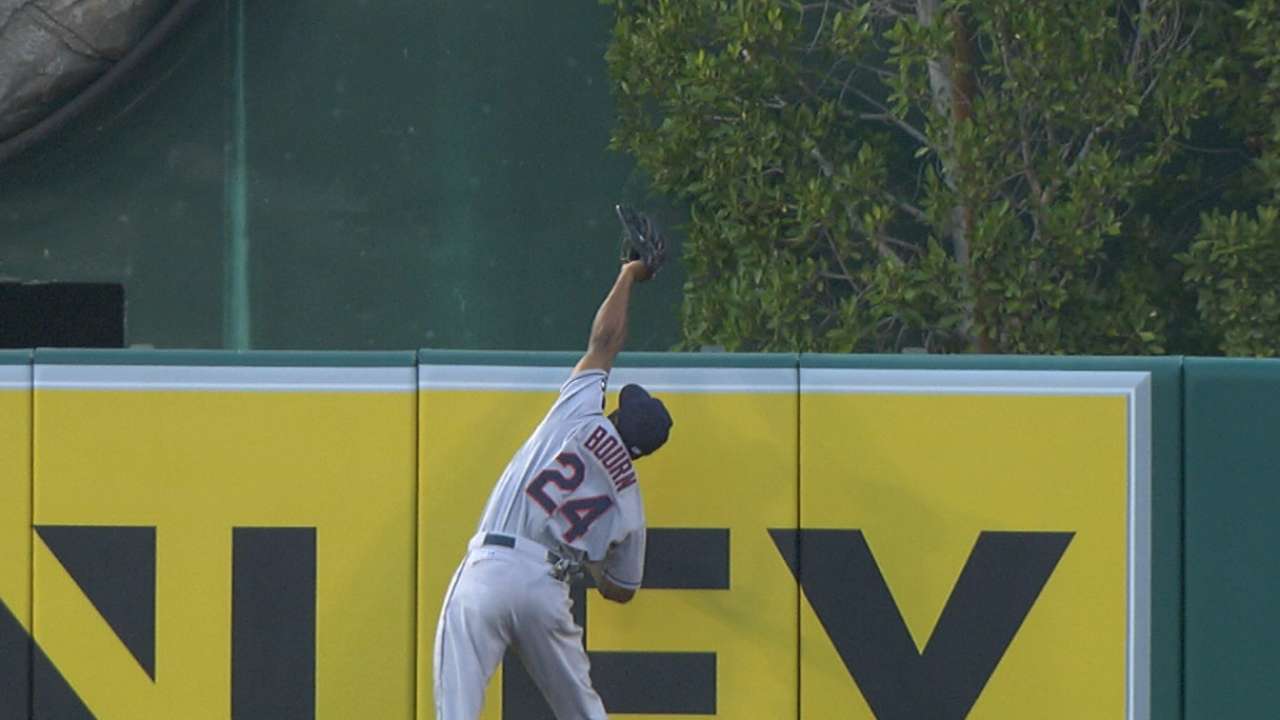 Cruise control: Richards recovered from a three-run, 26-pitch first inning to complete 7 1/3 innings. He was charged with four runs, the last one coming on an eighth-inning RBI single given up by Joe Smith. Richards retired 20 of his next 24 batters after Gomes' first-inning homer, striking out 10 to finish with a career-high-tying 11 punchouts on the night. The Angels needed Richards' length, too. They used seven relievers in a bullpen game during Sunday's loss at Dodger Stadium.
"I put us in a hole early, but I told myself, 'I can still make an outing out of this,'" Richards said. "I think that's part of maturing and evolving as a starting pitcher in this league. This was a great team win for us. I think wins like that kind of get a team back on track."
• Richards rebounds like the ace he's become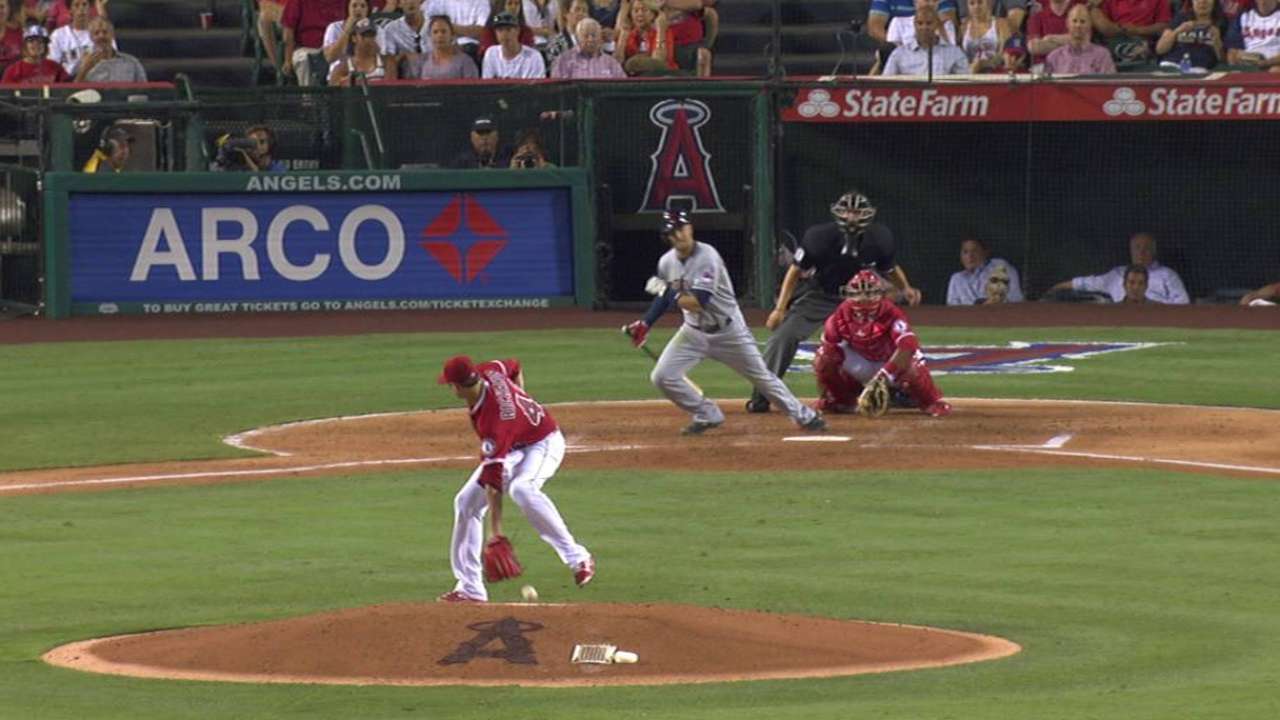 Yan gone: After the Indians played small ball to manufacture their first run in the opening frame (Jose Ramirez walked, moved to second on a sacrifice bunt by Francisco Lindor and score on a Brantley single), Gomes went big. The Tribe's catcher followed with a towering two-run homer to left field, measuring at a projected 432 feet, according to Statcast™.
"The first inning, [Richards] was having a tough time commanding," Indians manager Terry Francona said. "And we scored the one and then Gomer put a great swing. Then, Bourny goes out and saves a run. Once they got the runs back, you could tell [Richards] was smelling it. He's got velocity and he's got a hard cutter. He's good."
QUOTABLE
"After the first inning, I said, 'Man, by the time I get up, he's going to have found his groove.' That's exactly what happened. He's tough. He has the cutter and the two-seamer going both ways at 95. That's very, very, very tough to hit, man. And he's got a good curveball and a slider. When you've got four pitches like that, that's tough. ... I'd be surprised, in his career, if he doesn't win the Cy Young one year." -- Bourn, on Richards
"You can talk about all the good pitchers we've faced, you can talk about all those things. It doesn't matter. If you want to be the best, you have to beat the best. Sometimes that means playing through robbed homers, and sometimes it means beating guys who are pitching like Cy Young." -- Angels closer Huston Street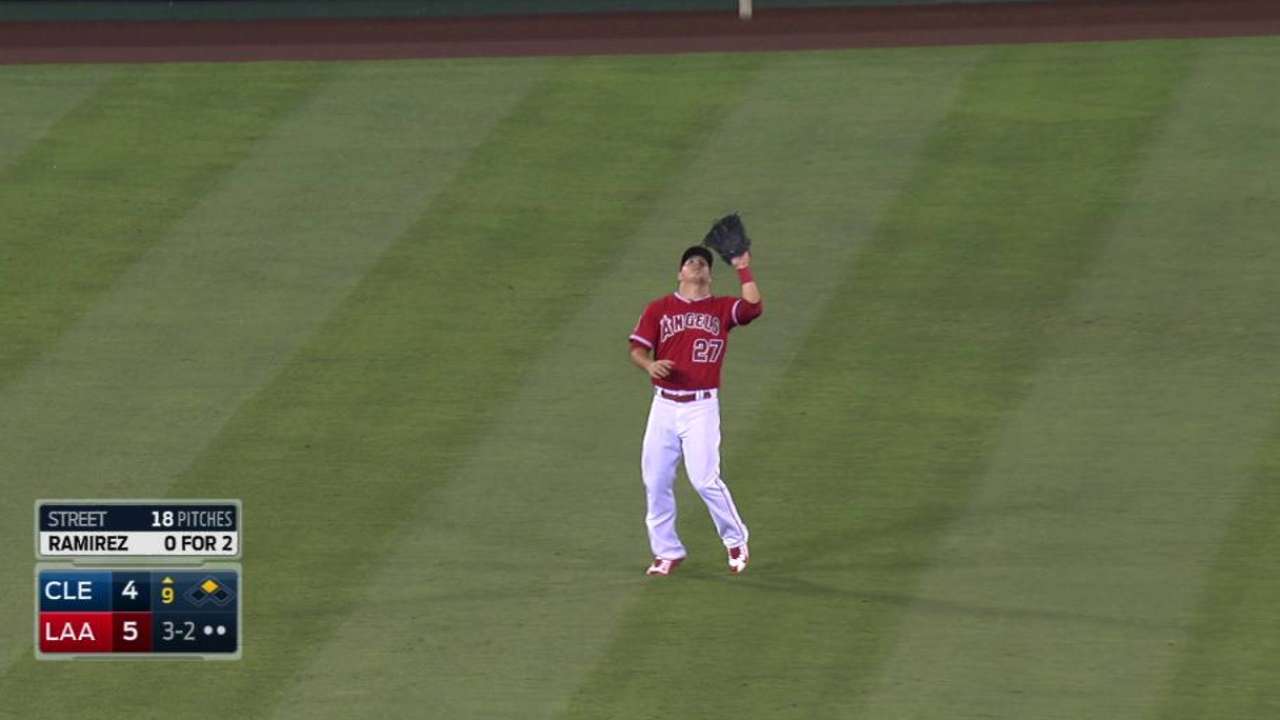 EARLY EXIT
Indians right fielder Lonnie Chisenhall exited Monday's game in the fourth inning due to a neck strain and whiplash symptoms. In the third inning, Chisenhall dove for a sinking liner off the bat of Carlos Perez and fell hard to the ground. Chisenhall stayed in the game to bat in the top of the fourth, but was replaced in the field in the home half by Tyler Holt. Holt took over in left field, and Jerry Sands moved from left to right field. Francona said Chisenhall will be checked again before Tuesday's game.
"He banged his head when he came in and dove for that ball," Francona said. "So, as a precaution, we got him out and we'll re-evaluate him tomorrow."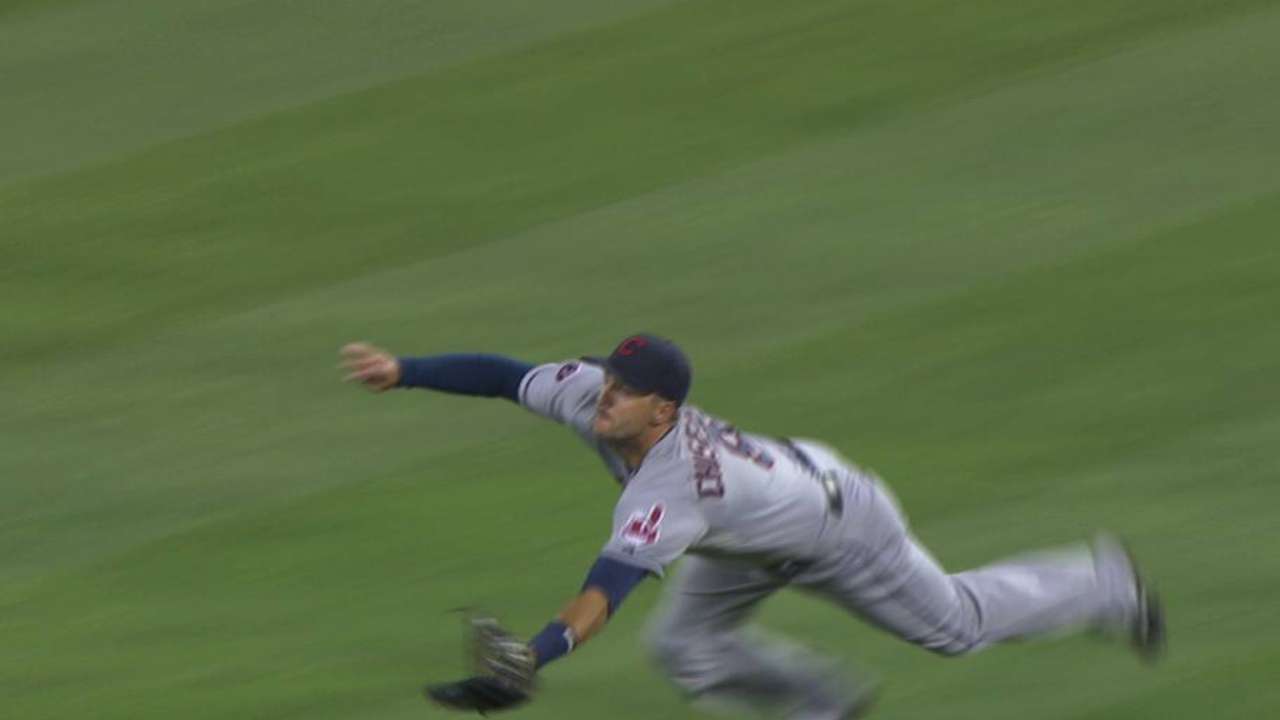 WHAT'S NEXT
Indians: Right-hander Carlos Carrasco (11-8, 4.03 ERA) brushed off trade rumors and spun a complete-game gem on Thursday, limiting the A's to one run on two hits in a victory on the road. Carrasco struck out seven and walked one in the impressive effort, which followed a disappointing four-inning outing against the White Sox in his previous start. Carrasco will next tackle the Angels in a 10:05 p.m. ET tilt at Angel Stadium on Tuesday night.
Angels: Matt Shoemaker takes the mound in the second of a three-game series, looking to keep his recent surge going after a rough start to the season. Shoemaker has a 2.01 ERA over his last six games (five starts), lowering his ERA from 5.20 to 4.24 in just over six weeks. The 28-year-old right-hander was an obvious candidate to go to the bullpen once Jered Weaver returns from the DL, but he's a mainstay now that C.J. Wilson likely won't pitch the rest of this season.
Watch every out-of-market regular season game live on MLB.TV.
Jordan Bastian and Alden Gonzalez are reporters for MLB.com. This story was not subject to the approval of Major League Baseball or its clubs.