Managers Murphy, Counsell go way back
Brewers skipper played four seasons at Notre Dame under Murphy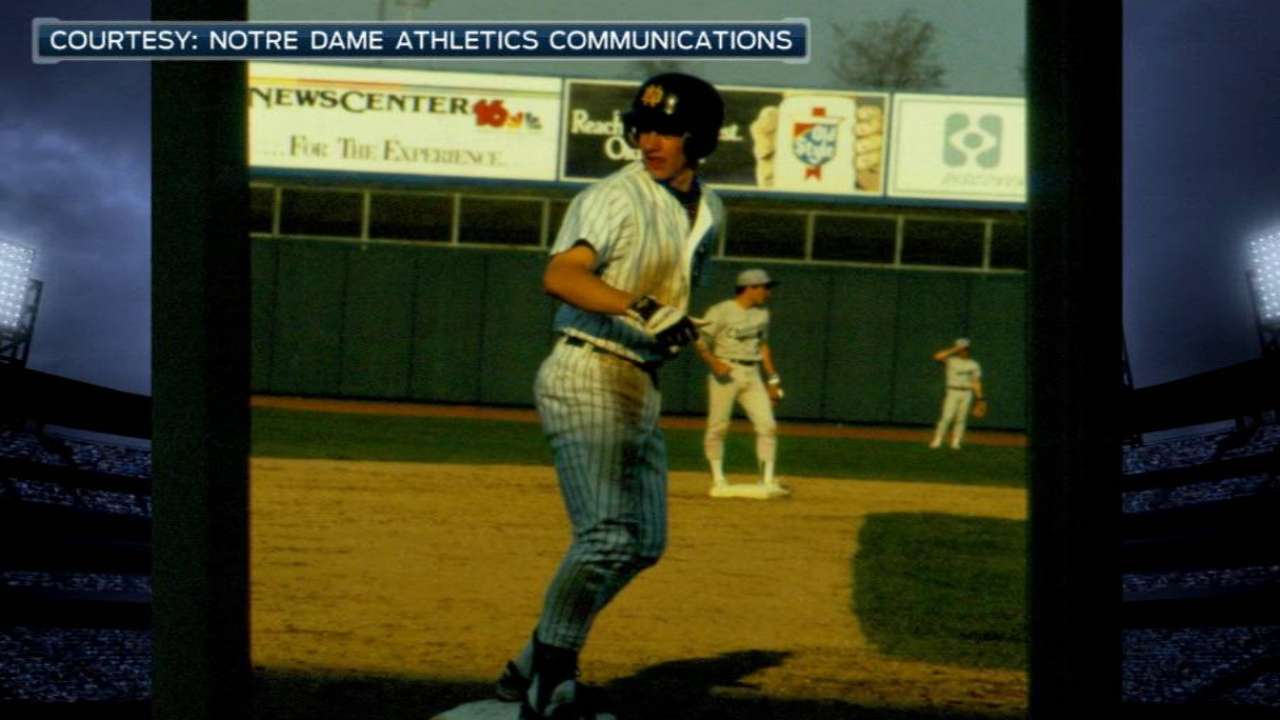 MILWAUKEE -- The hot-headed coach saw promise in the skinny infielder, and rode him hard. That's how Padres interim manager Pat Murphy treated many of his players at the University of Notre Dame, including Brewers manager Craig Counsell, who so irked his skipper with a series of errors one fall that Murphy ordered Counsell onto a half-frozen field in November to field hot-shot grounders.
One particularly hard-hit baseball took a bad hop, bounced up and broke Counsell's nose.
"His nose was over here at 4:15," Murphy said, holding his hand on the side of his face, "and then he was back at practice at 5:15 with his nose back in place and said, 'Hit me some more.' That taught me everything I needed to know. One, that he was destined to be undenied."
And the other thing?
"That I probably needed to back off a little bit," Murphy said.
More than two decades later, the men were on the same field again, this time at Miller Park to meet for the first time as Major League managers. Counsell took over after the Brewers dismissed Ron Roenicke in early May. Murphy replaced the Padres' Bud Black in June.
"When you go to college, you're growing up, you're learning about baseball, about life," Counsell said. "It's an impressionable time in your life, and I learned a lot from him. More than anything, I think he was a person who made me mentally tough, because he challenges you a lot."
Murphy was less diplomatic.
Craig Counsell played for Pat Murphy at the University of Notre Dame (1989-92). Now they reunite as @MLB managers. pic.twitter.com/WSpFCHm13z

— Milwaukee Brewers (@Brewers) August 3, 2015
"I was awful to him," Murphy said "I was very, very hard on him. I thought he would never speak to me again, to be honest with you. I was a young coach. I was 27 years old myself, and though we won a lot of games, I wasn't always appropriate. I wasn't always the best leader. He had every right to leave school if he wanted to. I think his dad being a Notre Dame guy, he wouldn't let him.
"[Counsell] kept getting better and better. When we were done with practice at night and you walk out, and you hear someone hitting in the cage, you didn't have to look who it was. It was Counsell."
Counsell played four seasons at Notre Dame under Murphy from 1989-92, batting .339 as a senior for a team that played to within one game of the College World Series. After the Rockies drafted Counsell in the 11th round, Murphy placed a call and helped Counsell get an extra $1,000 -- boosting his bonus to a still-modest $5,000.
It sent Counsell on a professional career that included two World Series championships, 16 years in the Majors, followed by a stint in Milwaukee's front office. The two stayed close the whole way. After the Brewers named him manager, Counsell tried to hire Murphy, who was managing San Diego's Triple-A club, to join Milwaukee's coaching staff as an infield instructor.
When the Padres refused to let Murphy go, Counsell figured they had other plans.
"It worked out the right way," Counsell said.
The former coach and pupil met on the field Monday while the Brewers took early batting practice. Counsell said he would take time later to process what it meant to manage against his onetime mentor. Murphy called it a "thrill."
"I tried to screw him up," Murphy said, "but he was such a diligent worker that my crazy ways couldn't screw him up."
Adam McCalvy is a reporter for MLB.com. Follow him on Twitter @AdamMcCalvy, like him on Facebook and listen to his podcast. This story was not subject to the approval of Major League Baseball or its clubs.