A's claim versatile Valencia from Blue Jays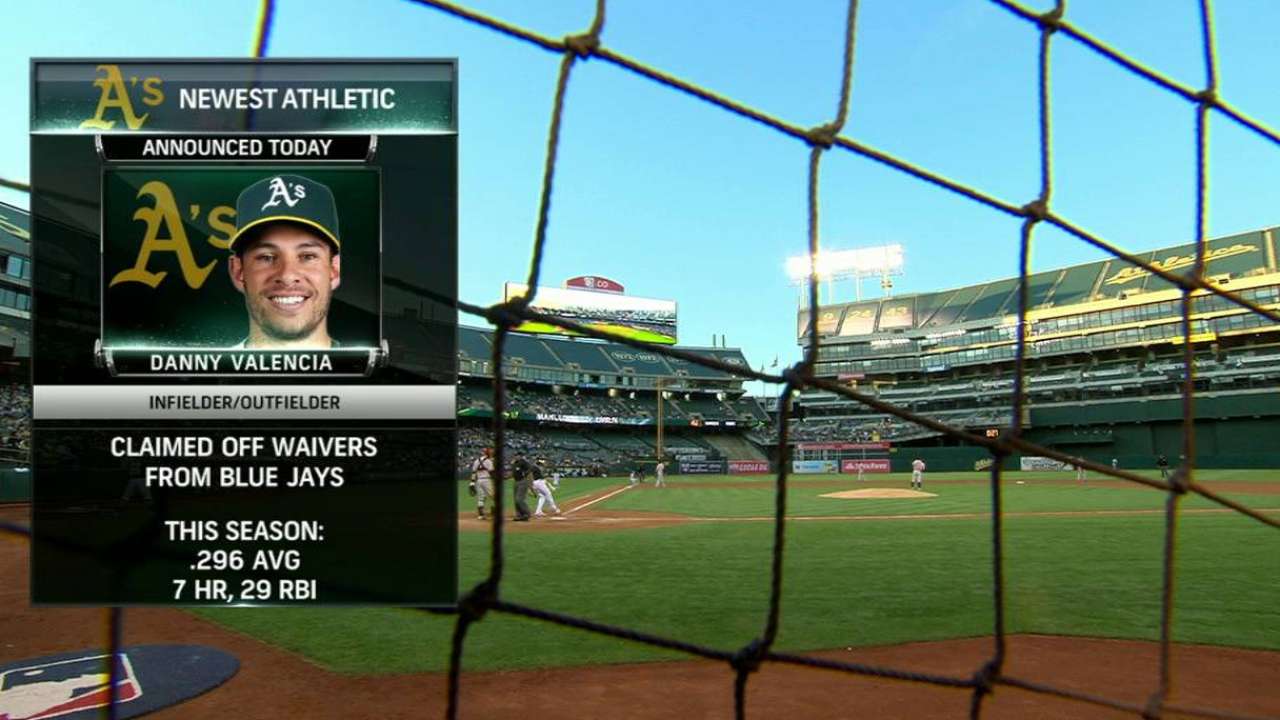 OAKLAND -- The A's have claimed infielder/outfielder Danny Valencia off waivers from the Blue Jays, the club announced Monday.
Valencia was batting .296 with seven home runs and 29 RBIs in 58 games with Toronto before he was designated for assignment Saturday. He's started 27 games at left field, nine at third base, one at right field and one at first base, while hitting .316 against lefties.
"Swings the bat pretty well," A's manager Bob Melvin said. "We probably have him targeted to play against some lefties. I know he's played a little bit of second, mostly third. We'll see where he fits in, but it'll probably be against left-handed pitching."
Melvin said he'll see how comfortable Valencia and Brett Lawrie are at second base in the next few days. When a lefty pitches, Eric Sogard will often be out of the lineup. Either Lawrie or Valencia will likely play second, while the other starts at third.
"I don't really foresee anything being too complicated over there," said Lawrie, who took grounders at second before batting practice on Monday. "Just make the easy one and try to play under control."
Valencia is scheduled to arrive in Oakland on Tuesday. The A's face Baltimore left-hander Wei-Yin Chen on Wednesday, so there's a chance Valencia could start as early as then.
The 30-year-old right-handed hitter has spent six seasons in the Majors, including time with the Twins, Red Sox, Orioles, Royals and Blue Jays.
Billy Butler played with Valencia in Kansas City and said A's fans can expect a versatile player with some pop in his bat.
"He's played multiple positions, so that's what our team kind of looks for," Butler said. "He was having a nice little year [in Toronto], must have just not fit into their plans over there."
Worth noting
• The A's reinstated switch-pitcher Pat Venditte (strained left shoulder) from the 15-day disabled list Monday and optioned him to Triple-A Nashville.
Venditte made three rehab appearances with Class A Advanced Stockton and two with Nashville, allowing two earned runs in 5 2/3 innings.
"After an injury it gives us a chance not to want to run him out there too much," Melvin said. "At the big league level, if a guy's pitching well, you're going to want to get him out there quite a bit."
Trevor Hass is an associate reporter for MLB.com. This story was not subject to the approval of Major League Baseball or its clubs.