Gimenez, Wilson to continue splitting time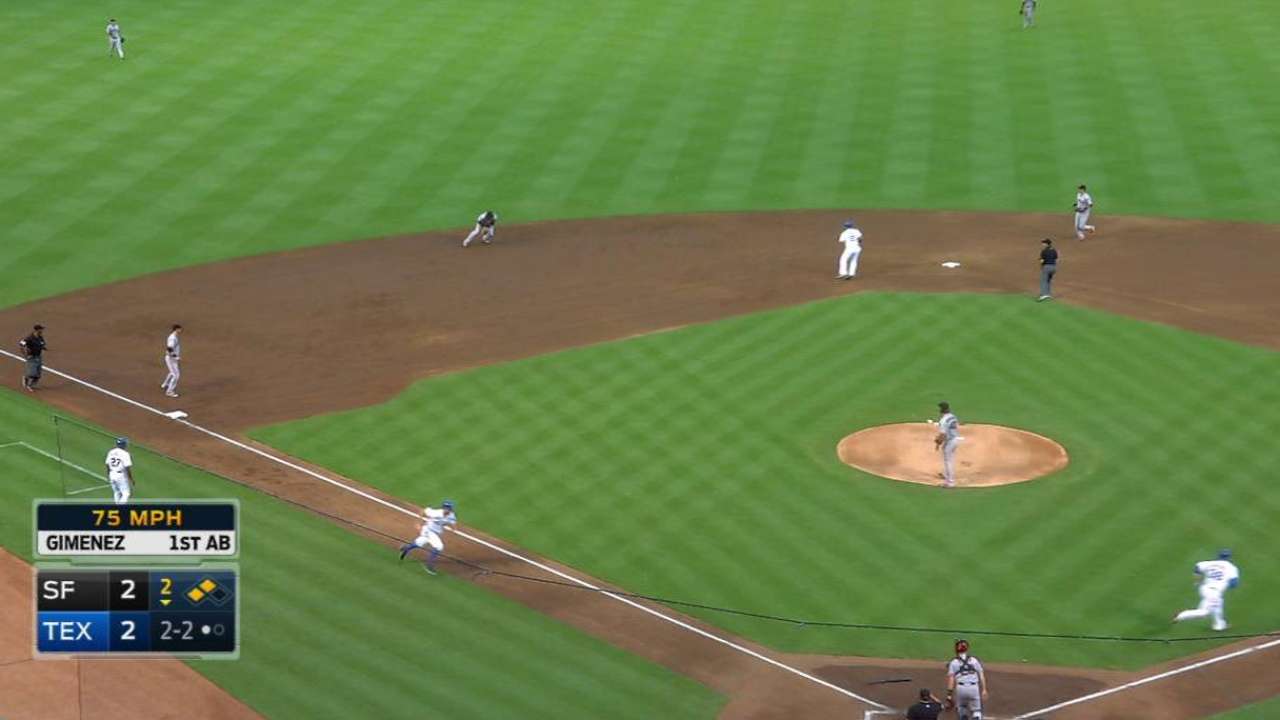 ARLINGTON -- The Rangers' new arrangement of Chris Gimenez and Bobby Wilson sharing the catching duties could last for an extended period of time.
Robinson Chirinos has been placed on the disabled list with a strained left shoulder, and it could be some time before catcher Carlos Corporan returns. Corporan has been on the DL since July 13 with a sprained left thumb, and his recovery is taking longer than initially expected.
Corporan has played three games on a rehab assignment with Triple-A Round Rock and caught back-to-back games on Friday and Saturday. He ended up with a sore left thumb and did not play on Sunday. He is also hitless in six at-bats, with three strikeouts.
"His receiving has been OK," manager Jeff Banister said. "Swinging the bat has been the biggest challenge. There are still some boxes he needs to check off. He needs to be able to catch nine innings on back-to-back days. He was down a little longer than we expected him to be. He's not going to be perfect, but we don't want him to have a setback when he gets up here."
Gimenez and Wilson are both out of options, so the Rangers have to be completely sure Corporan is ready to return before they make room for him, otherwise the waiver process could get messy.
Until then, Gimenez and Wilson will split playing time. So far they have alternated, but Banister said he will start looking at beneficial pitching pairings. Gimenez has a history with young pitchers Martin Perez and Nick Martinez, so that may be one factor.
Chirinos, placed on the DL on Friday with a strained left shoulder, had a blood platelet injection on Monday to try to expedite the healing process.
Banister won't push Perez: Perez took a one-hit shutout into the ninth inning on Sunday afternoon. He had also thrown 75 pitches and had a two-run lead.
That's why Banister sent him out for the ninth inning. Perez retired the first batter on a groundout but then gave up a double to Angel Pagan. At that point Banister decided to go to the bullpen.
Banister did so for two reasons. One is that Perez was making just his fourth start since a 14-month recovery from Tommy John surgery. Second, Banister was concerned with the stress and intensity on Perez's arm with the tying run at the plate.
Banister is a believer in the concept that all pitches are not equal. Pitches thrown in tight games or tight situations create higher stress on the arm. It was one thing to stay with Perez when he was "cruising," but Banister saw the situation change entirely after Pagan reached base and the potential tying run stepped to the plate.
"That's a lot of stress after a lot of innings," he said. "It's all about the long-term. I'm not willing to continue to put stress on his arm. Maybe he would have finished it. But if he doesn't, guess who feels he just got kicked? I love the intensity of the young man. I'm glad he shows emotion and wants to stay in the game. But we need to be prudent, too."
Worth noting:
• Closer Shawn Tolleson said he was ready to go on Monday night. He pitched four straight games before getting Sunday off. He agreed he needed the day off but is still feeling strong as the season moves into August. Said Tolleson: "I feel really good. I feel strong and refreshed."
• Sam Dyson recorded his first career save in Sunday's 2-1 victory over the Giants by getting Hunter Pence to ground into a game-ending double play with the bases loaded. It's the sixth time in club history the Rangers closed out a one-run victory with a double play in the ninth inning with the bases loaded.
• The Rangers also won for the fifth time this season without getting a hit with runners in scoring position. They were 0-for-7.
T.R. Sullivan is a reporter for MLB.com. Read his blog, Postcards from Elysian Fields, follow him on Twitter @Sullivan_Ranger and listen to his podcast. This story was not subject to the approval of Major League Baseball or its clubs.