McClendon unsure of upcoming rotation order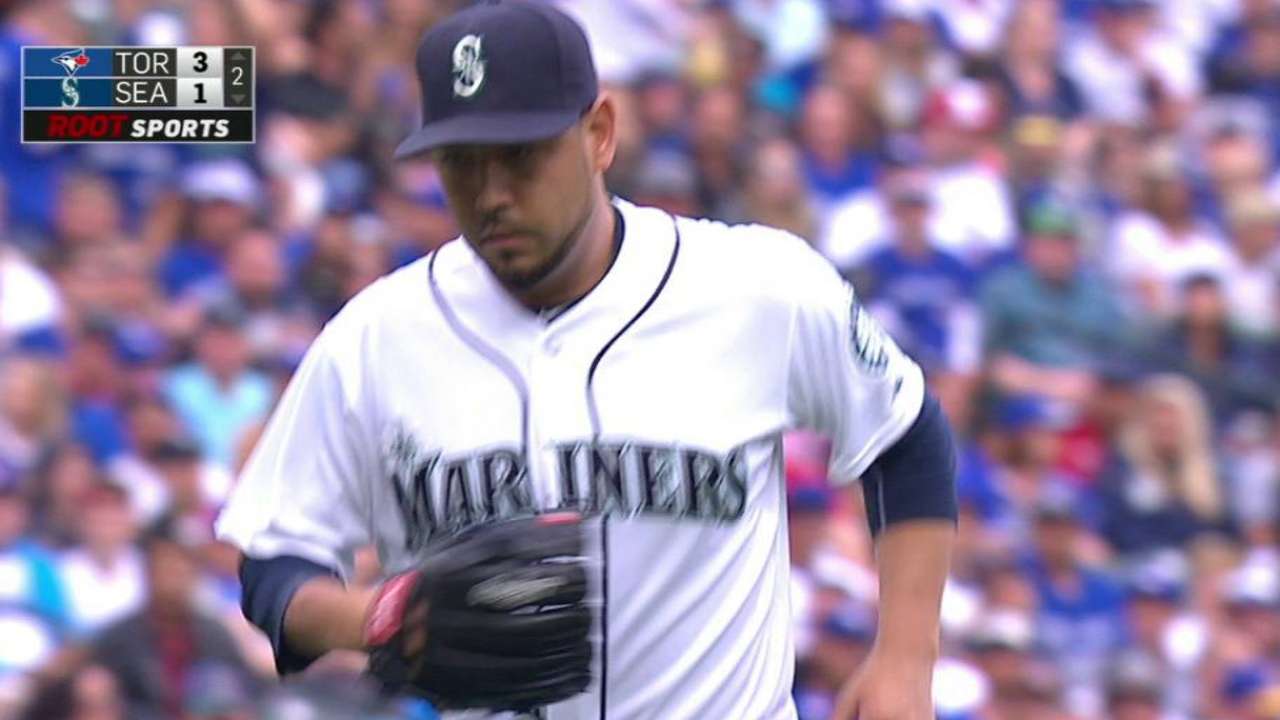 DENVER -- Mariners skipper Lloyd McClendon said Monday he's not sure yet how his team's rotation will play out for the next homestand and beyond, but the uncertainty has nothing to do with how lefty reliever Vidal Nuno performs in his first start Tuesday against the Rockies.
"It has everything to do with scheduling going forward," McClendon said. "Matchups, who does well against what team, not just the next five days, but 10-12 days out."
The Mariners will have played 20 straight days when they hit Thursday's off-day at the end of their current road trip and McClendon might use that one-day break to rearrange his starting five when returning home to face the Rangers and Orioles.
Taijuan Walker and Mike Montgomery are both in their first full seasons as Major League starters, so they could run into innings limits later in the season. But the Mariners have the next three Thursdays off and that will provide some possibilities for skipping starts or giving extra time off if needed.
Nuno's status in the rotation also remains to be seen. McClendon is labeling Tuesday's outing a "spot start" at this point, waiting to see how that plays out before committing to future outings for the 28-year-old. But he's does believe the lefty is capable of providing a solid start in place of J.A. Happ, who was traded to the Pirates on Friday, and doesn't have any pitch limit in mind.
"I think he's certainly capable of giving us five innings," McClendon said. "He's got a rubber arm, he's started before this year. It's nothing foreign to him. We'll go with him as long as we can go. If he's not in trouble, he'll pitch."
Nuno started 31 Major League games for the Yankees and D-backs in 2013-14 and made eight starts at the beginning of the season for the D-backs' Triple-A Reno club. He also threw 93 pitches for Tacoma in one six-inning start when he was sent down by the Mariners on July 5, so he doesn't expect any big changes.
"It's just now I get 80-100 pitches and get to set the tone of the game," Nuno said. "It's nothing new. It's just batter to batter, inning to inning."
But without question, the California native is pumped to get another shot at starting in the big leagues.
"I'm definitely thrilled, excited," he said. "I can't wait."
Greg Johns is a reporter for MLB.com. Follow him on Twitter @GregJohnsMLB, read his Mariners Musings blog, and listen to his podcast. This story was not subject to the approval of Major League Baseball or its clubs.