Strasburg sharp in second rehab start
Righty racks up 11 K's at Triple-A; Span also progressing
WASHINGTON -- Stephen Strasburg made his second rehab start Monday night, bringing the Nationals one step closer to having their entire core healthy and back together.
Strasburg, who has been on the disabled list since July 5 with a strained left oblique, threw 5 2/3 innings for Triple-A Syracuse before being pulled at 85 pitches (55 for strikes). He struck out 11 while allowing five hits and two earned runs.
After the Nationals' 6-4 loss to Arizona on Monday night, manager Matt Williams did not know if Strasburg's outing would be his last before rejoining the Major League club.
"We'll see how he feels," Williams said.
Strasburg and center fielder Denard Span remain the final two missing pieces to the core of a Nationals team that hasn't fielded its eight projected starters at once all season.
Span, who is hitting .304 in 59 games this year, has been out since July 7 and still needs to progress before he participates in rehab games.
"I've been running sprints the last couple days," Span said before Monday's game. "Today, I added ground balls, and we upped the sprints today. Definitely tired. My legs feel very, very heavy because I haven't done much in two-and-a-half, three weeks. The fact that I'm out here, getting a good sweat on is definitely a good sign for me. I think now, it's just day by day. When I have a good day's work, just see how I feel the next day."
Span was suffering from recurring back spasms for much of the first half of the season, and, after playing through the spasms when he could and taking a day off when he could not, he was placed on the disabled list shortly before the All-Star break.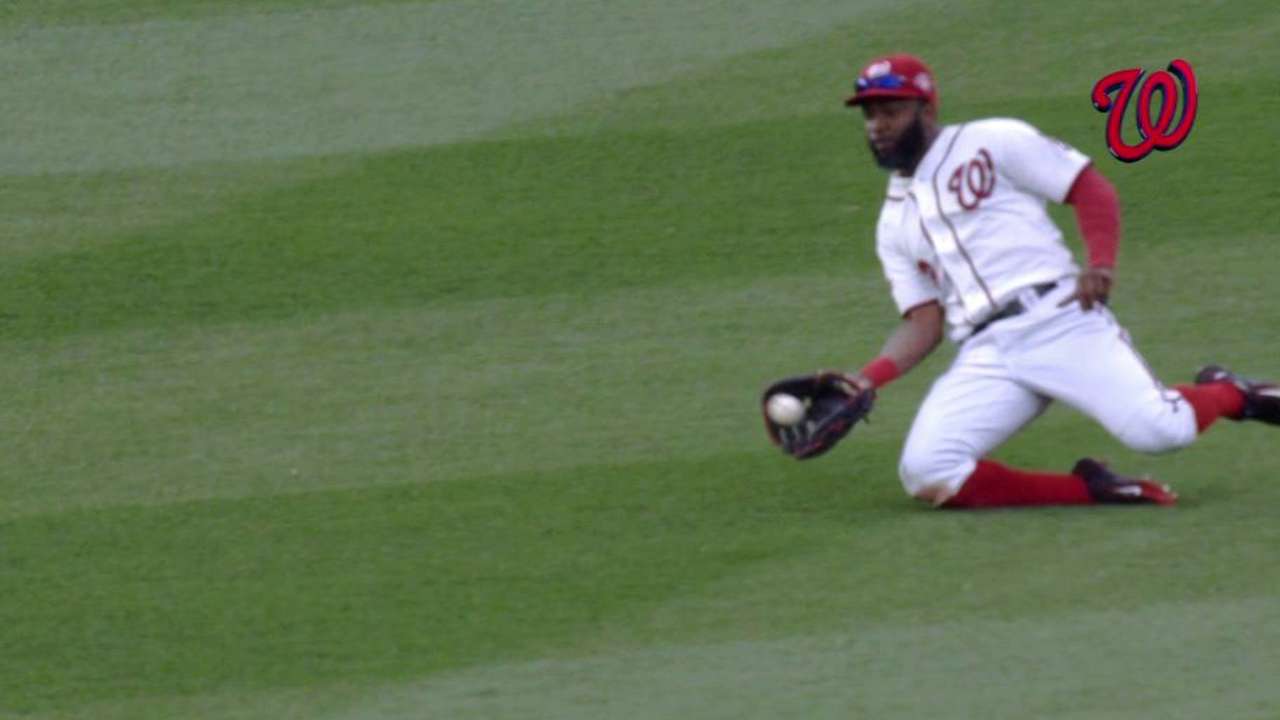 Much of his work since has been focused on strengthening his core. He underwent surgery in the offseason to repair an injured core muscle, and the team believes his back issues are at least partially a result of his weakened core.
"Those are muscles that strengthen themselves as we get older and kind of do it on their own, but I think when I had those surgeries, I kind of shut them off," Span said. "So, I've been doing a lot of exercises to make sure those muscles come back on and just to strengthen those muscles. I'm doing a lot of pelvic corrective exercises to make sure my pelvis is lined up the way it needs to be."
Span will begin taking live batting practice and running the bases in the next few days, Williams said. For both Williams and Span, the biggest key is for the 31-year-old to increase the volume of his workouts without any issues arising.
Worth noting
Right-handed reliever David Carpenter received a second opinion on his right shoulder over the weekend. The results were positive, and Carpenter, who has been out since July 12 with right shoulder inflammation, restarted his throwing program Monday, Williams said. Since Carpenter has been out, the Nationals bolstered their bullpen with the addition of closer Jonathan Papelbon.
Jacob Emert is an associate reporter for MLB.com. This story was not subject to the approval of Major League Baseball or its clubs.