Wheeler excited to still be with Mets
Right-hander recovering from Tommy John surgery visits team in Miami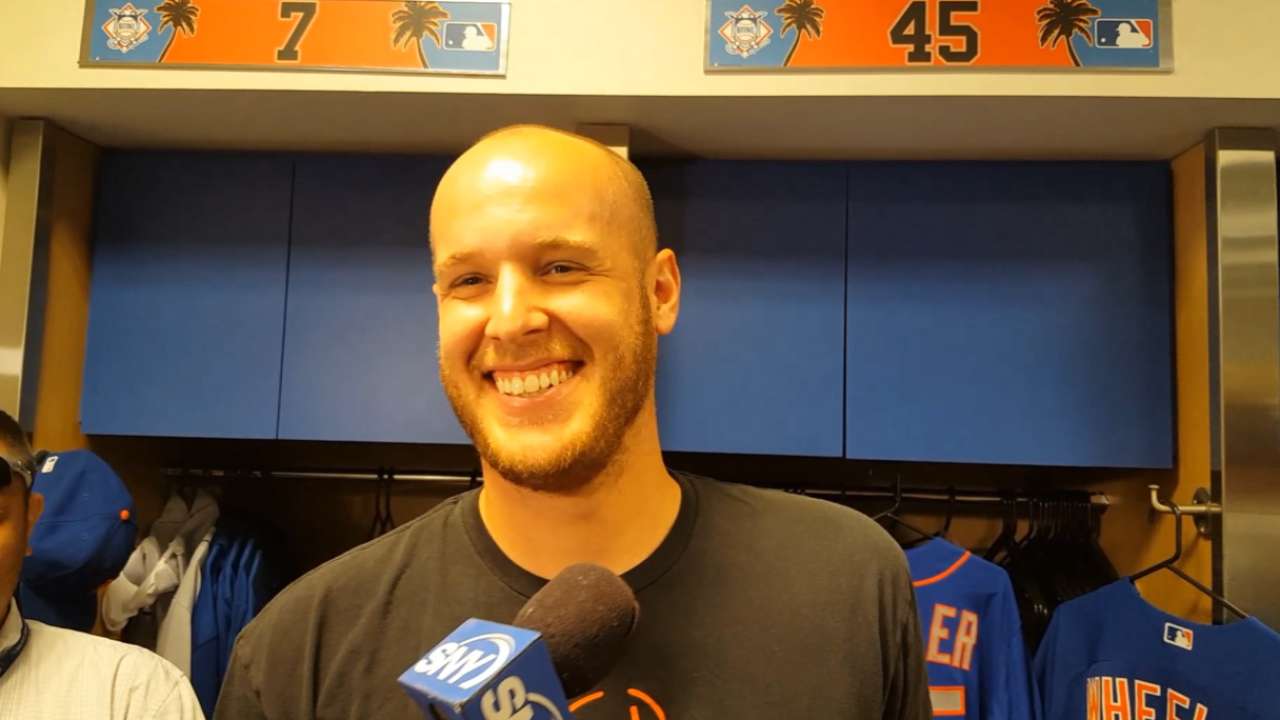 MIAMI -- Like so many fans throughout the New York area and beyond, Zack Wheeler sat in front of a television on the afternoon of July 31, scrolling through his Twitter feed. Wheeler had already been traded once from the Mets and watched it fall through, and had already placed a phone call to Mets general manager Sandy Alderson relating his desire to stay. All there was left to do was wait.
"I still didn't know," Wheeler said Monday, making the short drive from his rehab headquarters at Port St. Lucie, Fla. to visit teammates in Miami. "Once they said we traded for [Yoenis] Cespedes, I didn't know if I was in the trade or anything like that. I was trying to find out if I was a guy getting traded."
Though his emotions were not as plain to behold as those of Wilmer Flores, who wept on the field upon learning that he and Wheeler had been traded to the Brewers for Carlos Gomez, Wheeler was experiencing the same range of feelings. When he first caught wind of the deal last Wednesday, Wheeler began googling information about Milwaukee's roster.
Then the trade fell through and everything changed. Two nights later, Wheeler was sitting in his Port St. Lucie apartment when Flores hit a walk-off homer, and grew emotional once again.
"I lost it," Wheeler said.
"I've been through this organization through some of the growing pains. I like what Sandy's done here and I want to be a part of it, because we're about to be good this year and next year and the year after that. It's definitely going to be fun to play here."
For Wheeler, playing time will not come until he is fully recovered from Tommy John surgery -- likely next June or July. He threw off flat ground for the first time last Monday, with plans to increase his frequency from three to four sessions this week.
There's a comfort in knowing he is still a Met.
"I was gone at one point," Wheeler said. "To have that fall through was sort of a good thing for me, I guess you could say. I'm still happy to be part of this team, obviously."
Anthony DiComo is a reporter for MLB.com. Follow him on Twitter @AnthonyDiComo and Facebook, and listen to his podcast. This story was not subject to the approval of Major League Baseball or its clubs.