Trout wins AL Player of the Month award
Left-hander Heaney nets Rookie of the Month honors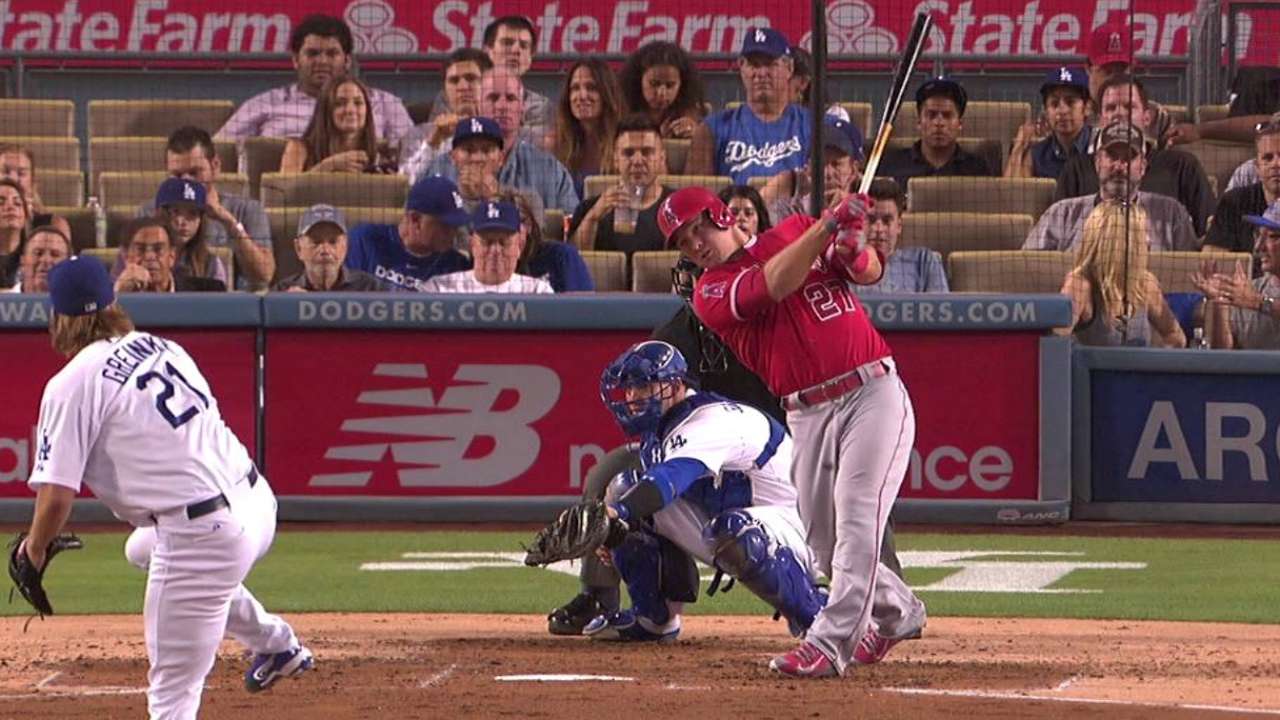 The American League Player of the Month honors are staying in Anaheim. And for good measure, the Rookie of the Month award has found a home there, too.
Angels outfielder Mike Trout has been named the AL Player of the Month for July, the third such award in his career. And pitcher Andrew Heaney has been named the league's most outstanding rookie for July.
Trout and Albert Pujols are the first Angels teammates to win back-to-back Player of the Month awards since Bobby Abreu and Kendrys Morales in 2009.
Trout hit .367 (29-for-79) with 20 runs, one double, one triple, 12 home runs, 24 RBIs and one stolen base in 21 July games. He led the league with an .861 slugging percentage and a .462 on-base percentage, and also tied for first in the league in RBIs.
He is the first AL player to win the All-Star Game MVP and July's Player of the Month in the same season. George Foster of the Reds accomplished the feat in 1976.
With 12 homers in 21 games, Trout tied the MLB record for fewest games played in a month while producing at least a dozen homers. According to the Elias Sports Bureau, Boog Powell (1964) and Barry Bonds (2001) are the only other players to accomplish that feat.
His 12 homers in July are also his most in any month (previously 10 in July 2012) and the most in Angels history for July (previously 11 by Don Baylor in 1979 and Juan Rivera in 2006). Trout hit his 30th homer of the year on July 29, 97 games into the year -- the fastest pace in club history.
Heaney went 4-0 with a 1.98 ERA and 19 strikeouts in 27 1/3 innings over four starts to earn his first monthly award and the first for an Angels pitcher since Matt Shoemaker in August of last year.
Heaney is the second pitcher and first lefty in Angels history with at least six innings pitched and two or fewer runs allowed in each of his first six starts with the team; the first was Jered Weaver with seven starts in 2006. He leads all AL rookies in ERA (1.97) and has not surrendered more than three runs in any start.
Trout is the only Major League player ever to record four 25-home run and 10-stolen base campaigns before his age-24 season.
Joey Nowak is a reporter for MLB.com. Follow him on Twitter at @joeynowak. This story was not subject to the approval of Major League Baseball or its clubs.