Bryant healthy, but rethinking slide technique
Cubs rookie hoping to avoid going in head first after scary collision prompted early exit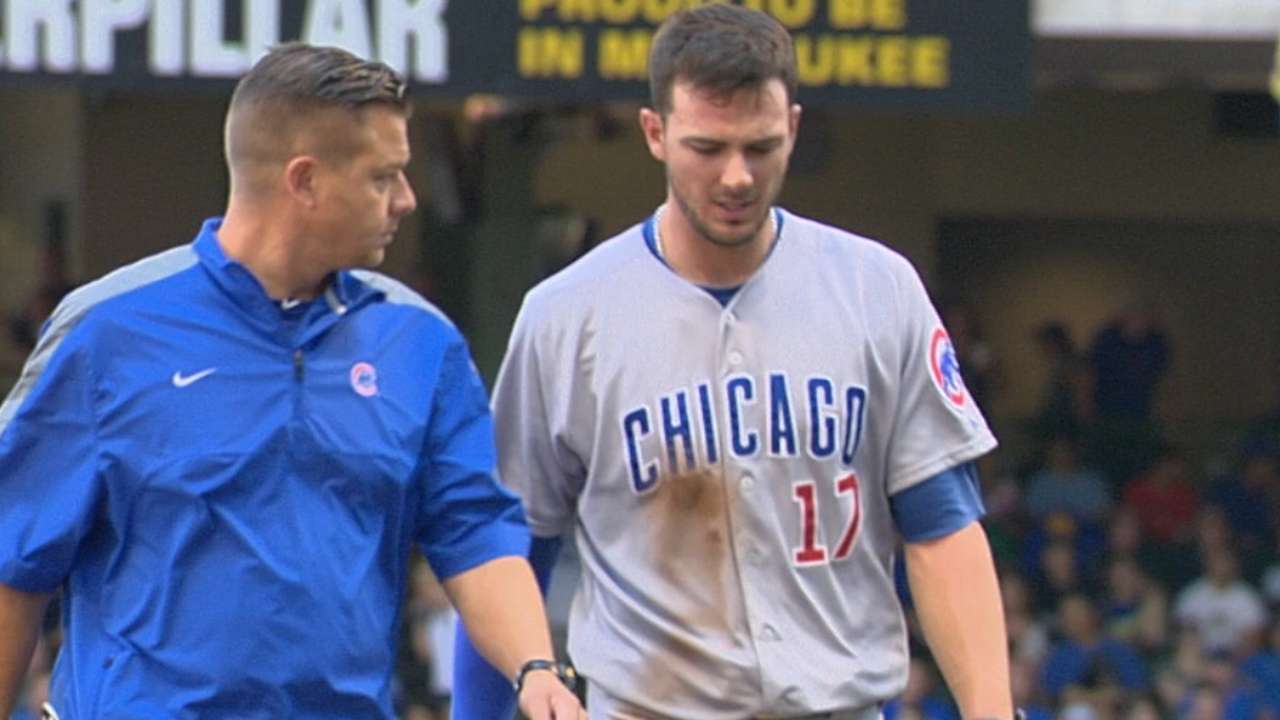 PITTSBURGH -- Kris Bryant was back in the Cubs' lineup and ready to play before Monday night's rainout in Pittsburgh, but his early exit from Sunday's game may force him to reconsider one aspect of his game.
Bryant passed all of the necessary concussion tests after leaving in the fifth inning of Sunday's 4-3 win over the Brewers following a hard slide into second base. Brewers shortstop Jean Segura appeared to accidentally hit Bryant in the head during the slide.
"I feel a little bit better. Just kind of precautionary yesterday," Bryant said Monday at PNC Park. "I only have one head. I only have one life. There's nothing really to joke about with that, so we're taking it really serious."
Bryant has never had a similar issue in the past. But Sunday's scare, brief as it was, led Bryant to reconsider his head-first slides on the basepaths. In fact, Bryant said, it was the first thing he thought about after leaving the game.
"That's just instinct, though. It's hard to think when you're running full speed. I think that's the hardest I've run all year, and I run pretty hard every time," Bryant said. "Looking back on it, yeah, I think sliding feet first is the more safe way to go.
"I've always slid head first, but I've made some pretty good strides sliding feet-first when I got into pro ball. It's just instincts. Sometimes it's hard to think on the run like that."
Bryant is a friend of Cory Hahn, the former Arizona State University baseball player who broke his neck and wound up paralyzed from the chest down after a head-first slide into second base in college.
"I think there's more important things than being [called] safe," Bryant said. "I think my safety's more important than that. Definitely makes you rethink some things."
Cubs manager Joe Maddon said he had no problem with the way Bryant slid on Sunday but acknowledged the benefits -- both in terms of safety and effectiveness -- of sliding feet first.
"You always prefer feet-first sliding," Maddon said. "A lot of guys aren't really good at it or don't like it. But I'll tell you one thing, infielders don't like it because it's a much more intimidating way to apply a tag. ... If a guy's coming feet first, you will never attempt to block the bag."
Adam Berry is a reporter for MLB.com. Follow him on Twitter at @adamdberry. This story was not subject to the approval of Major League Baseball or its clubs.