In NYBC tourney, MVP program stands out
Top-ranked Wilson MVP wins 12-and-under bracket to highlight youth event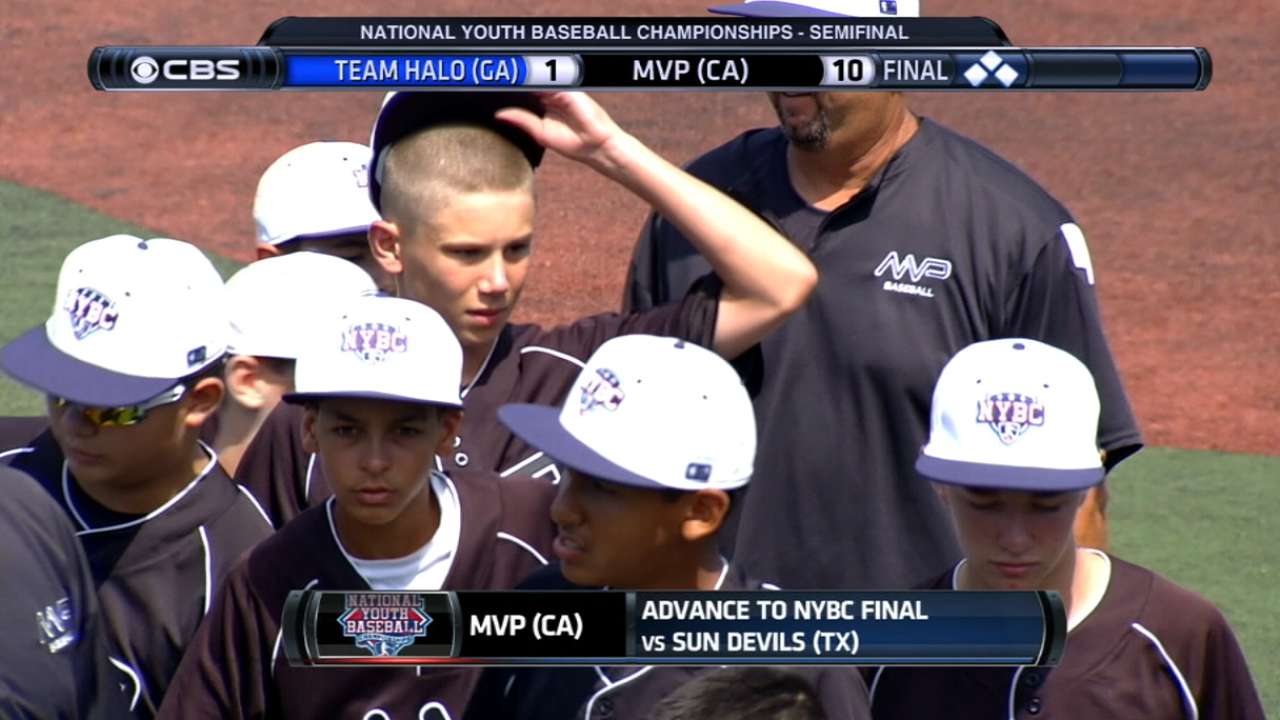 YAPHANK, N.Y. -- The National Youth Baseball Championships came to a close on Monday afternoon, allowing one of the nation's top youth organizations to separate itself from the pack.
Larry Patino, the head of the MVP Southern Cal youth baseball organization, had two of his teams facing off in the 11-and-under title game Monday and another team that won the 12-and-under bracket. Patino, who stayed at home in California, kept abreast of the tourney via the twin broadcasts of MLB.com and CBS Sports, and he said he sent a special message to the MVP teams on Sunday night.
"I sent a text to the managers in our program, and I said, 'Regardless of who scores the most runs, you're all champions,'" said Patino. "'You're going to play on national television, you're going to be watched on MLB.com and everybody and their mother knows that MVP is for real.' When you send two teams 3,000 miles across the country and they battle through the field to play each other, it says a lot."
Patino's teams qualified for the NYBC based on their success in other tourneys, and last week, the MVP 9-and-under team was crowned champion of the Elite World Series. The 12-and-under team, Wilson MVP, was the top-ranked team in the country even before winning the NYBC on Monday.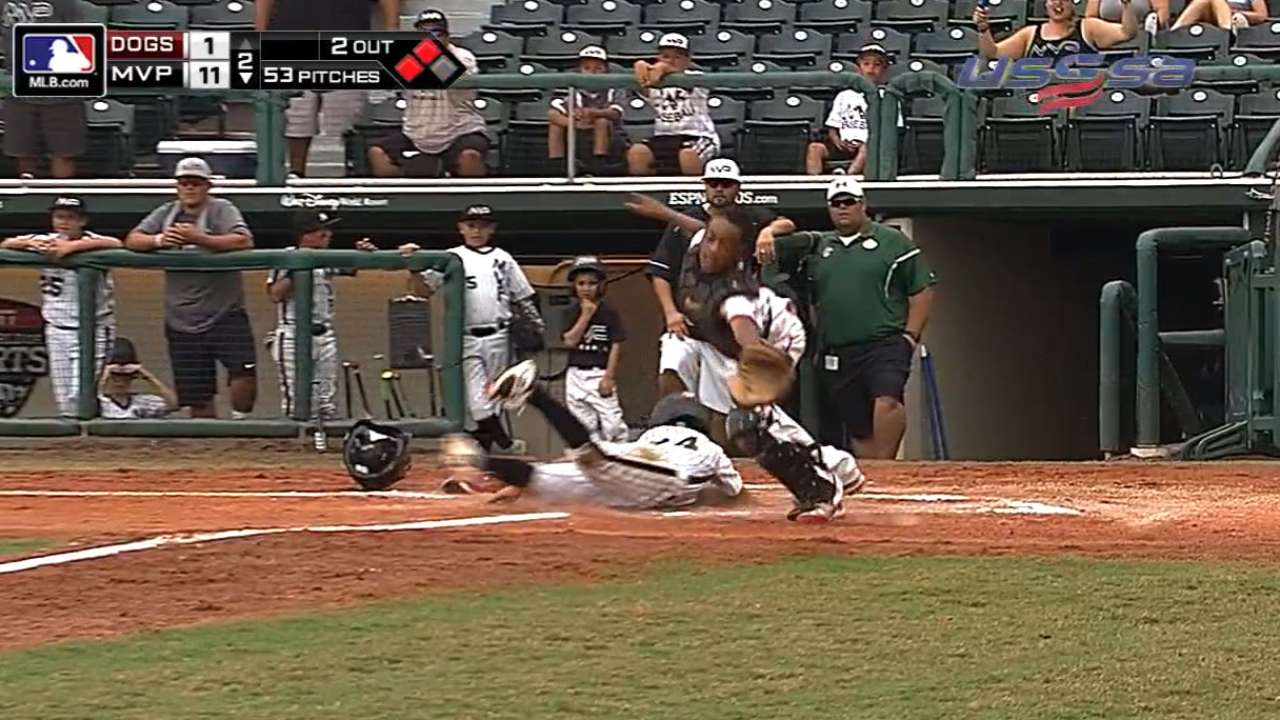 Patino, who also coaches at Cantwell-Sacred Heart of Mary High School in Montebello, Calif., said there aren't enough hours in the day to organize the players, coaches and programs that wear the MVP brand. But somehow, through hard work and cooperation, the coaching staff finds a way.
"I coach baseball all day long, seven days a week," said Patino. "And at nighttime, I'm on the phone closing deals, recruiting players and coaches. It's 100 percent a full-time job trying to surround these boys with great mentors and coaches, and at the same time, to continue to develop their talent."
The NYBC, which just played through its eighth season, announced Monday that it will change management groups. Steel Sports, which operates UK Elite, one of the nation's elite youth soccer programs, signed on to take over the day-to-day operations of the NYBC in future seasons.
David Shapiro, the chief executive officer of Steel Sports, said his organization grew interested in the NYBC due to the involvement of Warren Lichtenstein, the company's chairman. Lichtenstein's son played in the 13-and-under division this year, and Steel Sports is excited for the tourney in the future.
"Going forward, we're really trying to get deep in the game of baseball," said Shapiro. "We're very excited and we think this could be the future of youth baseball. This will be able to give more kids an opportunity to play on a national platform, so you're going to see us grow this in a big way."
Monday's marquee event, the 12-and-under championship, gave the MVP organization another result to take home to California. Wilson MVP, based in Norwalk, Calif., earned a 9-3 win over the Academy Select Sun Devils from Plano, Texas.
MVP coach Rudy Casilla said his team has one more tournament in Florida before calling a halt to their age-12 season, and he said the NYBC was a fitting punctuation to a tremendous season.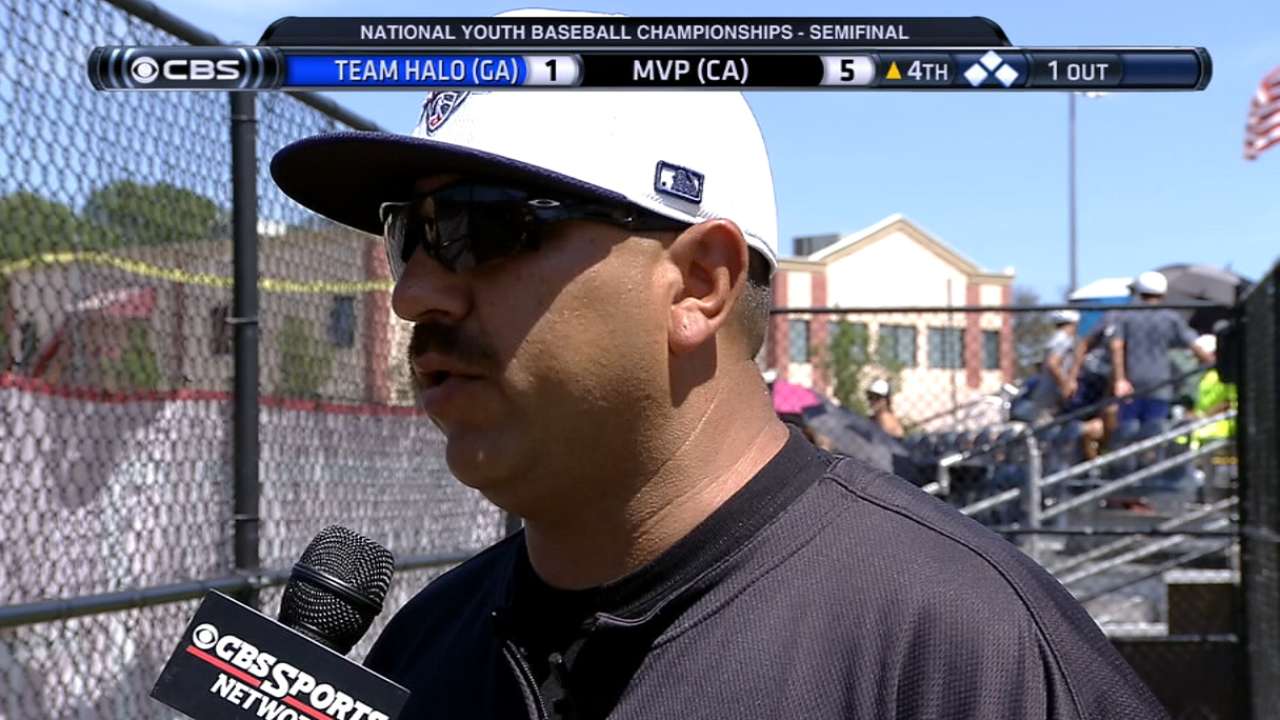 "There were a lot of really good teams here, and it's a great tournament. I'd recommend it to anybody," said Casillas. "All the hard work we put in during the year finally paid off. Not only the kids can see the results from their hard work, but their parents can see the results from all the time they put in."
For Patino, the lessons kids can learn from baseball extend far beyond the playing field. He wants his players to compete hard, but he also wants them to have a good time while doing it.
"I really like them to know that the most important thing is to make it obvious to people that you're in love with the game," said Patino of his daily motivational message to his young charges. "Make it obvious to people watching our practices and watching our games. When they travel around the country and I see them posting videos on Instagram -- not only of them playing games but also the excitement and the memories they're building -- it's exciting. That's living the life through the game of baseball."
And in the end, that means playing to the best of your abilities and appreciating the people around you. Patino knows that his program isn't going to sweep every tournament they compete in. But he also knows that his players are building lifelong friendships and memories that will stand the test of time.
"On Father's Day, my phone rings 300 times. My wife will say, 'OK, that's enough,'" said Patino. "All the kids that come through our program, whether they're 9 years old or 23 years old, that's why we do this. This game of baseball, if you respect the game and treat it well, it's going to give back to you. I have proof, because I have a lot of kids that are enjoying their life and they're enjoying the game."
Spencer Fordin is a reporter for MLB.com. This story was not subject to the approval of Major League Baseball or its clubs.