A mid-season look at top prospects in the Padres system
Jankowski, Rea, Renfroe, Giron, Urias among 16 to watch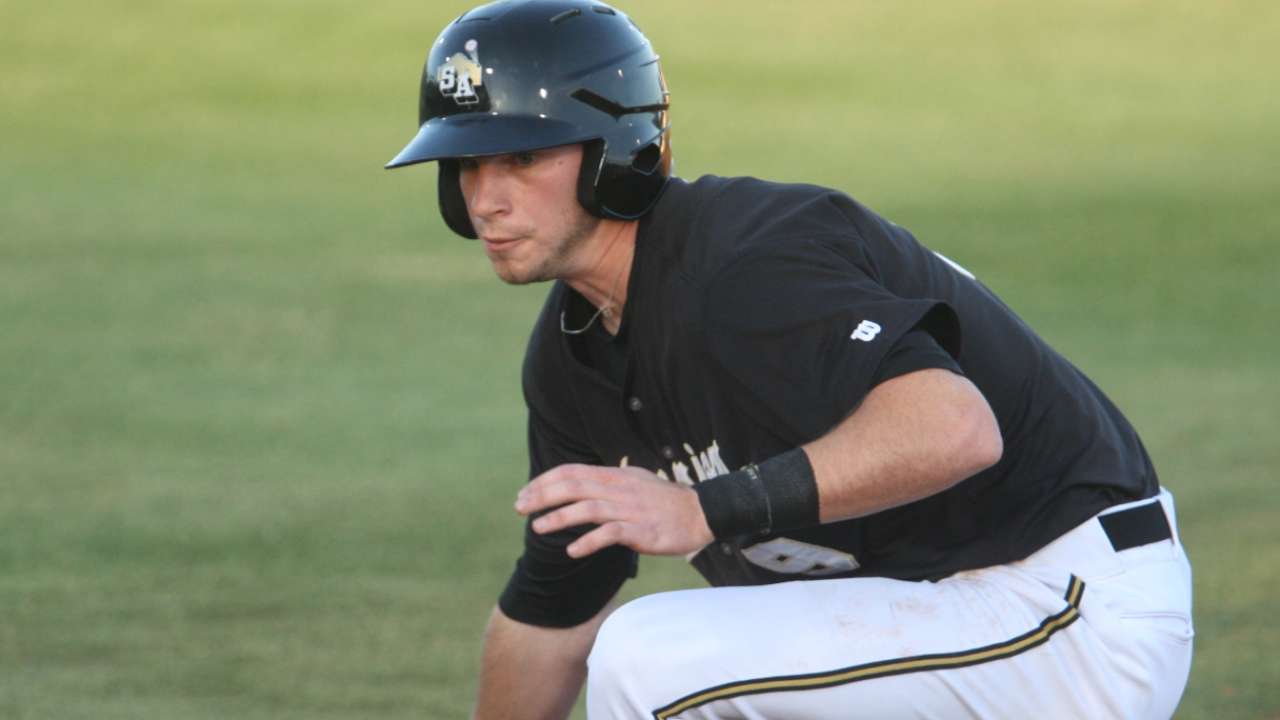 Bill Center, longtime sportswriter for U-T San Diego, is an employee of the Padres.
With a month to go in the Minor League season, here is an updated look at some Padres prospects broken down into three categories: Closest to the Major Leagues, Kids to Watch and Advancing.
Closest to the Major Leagues
Center fielder Travis Jankowski: The 24-year-old left-handed hitter is batting .512 (21-for-41) with a .543 on-base percentage and three steals in 10 games since being promoted to Triple-A El Paso. On the year, he is hitting .341 with a .414 on-base percentage between Double-A San Antonio and Triple-A. Jankowski could fit into Padres future plans as a center fielder/lead-off hitter. He has excellent speed and range, but not a lot of power. The center fielder's arm is average at best. He was 44th overall pick in 2012 Draft.
Righty Colin Rea: The 25-year-old was the Padres' 12th-round pick in the 2011 draft. He is a combined 5-3 with a 1.81 earned run average in 17 starts for San Antonio and El Paso this season, despite missing a month with back spasms. The 6-foot-5, Rea or Chihuahuas' right-hander Chris Smith could be the next starting pitcher if a spot opens up in the Padres' rotation.
Outfielder Hunter Renfroe: The Padres' first-round pick (13th overall) in the 2013 Draft, the 23-year-old right-handed power hitter is coming on strong after a slow start in Double-A -- he's batting .271 with 14 homers and 49 RBIs. Renfroe's production numbers and batting average noticeably improved in second half while strikeout rate is down. He has played center, but is more likely a corner outfielder in the Major Leagues.
Outfielder Rymer Liriano: The powerfully-built (6-foot, 230-pound) native of the Dominican Republic just turned 24 in June. Liriano hit .220 in a 38-game cameo with the Padres last season, although he struck out 39 times in 109 at-bats. He missed the entire 2013 season following Tommy John elbow reconstruction surgery. Liriano was hitting .270 with nine homers and 51 RBIs in 97 games with El Paso. He has also drawn 48 walks for a .369 on-base percentage.
Catcher Austin Hedges: Yes, he's been with the Padres since May 4 as the No. 2 to Derek Norris. But the Padres still view Hedges, who turns 23 on Aug. 18, as a prospect. He has high grades on defense and with his handling of pitchers. Hedges' offense was still developing (he was hitting .324 in 21 games at El Paso), as he is hitting .167 in 60 at-bats with two homers and six RBIs for the Padres.
Kids to Watch
Shortstop Ruddy Giron: The 18-year-old, right-handed hitter from the Dominican Republic was hitting .400 over his first 25 games at low Single-A Fort Wayne. After a slump, he is on fire again, going 19-for-43 over his last 10 games. He is batting .316 overall with eight homers and 36 RBIs with 48 runs scored in 66 games. He has also committed 20 errors.
Second baseman Luis Urias: The native of Sonora, Mexico, replaced Giron as the youngest player in the Midwest League. He turned 18 last June 3. He is hitting .366 with a .447 on-base percentage in 35 games. Urias doesn't have as much power as Giron (three doubles are his only extra-base hits), but some say is more polished in other areas.
Righty Austin Smith: The Padres' first pick in the 2015 Draft (51st overall in the second round) from Boynton Beach, Fla., turned 19 on July 6. The 6-foot-4 220-pounder already has a changeup in his repertoire to go with a mid-90s fastball. He has made four short starts thus far with the Arizona Rookie Padres. The Padres like his attitude.
Center fielder Michael Gettys: The Padres second-round pick in 2014 is 19. He is hitting only .228 with 126 strikeouts in 381 at-bats with 126 strikeouts -- a very high rate. The ceiling for the 6-foot-1, 203-pounder is high. When he gets on base, he has excellent instincts defensively as well as offensively, and that carries over to the outfield. Gettys' 87 hits include 24 doubles, four triples and five homers.
Righty Ronald Herrera: The 5-foot-11, 185-pounder turned 20 on May 3, and he was recently promoted from high Single-A Lake Elsinore to San Antonio. The Venezuelan is not over-powering, but he commands four pitches and works spots. Herrera was acquired in the 2014 trade that sent Kyle Blanks to the A's.
Shortstop Jose Rondon: Rondon was acquired in the 2014 trade that sent closer Huston Street to the Angels. The 6-foot-1, 160-pound, 21-year-old Venezuelan will miss the remainder of the 2015 season after undergoing elbow surgery last month, but he is expected to play winter ball. Rondon was promoted from Single-A Lake Elsinore (.267) to Double-A, where he was hitting .190 until a fractured right elbow ended his season.
Advancing
Corner outfielder Nick Torres: The Padres fourth-round pick in 2014 out of Cal Poly San Luis Obispo hasn't slowed since advancing from Fort Wayne where he was hitting .332 in 77 games with two homers and 40 RBIs to Lake Elsinore last month. Torres is hitting .349 with the Storm with a homer and 14 RBIs in 20 games. The 6-foot-1, 220-pounder not a power hitter, but he hits for a high average.
Corner outfielder Alex Dickerson: The Poway High grad turned 25 in May. The 6-foot-3, 230-pound left-handed hitter is batting .309 with nine homers and 58 RBIs in 99 games with El Paso. He has been the Chihuahuas most consistent hitter, and he has a solid .378 on-base percentage. Dickerson was acquired from Pittsburgh in 2013 in a trade for relief pitcher Miles Mikolas and outfielder Jaff Decker, Dickerson is a year away from reaching his potential, according to a scout.
Right-handed reliever Tayron Guerrero: The 24-year-old from Colombia has averaged a strikeout-an-inning in the Minors. Guerrero signed at the age of 20. He has a 2.90 ERA with 15 saves and 46 strikeouts in 40 1/3 innings for San Antonio.
Righty Leonel Campos: The 27-year-old recently joined the Padres when Ian Kennedy was placed on paternity leave. The Venezuelan is 28, which is old to be considered a prospect, but he didn't start pitching until the age of 22, after a professional soccer career. He had a 2.92 ERA in 37 appearances with 68 strikeouts in 49 1/3 innings for El Paso when he was promoted.
Righty Casey Kelly: Tommy John surgery wiped out Kelly's 2013 and almost all of 2014 season. But the right-hander originally acquired from Boston in the 2010 Adrian Gonzalez deal is still only 25. He is again starting for San Antonio, and he is getting stronger as the season progresses.
FROM THE SCORECARD
• Shortstop Alexi Amarista snapped out of a 0-for-21 drought Sunday with a triple and his game-tying two-run homer in Miami.
• Third baseman Yangervis Solarte was 2-for-3 Sunday to extend his hitting streak to eight straight games (14-for-34 with three triples and two doubles). It is his longest hitting streak of the season.