Papi's adjustments have him hitting like old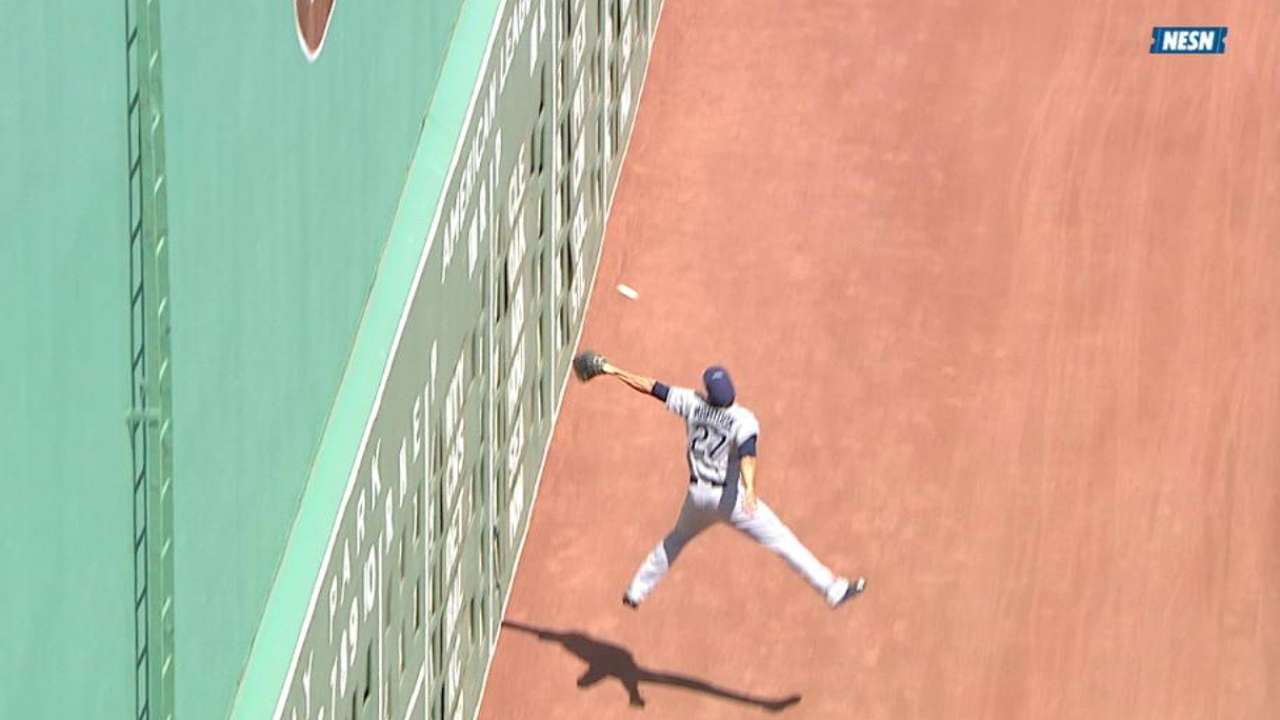 BOSTON -- Despite stardom that spans well over a decade, the early-season struggles of Red Sox designated hitter David Ortiz still elicited the same question that likely lingered on the tip of every baseball fan's tongue:
Are Big Papi's days as Boston's offensive centerpiece dwindling?
These days, Ortiz has a clear-cut answer. He gave it on July 26, when he collected four hits and a career-high seven RBIs against the Tigers. Ortiz did so again in the following game by launching his 20th home run of the season, making it 14 straight years of reaching that mark. Among Red Sox hitters, he trails only Ted Williams (16) in that category.
On Sunday, Ortiz smacked a run-scoring double off the Green Monster that pushed him ahead of Hall of Famer Andre Dawson for 37th place on baseball's all-time RBI list, one of many ladders Ortiz continues to climb this season.
"He's been swinging the bat well for over a month," manager John Farrell said. "Today's double the other way is what he's been doing for quite some time."
And in the wake of Thursday's 3-for-3 performance against White Sox ace Chris Sale, the slugger talked about his resurgence.
"At some point, I was like, 'I'm just going to try to trust my hands and let things happen like how I used to do it,'" Ortiz said. "And I'm back."
Ortiz's hot streak can be traced to June 11, when he clubbed the first of 14 home runs in his last 44 games. He has hit .278 with a .972 OPS over that span, drawing nearly as many walks (27) as strikeouts (28).
Until that point, Ortiz was slugging .372 and owned a .219 batting average. His pronounced issues with left-handers like Sale, who have proven tough to face throughout his career, only highlighted the slow start.
But with Boston continuing to slot Ortiz into the heart of its lineup, even amid the slump, he eventually regained his rhythm both overall and against southpaws.
"Lefties right now are better than ever," Ortiz said. "They have velocity, they have different direction, different ways to throw the baseball than before. Pretty much every lefty that you're facing today throws 95-plus [mph]. I was having issues with the lefties that start [their deliveries] behind me, and me trying to pull the ball thinking that the ball is coming [inside]. Little things. But I'm feeling more comfortable, I'm feeling much better about facing lefties now. Making better decisions now."
At four months shy of 40, Ortiz's longevity has him playing a different game than when he first entered the Majors. The advent of defensive shifts, specialized lefty relievers and pace-of-play initiatives are all changes the veteran has been forced to contend with lately.
"The shift is probably the one thing that's hurt him the most," hitting coach Chili Davis said. "He's hit so many balls in that four-hole between second and first, and there's a guy standing in short right field to field it. Normally, for any other left-handed hitter, it's a base hit. I think a lot of reasons why offense, batting average is down, is pretty much because of the shift. Guys have a tendency to hit balls, especially ground balls, in a certain area. Teams are now playing the odds."
But for the Red Sox, who are beginning to turn their eyes toward 2016, Ortiz's experience is also an invaluable tool for rising teammates such as Mookie Betts and Xander Bogaerts -- hitters who were not even two months old when he first signed with the Mariners as an amateur free agent out of the Dominican Republic.
As they continue to grow, they'll have a veteran to watch on the field and lean on in the clubhouse. Davis, a three-time All-Star himself, explained.
"I told him the other day," Davis said, "I just walk up to him and say, 'Man, you can hit.' And he looks at me and smiles. I say, 'No, seriously.' ... He looks at me and goes, 'Nah, I'm just trying to be like you, dog.' And I'm like, 'No, you're better than I am.'
"But we did share something in common where we had good hands, and we trusted them. You watch a lot of young hitters, they get a fastball and they're a little late on it. Might foul it off the opposing dugout or something. Right away, they're in speed-up mode. Here comes an offspeed pitch or something, and they're in front of it. You don't see that happen to David Ortiz very much. Nothing speeds him up, because he has good hands. You trust him."
Alec Shirkey is an associate reporter for MLB.com. This story was not subject to the approval of Major League Baseball or its clubs.