Severino's rise lifted by great expectations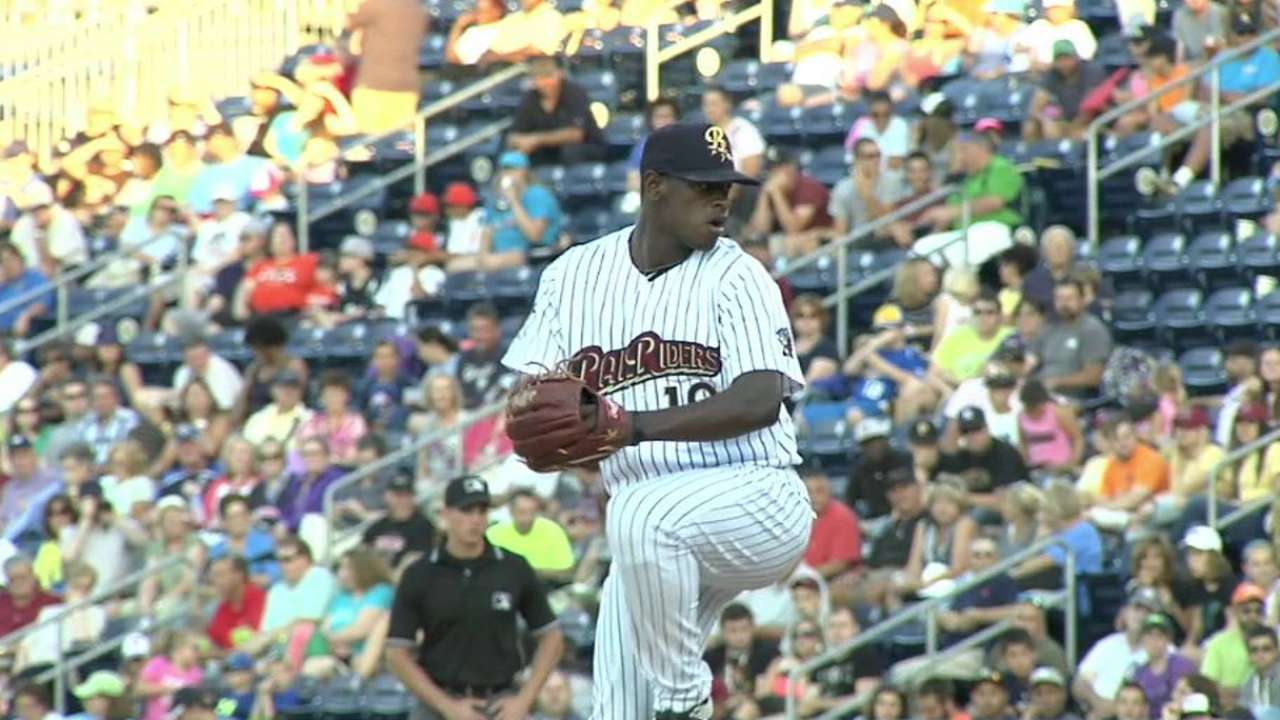 The Yankees believe that Luis Severino is the type of talent that will not be affected by the big moments, and by sending the right-hander out for his big league debut Wednesday against the Red Sox at Yankee Stadium, they will quickly find out if that is the case.
Severino, the Yankees' No. 1 prospect according to MLB Pipeline, has checked all the necessary boxes at Triple-A Scranton/Wilkes-Barre, where he was 7-0 with a 1.91 ERA in 11 starts. That sterling line came as no surprise to pitching coach Larry Rothschild, who saw the 21-year-old's competitive side emerge during Spring Training.
Severino to debut vs. Red Sox on Wednesday
"You could see he wanted to put an effort in and make the team," Rothschild said. "The pitches are obviously there; he's got the arm strength and two other pitches to go with, so there's a lot there. He's done everything in Triple-A that you'd want him to do to get here. It's time to take a look and see what we have."
Severino is joining a Yanks rotation that may have lost right-hander Michael Pineda for a month due to injury, and Rothschild said that his understanding is that Severino will receive an extended look. As far as the coaching staff is proceeding, Severino is coming to the Majors to take the ball every fifth day.
"We're very excited about it," Alex Rodriguez said. "Sometimes the best trades you make are the ones you don't make. We still have Aaron Judge, we still have Greg Bird, we still have Luis Severino and a bunch of other hot, young prospects that we're probably going to see sometime this year. We're still in win-now mode, so that's a good thing for us."
Yankees' Top 30 Prospects list
Having held Triple-A hitters to a .184 batting average and a 0.93 WHIP, Severino recorded a career-high 10 strikeouts in his most recent outing on Wednesday against Lehigh Valley. He features a mid-90s fastball, a plus changeup and a developing slider.
"He's competitive. I don't think he's going to back down," Rothschild said. "I don't think he's going to be intimidated by this situation, and that will allow his stuff to play. It's just a question of locating his pitches and being able to mix pitches. That sometimes takes time, and sometimes you can get on a run right away."
General manager Brian Cashman said that the organization was planning for a scenario where Severino could help the Major League club in the second half this year; because of that, the Yankees held his innings to 99 1/3 in the Minors -- 38 at Double-A Trenton and 61 1/3 with Scranton/Wilkes-Barre. That allows the Yanks to proceed without limitations on Severino.
"He's had three seven-inning starts [in the Minors]," Rothschild said. "Obviously we're going to monitor the pitches to a certain extent. A lot of it is going to be effort, just to make sure that when he's tired, he's not using too much effort and run the risk [of injury]."
Rothschild said that the Yankees would love to insulate Severino from the high expectations of a fan base eager for a new wave of prospects to hit the big leagues, but that horse appears to already have left the barn.
"You'd like to think you could, but in today's world, it's virtually impossible," Rothschild said. "I think the thing to do -- and I think it's been done and it will be done when he gets here -- is just to address how to handle it more than to ignore it. There's no way. You'd have to take away his cell phone, his computer; you'd probably have to 'off' all his best friends just to keep him from doing that. It's really impossible."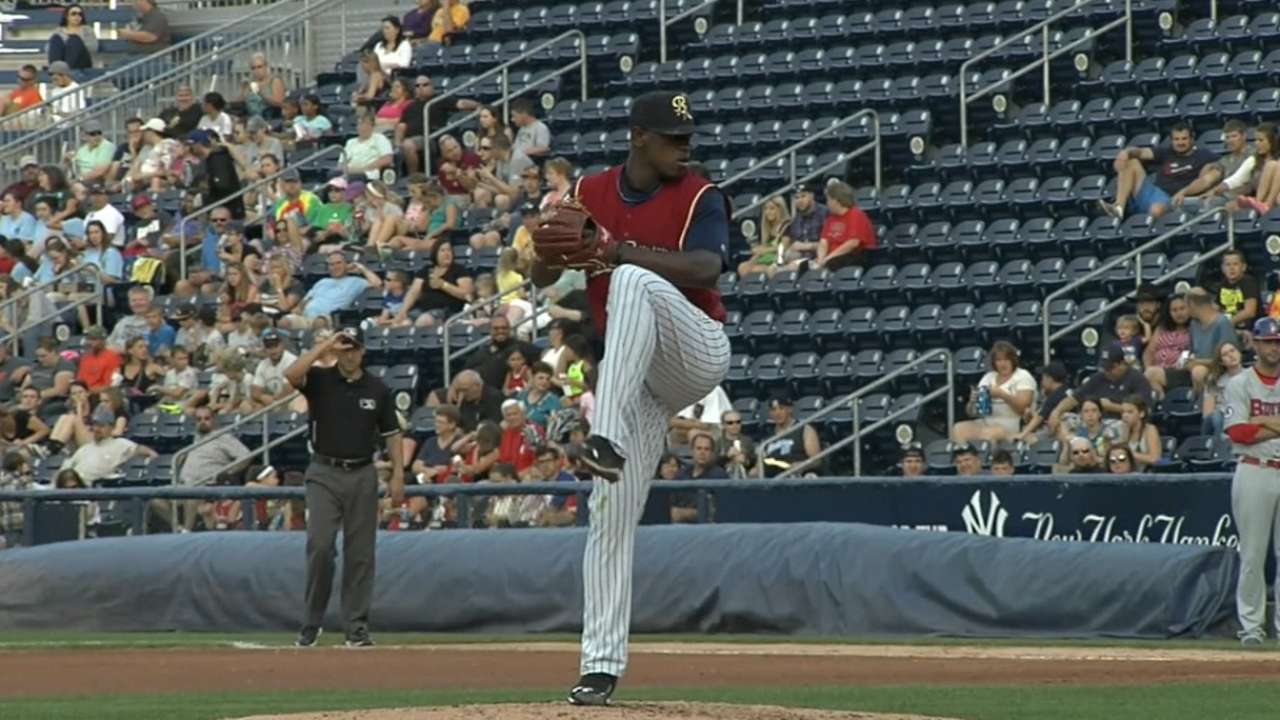 The Yanks signed the 6-foot, 195-pound Severino in July 2012 for $225,000, and he pitched in the '13 SiriusXM All-Star Futures Game. He is ranked as MLB Pipeline's No. 16 overall prospect and the No. 3 right-handed pitching prospect.
"I'm excited to see Severino," manager Joe Girardi said. "There's been a lot of talk about him. I don't want to put too much pressure on him. I'm not going to make too much of one start, two starts, three starts. I know the kid is talented, and I know at some point he's really going to help us. But I think we're all interested to see how he's going to handle it."
Bryan Hoch is a reporter for MLB.com. This story was not subject to the approval of Major League Baseball or its clubs.