Bautista takes issue with stance of Yost
Royals manager lauds umpiring after Sunday's contentious finale vs. Blue Jays
TORONTO -- Though he was prepping to take the field to open a four-game series against the Twins on Monday, Jose Bautista had some residual feelings about the Blue Jays' recent series against the Royals -- specifically the spark-filled finale on Sunday afternoon that featured cleared benches, wars of words, hit batsmen and multiple ejections.
While home-plate umpire Jim Wolf was widely criticized by Toronto for the way he handled the contentious affair, he received praise from Kansas City manager Ned Yost. That didn't sit well with Bautista.
The Blue Jays slugger took to Twitter on Sunday night to voice his disagreement with Yost's assessment, and he reiterated those feelings to reporters on Monday.
Just heard #NedYost comments about the game. Lost a lot of respect for that man today.

— Jose Bautista (@JoeyBats19) August 2, 2015
"I thought it was a ridiculous comment to say he thought it was one of the best officiated game's he's ever seen," Bautista said.
At the centre of the controversial contest was Wolf's decision to warn both benches after Royals starter Edinson Volquez hit Josh Donaldson with a high fastball in the first inning.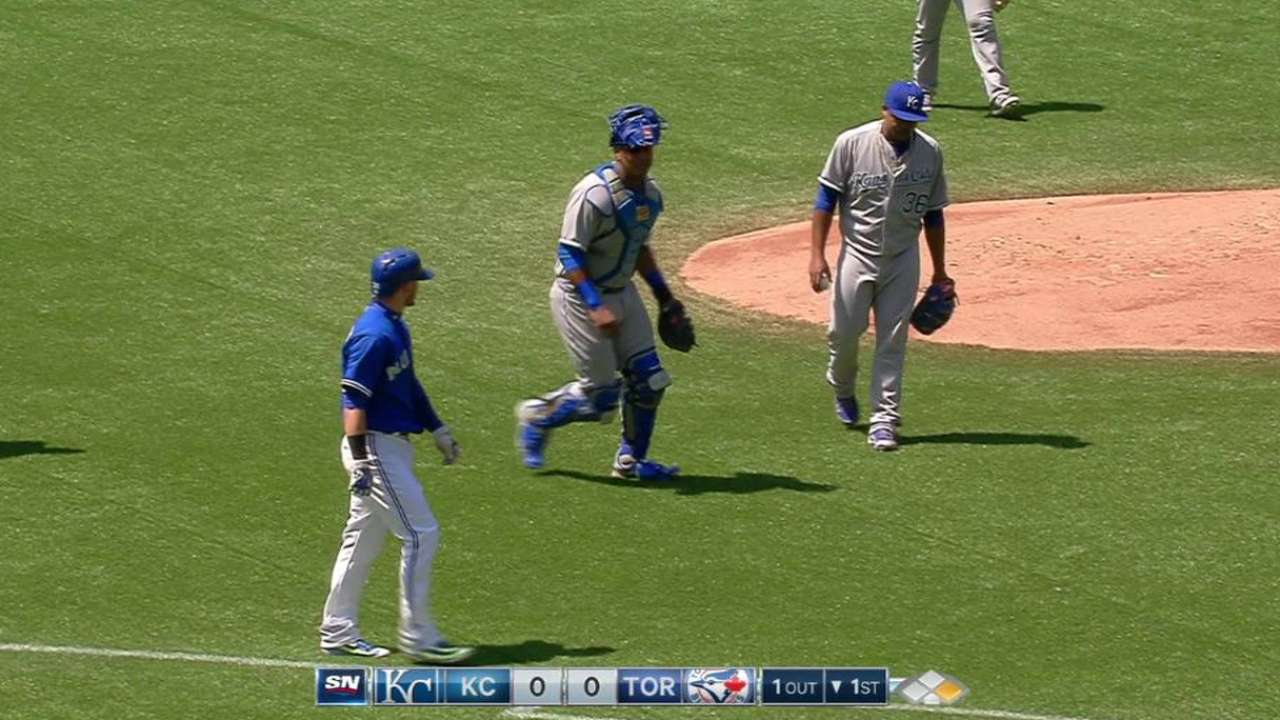 Wolf opted not to eject Volquez after he came up and in on Donaldson again in the third, nor did he eject Kansas City reliever Ryan Madson, who hit Troy Tulowitzki on the hand a few innings later before brushing Donaldson back for a second time. That prompted a protest from Blue Jays manager John Gibbons, which resulted in his ejection.
While he didn't toss a Royals hurler from the game, Wolf did elect to run Blue Jays reliever Aaron Sanchez when he hit Alcides Escobar in the eighth inning, which came with an automatic ejection of Toronto bench coach DeMarlo Hale.
Yost said he "thought Jim Wolf did a tremendous job understanding the game, understanding what's intentional," and that he believed Escobar was hit intentionally by Sanchez.
"I just don't know how you can say, one, that you believe that's one of the best officiated games that you've ever seen," Bautista said. "And two, that you know exactly everybody's intent on the pitches that were thrown close to batters. I don't know if he's got a mind-reading device that I haven't heard about."
Bautista also responded to comments directed at him by Kansas City starter Yordano Ventura, who took to social media to criticize the All-Star outfielder in since-deleted Twitter posts.
"I think he's a great player," Bautista said. "I think he's a young player that could use some maturing, and hopefully he focuses on playing the game and allows his ability to create a name for himself and just be a good part of his community wherever he ends up establishing himself as a pitcher."
Jamie Ross is an associate reporter for MLB.com. This story was not subject to the approval of Major League Baseball or its clubs.