Twins call up righty Duffey for Wednesday start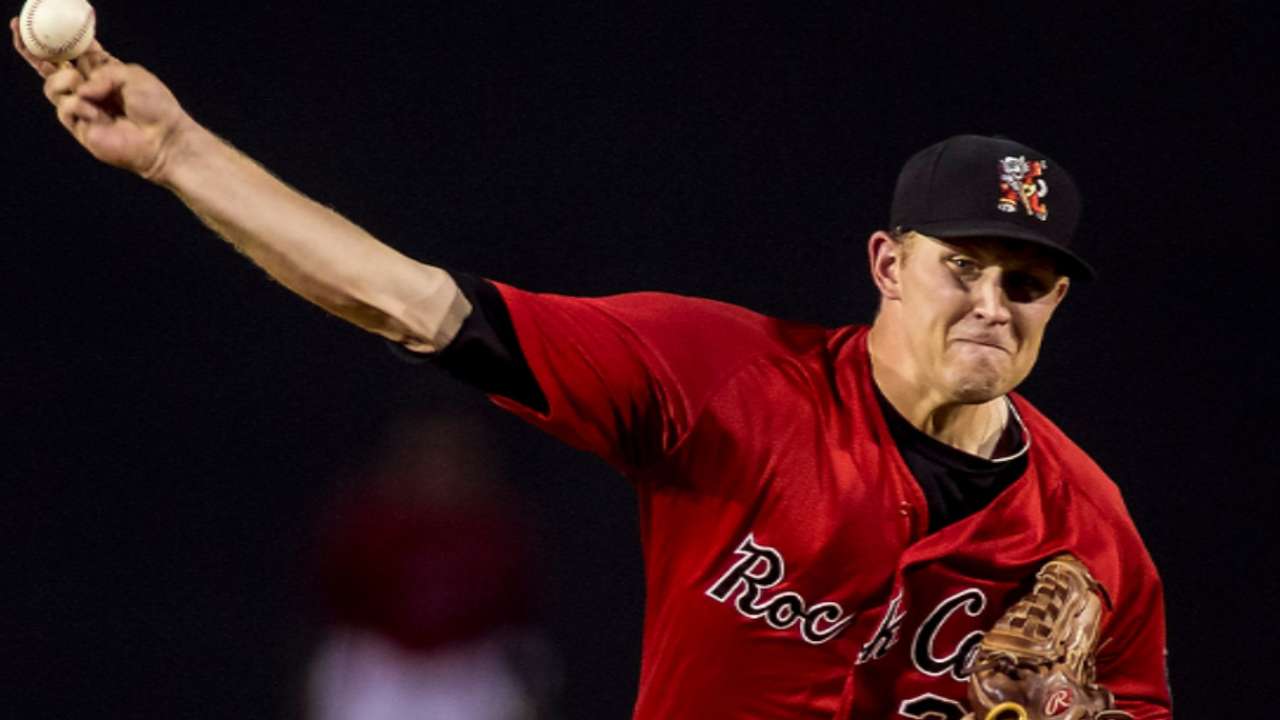 TORONTO -- Right-hander Tyler Duffey was officially promoted by the Twins on Monday, although the rookie took an interesting route to join the club in Toronto.
Duffey, who will make his Major League debut in a start against the Blue Jays on Wednesday, was surprised by the callup from Triple-A Rochester and didn't have his passport with him. So his father, Tim, had to fly from Houston to Rochester, N.Y., to bring it on Sunday. The two then made the three-hour drive to Toronto to join the team in time for Monday's game.
"The one place only I would get called up to is Toronto, not having my passport," Duffey said with a laugh. "So at 6 a.m. yesterday, my dad had to catch a flight to Rochester with my passport and his passport. And then we drove up yesterday and got the scenic route to Toronto. So it's been a wild 48 hours or so."
Duffey got the call with left-hander Tommy Milone going on the 15-day disabled list with a mild left elbow strain. Duffey was pulled from his start on Saturday after two innings, and he wasn't told until after the game had ended that he was headed to the Majors for the first time in his career. Minnesota's 15th-ranked prospect called it a surreal experience, and he said he had no expectations of getting called up.
"I can't even put into words what it feels like to be here right now," Duffey said. "I'm excited to be here."
Duffey, 24, posted a 2.66 ERA with 117 strikeouts and 30 walks in 132 innings between Double-A Chattanooga and Rochester. He also gave up just one homer in the Minors this season, which could bode well considering the Blue Jays are third in the Majors in homers this year.
"I think some luck plays into that," Duffey said. "Hopefully, I can keep that rolling, but there's no telling. It's not always up to me whether I give up a home run. But I do my best to keep the ball down so they don't hit it in the air."
Duffey, a 6-foot-3, 220-pounder, said he's mostly a ground-ball pitcher, as he mixes in his sinker with a four-seam fastball and a curveball that has also been described as a slider because he throws from a three-quarter arm slot. He'll face the highest-scoring offense in the Majors in his debut, but he said he's excited for the challenge.
"I just have to go out and compete," Duffey said. "I'm just going to try to go out and pitch my game and try to give my team a chance to win. I'm just trying to get ground balls. I'm not a big strikeout guy, but [I] can get some when I need it. But I just try to get some ground-ball outs and make the defense work behind me."
Rhett Bollinger is a reporter for MLB.com. Read his blog, Bollinger Beat, follow him on Twitter @RhettBollinger and listen to his podcast. This story was not subject to the approval of Major League Baseball or its clubs.