MLB.com Columnist
Tracy Ringolsby
Gray joins select recent draftees making debut
Righty, selected No. 3 in 2013, set to start for Colorado on Tuesday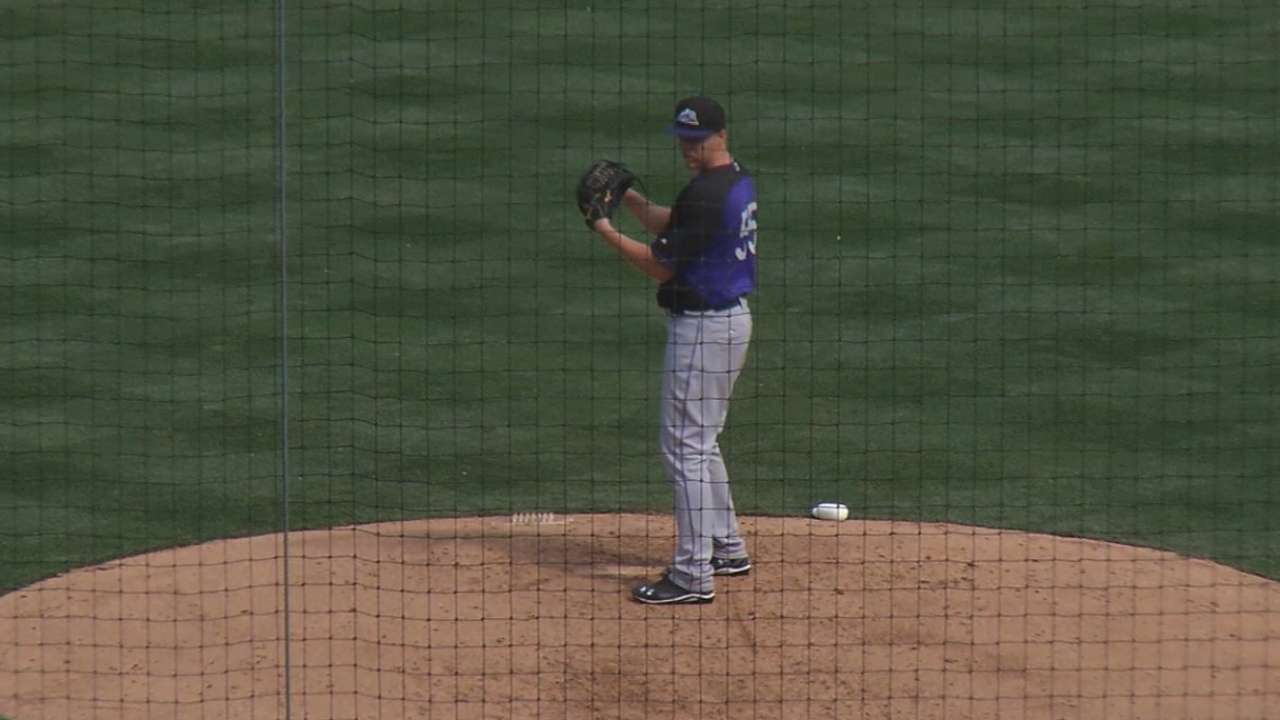 DENVER -- The question about the eventual promotion of Jon Gray to the big leagues has always been about when, never if. The answer is Tuesday.
Colorado's first-round Draft pick (No. 3 overall) in 2013, who ranks second among Rockies prospects, is scheduled to become the 21st player -- ninth starting pitcher -- drafted since 2013 to get to the big leagues. Considering the consistency Gray has shown at Triple-A Albuquerque, now is as good a time as any for him to start making the transition to the Majors.
The step up is a challenge, as the previous nine can attest, but the adjustments to Major League hitters have to begin at some point.
"The reality is, by and large, young pitchers don't step into the big leagues and have instant success," said Rockies pitching coach Steve Foster. "It is a matter of learning to control your emotions at this level."
Of the nine starting pitchers, the only two with a winning record are Phillies right-hander Aaron Nola (2-1, 3.38 ERA in three starts), the seventh player taken in the 2014, and Zack Godley (2-0, 2.25 ERA in two starts), selected by the Cubs in the 10th round in 2013 and sent to the D-backs in the trade for catcher Miguel Montero this past offseason.
Right-hander Kendall Graveman, an eighth-round Draft choice of the Blue Jays in 2013, who was part of the package sent to the A's for third baseman Josh Donaldson in the offseason, is the only member of the two Draft classes who has been in a rotation since Opening Day.
Graveman is 6-7 with a 3.84 ERA in 17 starts, and he is coming off 6 2/3 innings in which he allowed one earned run to Cleveland on Friday, rebounding from a three-start slump in which he allowed 14 runs combined. While Michael Lorenzen opened the season at Triple-A Louisville, he has made 17 appearances (15 starts) since his late April callup by the Reds, and he is 3-6 with a 4.80 ERA. He was a supplemental first-round choice in 2013, the 38th player taken overall.
Carlos Rodon, the third player taken in the 2014 Draft, is 4-4 with a 4.84 ERA in 17 appearances (14 starts) with the White Sox. Buck Farmer, who debuted in 2014, is 0-2 with a 8.50 ERA in four outings (three starts) with the Tigers, who took him in the fifth round in 2013.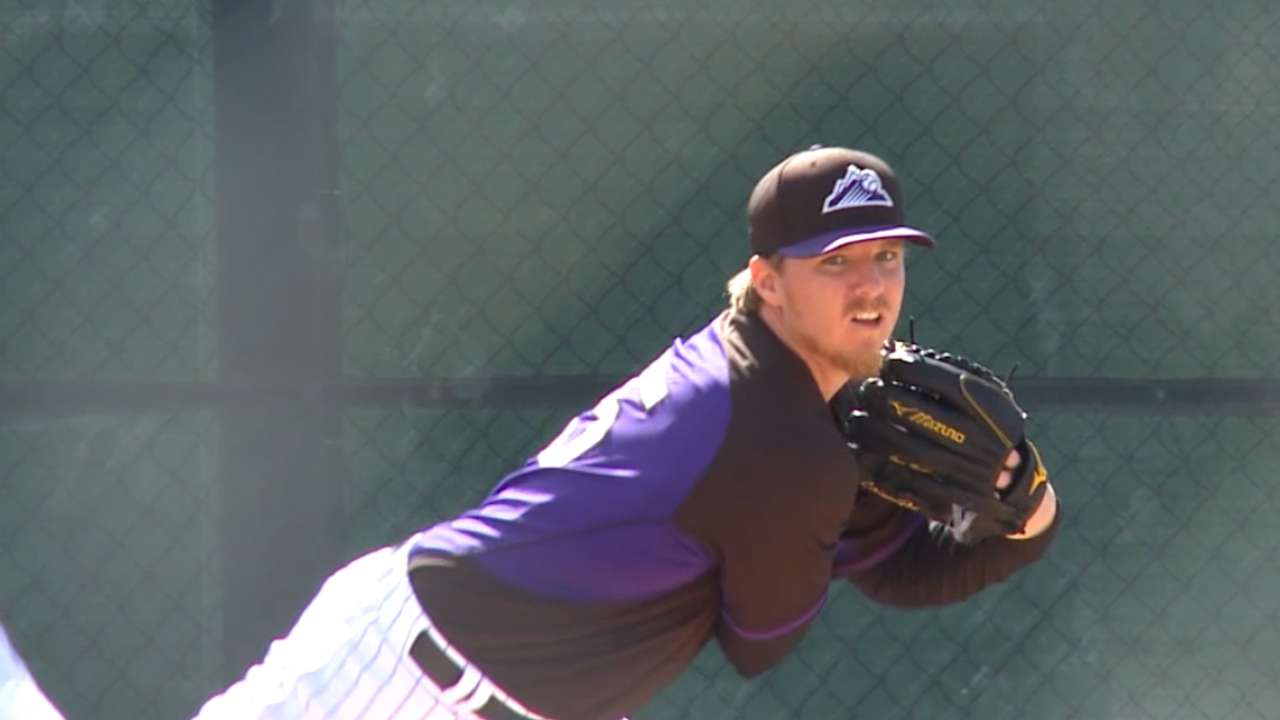 Earlier this season, left-hander Matt Boyd, a sixth-round choice of Toronto in 2013, made two starts, allowing 11 earned runs in 6 2/3 innings before he returned to the Minors. He was among three pitching prospects the Blue Jays sent to the Tigers last week for left-hander David Price.
Chi Chi Gonzalez, the Rangers' No. 1 pick in 2013, was 2-4 with a 3.74 ERA in seven starts for Texas, but he was sent down in July after allowing 15 earned runs in his final three big league starts (13 1/3 innings).
"When you are dealing with young pitchers, it is even more important that you make sure they hang their hat on the things they do well," said Foster. "It may be that nobody stole a base. That they controlled the running game. It may be that they threw 10 of 18 first-pitch strikes, and two others could have been. It may be that they control their emotions on the mound."
A year ago, Marco Gonzales, the Cardinals' first-round Draft choice in 2013, was 4-2 with a 4.15 ERA in 10 appearances (five starts) with St. Louis, and he made six relief appearances in the postseason. This season, however, he has been bothered by irritation in his left shoulder, and he is at Triple-A Memphis.
"When you are young and up here, you expect that the tools are going to play well, but the pressure is dealing with the emotions, the challenges of the competition," said Foster.
Gray came out of the University of Oklahoma, and he was chosen at No. 3 behind right-hander Mark Appel, who went No. 1 to the Astros, and third baseman Kris Bryant, who the Cubs called up on April 17.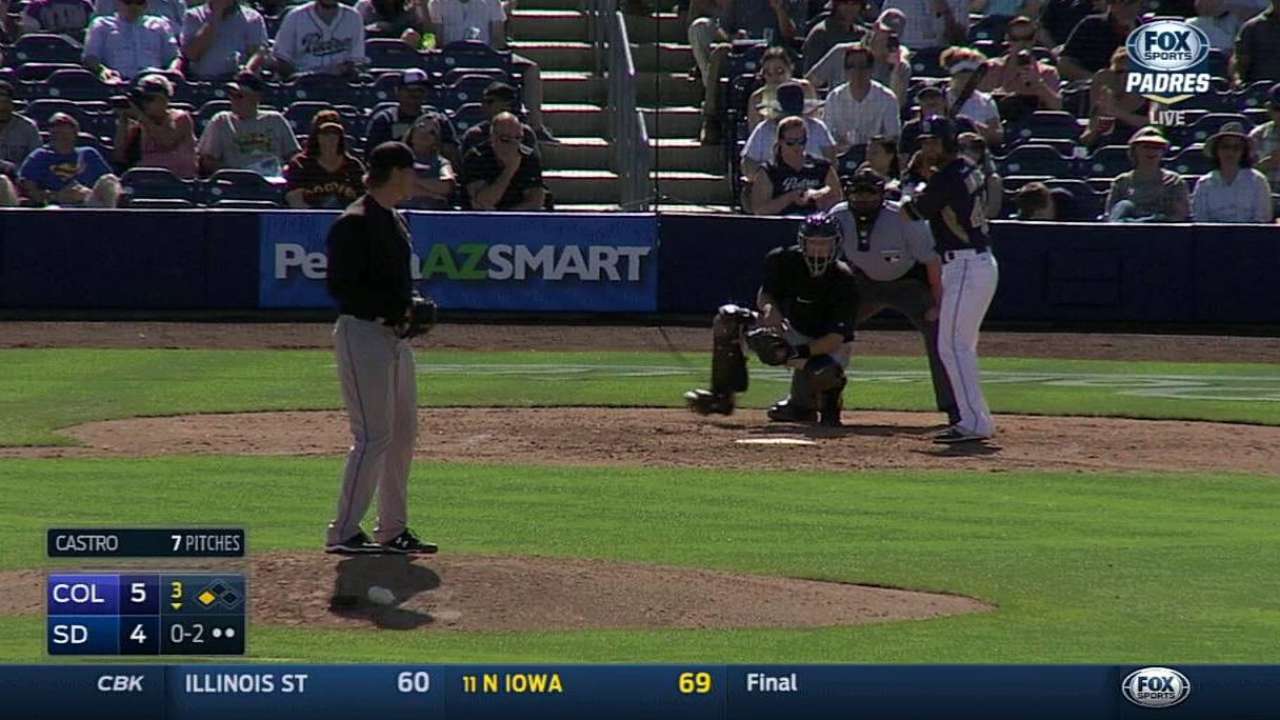 Gray is 6-6 with a 4.33 ERA in 21 appearances (20 starts) at Triple-A this season. But he is 6-3 with a 3.17 ERA, 93 strikeouts and 33 walks in 100 2/3 innings in his last 17 starts. Gray has allowed two runs in 15 innings in his past three outings.
Gray was the 16th pitcher the Rockies drafted with their first selection, and he will become the seventh of the 16 to make his big league debut in a start. In the six previous debuts, Colorado's prospects have gone 3-2, with Jamey Wright earning a no-decision when he allowed one run in six innings at San Francisco on July 3, 1996.
The last two Rockies first-rounders to debut in a starting role came away with victories. Christian Friedrich, currently in Colorado's bullpen, allowed two runs (one earned) in six innings at San Diego on May 9, 2012. Tyler Matzek, whose battle with control problems led to his demotion from the big league staff earlier this season, allowed two runs in seven innings on June 11, 2014.
Now, it's Gray's turn.
Tracy Ringolsby is a columnist for MLB.com. This story was not subject to the approval of Major League Baseball or its clubs.