Efficiency proving to be healthy for Siegrist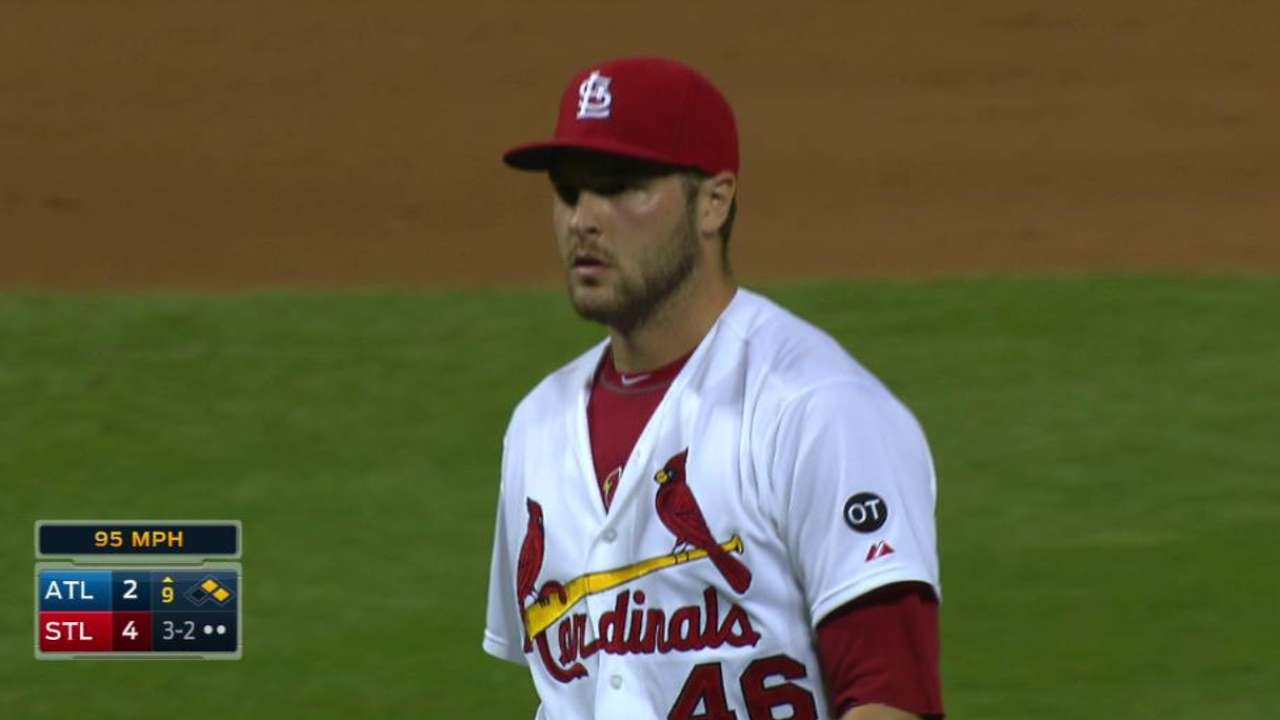 ST. LOUIS -- With the recent acquisition of relievers Steve Cishek and Jonathan Broxton, the Cardinals bolstered their late-inning bullpen depth in a move designed to help the club's current late-inning staples, not replace them.
Through Sunday, Cards relievers Kevin Siegrist and Seth Maness are first and second in the Majors with 54 and 53 appearances, respectively. And for Siegrist, whose 2015 resurgence has been largely dependent on his ability to remain healthy, the arrival of reinforcements should alleviate concerns of overuse.
"Just the experience that those guys [Broxton and Cishek] have late in games, we know they can help out and go in there and do the job as well," Siegrist said. "You can get more rest with that, and any rest you can get at this point is really appreciated."
The 26-year-old left-hander, who pitched a scoreless seventh inning in the Cardinals' 3-2 win over the Rockies on Sunday, is in the midst of his longest continuous stretch in the big leagues, and Siegrist's efficiency continues to increase, despite his heavy workload this year.
"Early on, we were noticing 15-25-pitch innings [from Siegrist]," manager Mike Matheny said, "and now he's really coming right at guys, and being able to do it with a few different pitches helps."
Coming off a dominant debut season in 2013 in which he averaged 17.12 pitches per inning, Siegrist averaged 19.2 last year in what proved to be an injury-slowed campaign.
Siegrist threw just 16 pitches per inning in his 15 appearances last month. Opponents batted .186 against him in July, and he allowed only two earned runs over 13 1/3 innings.
Siegrist's efficiency has only been in better in one month during his career, and that was in June 2013, when he busted onto the scene by allowing only two hits and no runs in his first 12 Major League outings, 10 of them in June.
"Just staying healthy, I think that's the biggest thing," Siegrist said. "Consistency with all my pitches, I think that's really helped. I'm just trying to go out there and be as efficient as possible to help us win."
Siegrist's steadiness in 2015 can be at least partially credited to his weaning himself away from relying on his mid-90s fastball.
"Before, he didn't really have a second pitch as much," observed veteran teammate Randy Choate, who is tied for third in the Majors with 52 appearances. "The first year, it's kind of like he kind of surprised people a little bit, and the second year they see it a little bit and he's still trying to only use fastballs. He's developed a really good changeup, and his slider is coming along."
Matheny praised Siegrist for finding a routine that is keeping him fresh, but he emphasized the continued importance of being careful not to overwork him.
"It's kind of where we are right now," Matheny said. "If we're using him for a couple [games], we might have to give him a couple [games off] … His success is completely revolving around his health, and we've got to continue to try and help him."
David Cobb is an associate reporter for MLB.com. This story was not subject to the approval of Major League Baseball or its clubs.