MLB.com Columnist
Roger Schlueter
Stats of the Day: HR parade gives Mets sweep
Flores, Duda, Granderson, Murphy lead march against Nationals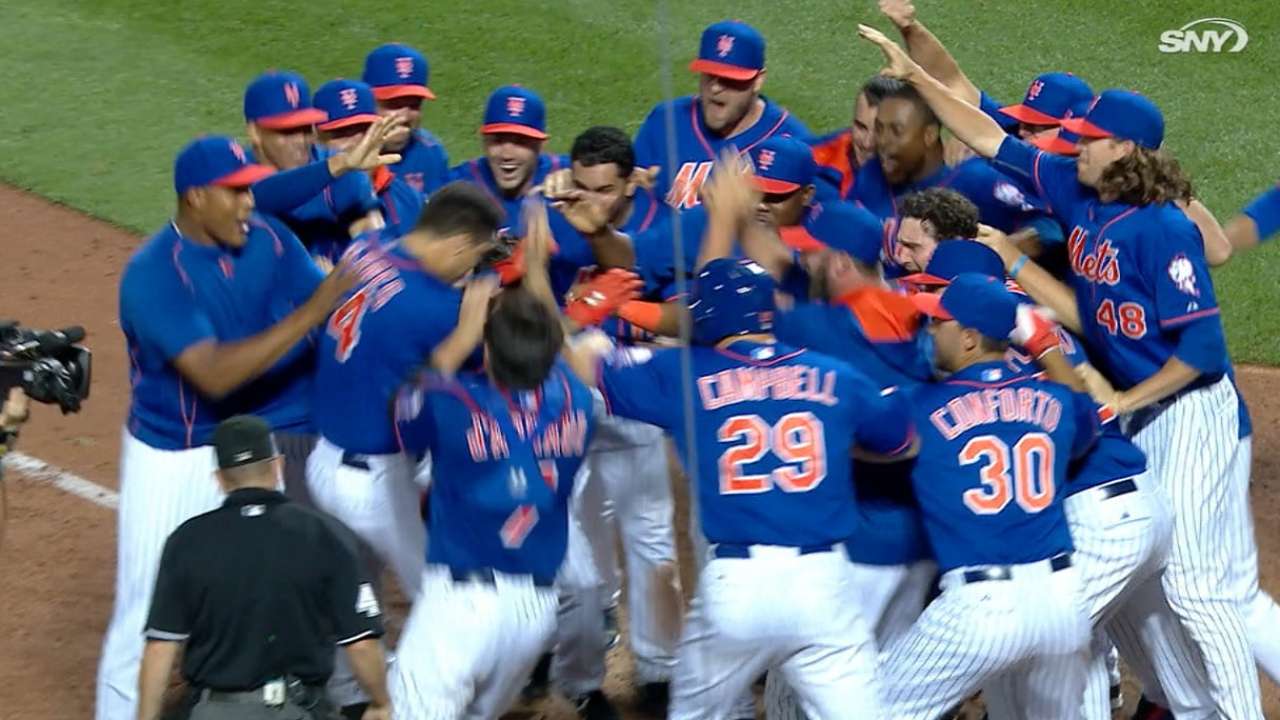 Here are five interesting items from around the big leagues this weekend …
• On Friday, Wilmer Flores delivered a game-ending solo home run in the 12th inning to give the Mets a 2-1 win over the Nationals. On Saturday, Lucas Duda homered twice as New York defeated Washington, 3-2. On Sunday, Curtis Granderson, Daniel Murphy and Duda homered in the third inning, and the Mets defeated the Nats, 5-2. Duda's homer gave him nine in his past eight games. His nine second-half homers are the most in the Majors. The Mets' record for the most home runs after the All-Star break is 21 -- a number reached by Dave Kingman (1975), Gary Carter ('85), Darryl Strawberry ('85), Mike Piazza ('99) and Carlos Delgado (2008). With the sweep, New York improved to 38-18 (.679) at Citi Field. The 1988 Mets own the franchise's best home winning percentage, at .700.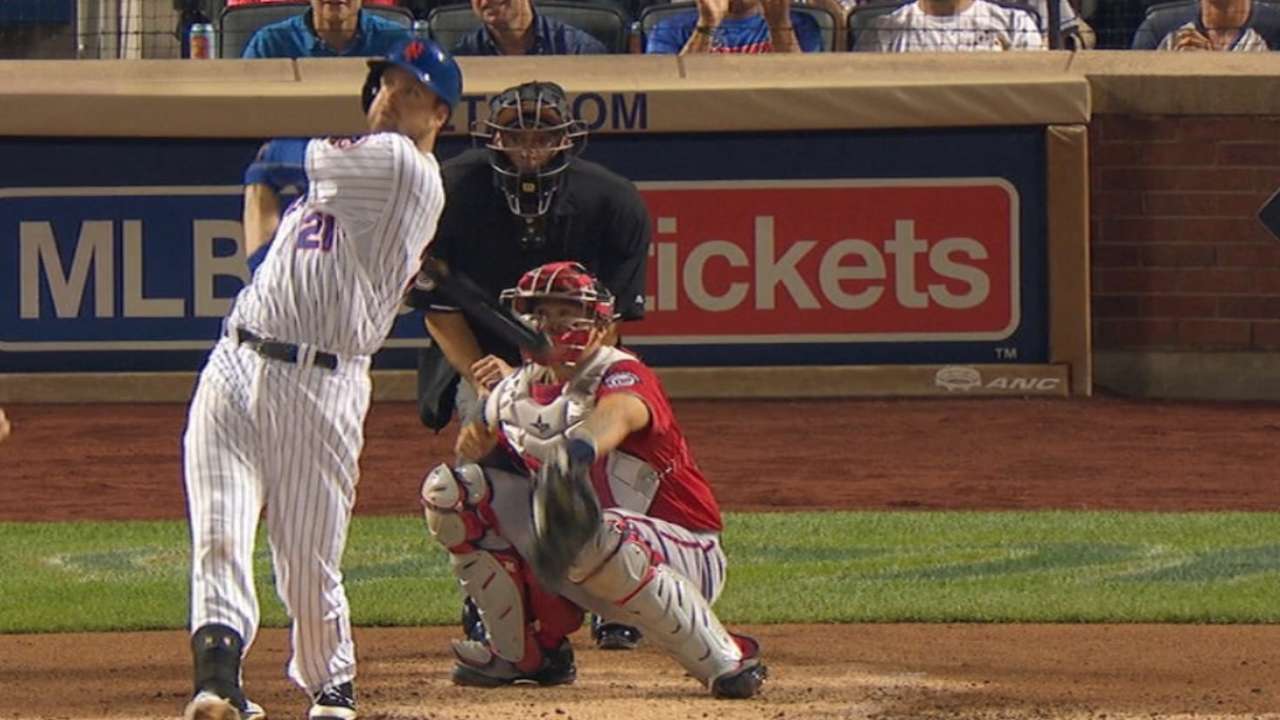 • Seattle's Nelson Cruz homered in each of the final three games of the Mariners' series in Minnesota. Cruz has 22 road homers on the season; Seattle's single-season record is held by Ken Griffey, Jr., who hit 29 in 1997.
• On Sunday, Athletics right-hander Sonny Gray surrendered four hits in a no-decision, dropping his hit rate to 6.48 per nine. There have been six A's pitchers in the team's history to finish a season with a lower mark. The last to do it was Catfish Hunter, with a 6.09 in 1972.
• Houston's Collin McHugh allowed one run over seven innings on Sunday, and the Astros defeated the D-backs, 4-1. McHugh tied Dallas Keuchel for the team (and league) lead with his 13th win, giving Houston a pair of 13-game winners 106 games into the season for just the third time in franchise history. In 1969, Larry Dierker and Don Wilson each had 13, and in 1999, Jose Lima and Mike Hampton each had 14, while Shane Reynolds claimed 13 victories.
• On Saturday, Clayton Kershaw worked eight nearly flawless innings and picked up the win as the Dodgers defeated the Angels, 3-1. With eight innings of two-hit, one-walk ball, Kershaw lowered his WHIP to 0.912 and saw his strikeout percentage move to 33.6. Kershaw has posted a season-ending WHIP below 1.00 in each of the past two seasons. A third straight sub-1.00 performance would place him in some historic company, especially when it comes to pitchers in the live-ball era. There have been two pitchers since 1920 to have at least three straight seasons with a sub-1.00 WHIP: Sandy Koufax (four) and Johan Santana (three).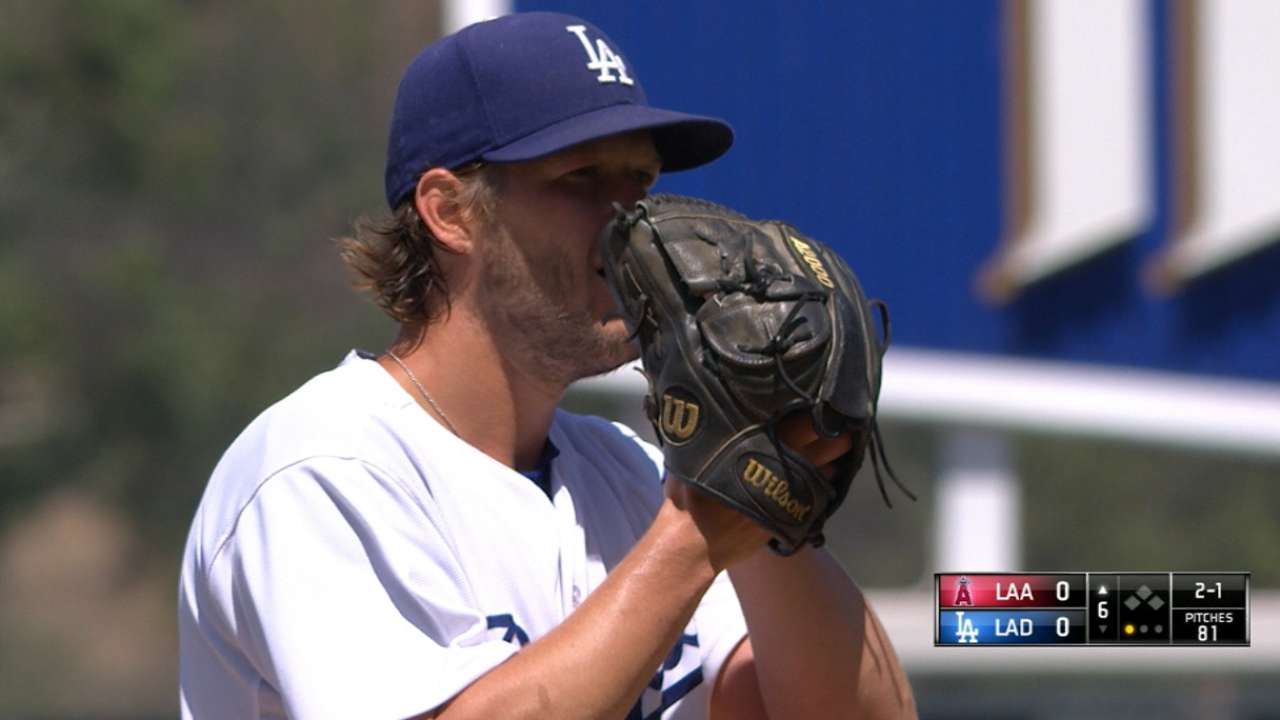 Milestone watch for Monday
• Bartolo Colon needs four strikeouts to tie Pete Alexander for 55th on the all-time list. With six strikeouts in his game on Monday, Colon would become the 55th pitcher to reach 2,200.
• Ryan Braun has 249 career home runs. With two homers, Braun will tie Robin Yount for the Brewers' all-time record.
Roger Schlueter is a contributor to MLB.com. This story was not subject to the approval of Major League Baseball or its clubs.